Inside Jason Sudeikis' Relationship With Juno Temple Off-Screen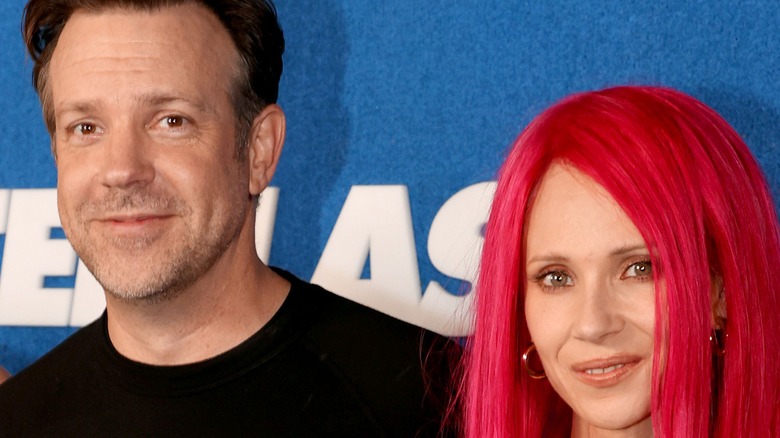 Kevin Winter/Getty Images
When "Ted Lasso" premiered on Apple TV+ in August 2020, no one expected for the show to become a gigantic hit. The character of Ted Lasso — played by "Saturday Night Live" alum Jason Sudeikis — was originally based on a character Sudeikis performed all the way back in 2014 for a series of NBC ads promoting their coverage of Premier League Soccer (via Parade).
Viewers quickly warmed up to "Ted Lasso" and his journey to help heal a British soccer team — football, as it's called across the pond — even though he knows nothing about the sport. "It's as much about soccer as Rocky is about boxing," Sudeikis joked.
The show swept at a number of awards shows — the Emmys included — with the series taking home 11 awards, with wins for Sudeikis and his co-stars Brett Goldstein and Hannah Waddingham (via The Hollywood Reporter). When the show took home Best Comedy Series at the Critics Choice Awards, Sudeikis thanked his ex Olivia Wilde for giving him the idea for the show in the first place (via Entertainment Tonight).
"I want to thank my kids, Otis and Daisy, and I want to thank their mom, Olivia, who had the initial idea for this as a TV show," he said. "She was like, 'You guys like doing that so much, you should do it as a movie or a TV show,' and she was right!"
Any sparks between Sudeikis and his co-star?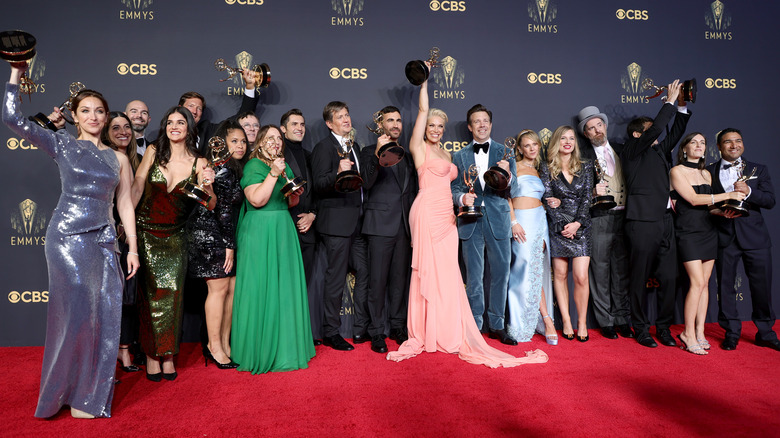 Rich Fury/Getty Images
Also starring on the show with Sudeikis, Goldstein, and Waddingham is actress Juno Temple, who portrays Keeley Jones on the show (via Showbiz CheatSheet). The character of Keeley — a former model who becomes a PR consultant and Roy Kent's girlfriend — comes from a real life inspiration (via ScreenRant).
Temple's Keeley is based on Keeley Hazell, a model and actress Sudeikis has been friends with ever since they met on the set of "Horrible Bosses" (via People). "She is a [friend] of Jason [Sudeikis'] that inspired some of Keeley's character," Temple explained. "She was an inspiration for the part."
And while Temple and Sudeikis never dated in real life, after Sudeikis and Wilde split, it was confirmed that Sudeikis was dating (if albeit briefly) the real Keeley, who, get this, also appeared on "Ted Lasso" as Bex (via E! Online). While it's not clear who Temple is dating in real life, some have linked her to her other "Ted Lasso" co-star, Phil Dunster (via The Focus News).
It seems like all of the show's positivity has permeated into the cast itself.