Inside DaBaby's Arrest Record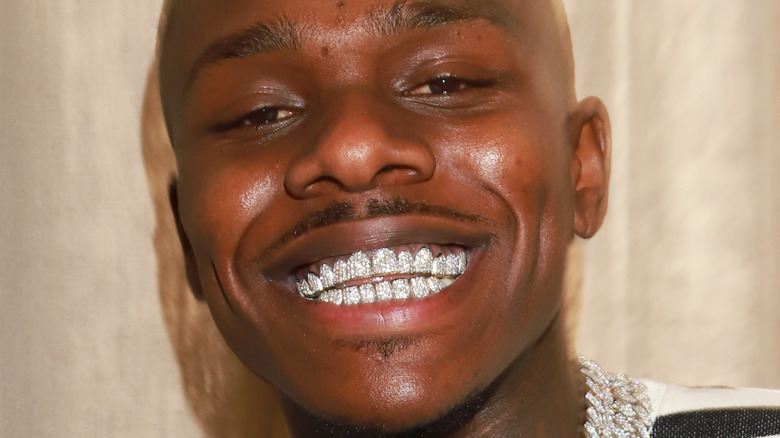 Arnold Turner/Getty Images
Rapper DaBaby is no stranger to controversy. Per The Independent, the Cleveland native came under fire in the summer of 2021 for making homophobic comments during a music festival performance. In a since-deleted post, DaBaby apologized on Instagram (via Billboard) describing his words as "hurtful and triggering." 
DaBaby went on to criticize those who would "demolish" him before he even had a chance "to grow, educate, and learn" from his mistakes. The "ROCKSTAR" hitmaker wrote, "As a man who has had to make his own way from very difficult circumstances, having people I know publicly working against me — knowing that what I needed was education on these topics and guidance — has been challenging." But soon after posting what many took to be an insincere and hollow apology, the rapper outraged fans by taking down his post, leading several music festivals to drop him from their upcoming lineups, per Forbes. As it turns out though, DaBaby wasn't kidding about enduring a lot in his past.
DaBaby was involved in a terrifying shooting incident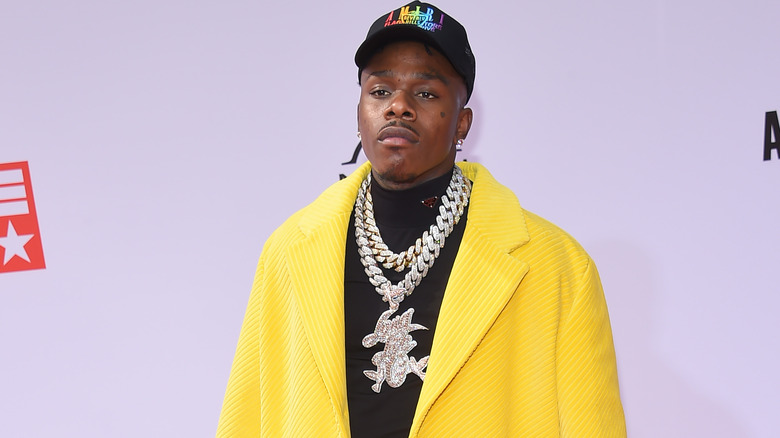 DFree/Shutterstock
DaBaby, aka Jonathan Kirk, has been arrested several times throughout his life, as Complex notes. Reasons for his arrests range from driving with a fake license, to drug possession, and possession of an illegal firearm. Per the outlet, he was involved in a deadly shooting at a Walmart in 2018, in which one person was killed. DaBaby released a video claiming that he'd shot the victim in self-defense, because his children were in danger. "If them gunshots ain't go off ... [my] daughter could've got hit, son could've got hit, me," he said in the video (via Complex). The rapper added that his lawyers had advised him to keep quiet on the matter, but he felt compelled to defend himself. 
Per TMZ, the rapper was sentenced to a year of unsupervised probation and 30 days of jail time after being found guilty of holding a concealed weapon. This is far from DaBaby's first brush with the law, as he's also been widely accused of gang involvement. Per Complex, the rumors started after DaBaby threw a gang symbol in a video on social media, though the performer has explicitly denied involvement in any gangs.
DaBaby has a long rap sheet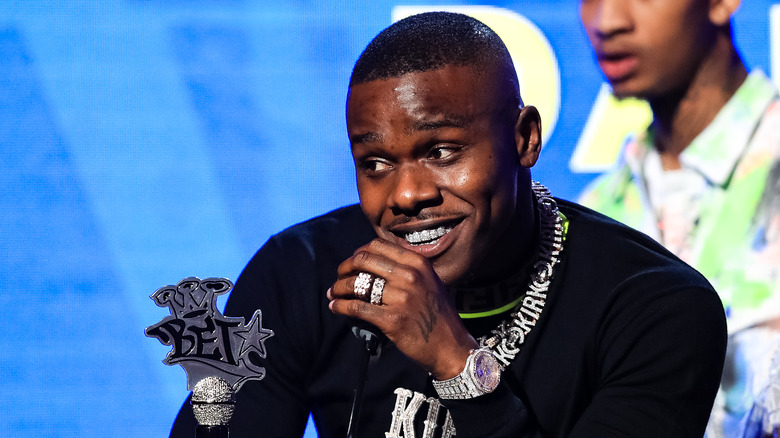 Carmen Mandato/Getty Images
According to CNN, DaBaby was arrested in Miami in 2020, when a fight broke out with music promoters, allegedly over payment for a gig. A promoter told the police that he had agreed to pay DaBaby $30,000, but only offered him $20,000 when all was said and done. Per CNN, the rapper retaliated by attacking the promoters, punching one in the face before turning his attention to the other. Though later reprimanded and charged with misdemeanor battery, DaBaby denied all charges. According to CNN, he was summoned to court and held without bail due to an outstanding warrant for "engaging in organized criminal activity" in Dallas, Texas.
According to CNN, the incident came just a week after DaBaby received two misdemeanor citations for possession of marijuana. The star took to Twitter in protest, claiming that the cops were trying to "make a bad example out of me." However, it seems DaBaby hadn't learned his lesson. In 2021, he ran afoul of law enforcement once again when he was arrested in LA for possession of a loaded, concealed firearm, per The Guardian. Staff at the Gucci store on Rodeo Drive called the police upon discovering DaBaby had a gun in his waistband. The outlet notes that he was briefly held on $35,000 bail, but later released.