How Michael Cohen Made His Money
a katz/Shutterstock
Before Michael Cohen was making headlines about suing the federal government for forcing him to return to prison, as Forbes reported, he had a different life. Best known as the disgraced lawyer of ex-President Donald Trump, Cohen has become a controversial character, to say the least. In fact, it's hard to imagine he once had a life outside of business dealings on behalf of the Trump family. 
According to CBS News, he was sentenced to three years in federal prison in 2018, after pleading guilty to campaign finance violations and lying to Congress about business in Russia. The outlet reports that Cohen was released from prison just in time for Thanksgiving 2021, at which point he shared, "I am extremely close and I am extremely thankful that I will be able to celebrate Thanksgiving out of my home." He added, "But I have done 18 months in home confinement which is very difficult." So, how did Cohen end up in this position? Biography tells us that he was a successful lawyer who also made money in the real estate market, before his time with Trump landed him behind bars.
Michael Cohen owned a fleet of taxicabs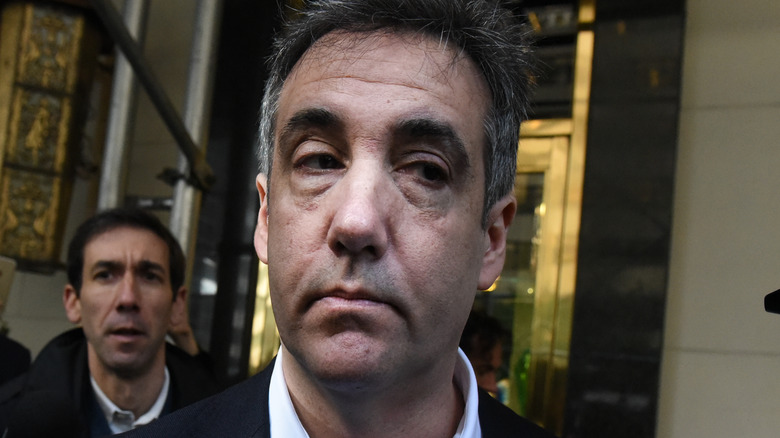 Bloomberg/Getty Images
As Newsweek reported, Michael Cohen's demise came amid claims of Russian interference in the 2016 presidential election. According to the outlet, Cohen was in contact with the Kremlin about building a Trump Tower in Moscow, at a time when former President Donald Trump was rising in power among the GOP candidates. But prior to making shady dealings with the Kremlin on behalf of the American president, Cohen — a graduate of Thomas M. Cooley Law School (via Politico) — had a normal life.
Well, normal-ish for someone whose paper net worth once topped $100 million, according to Celebrity Net Worth. Per the outlet, Cohen made all that money in a shady way, thanks to his investments in transportation and real estate property. He and his family purchased dozens of taxi cab medallions that allowed them to operate taxis in New York, as Celebrity Net Worth notes. As The New York Times notes, cabs are extremely prevalent in the Big Apple, and 2017 research uncovered that 277,000 people took cabs on "an average day in July." But Cohen being Cohen, the taxi business wasn't without some controversy attached to it. Per New York Daily News, it's believed that he and his wife owe the MTA over $40,000 in unpaid taxes.