Why Donald Trump's Holiday Fundraiser Is Raising Eyebrows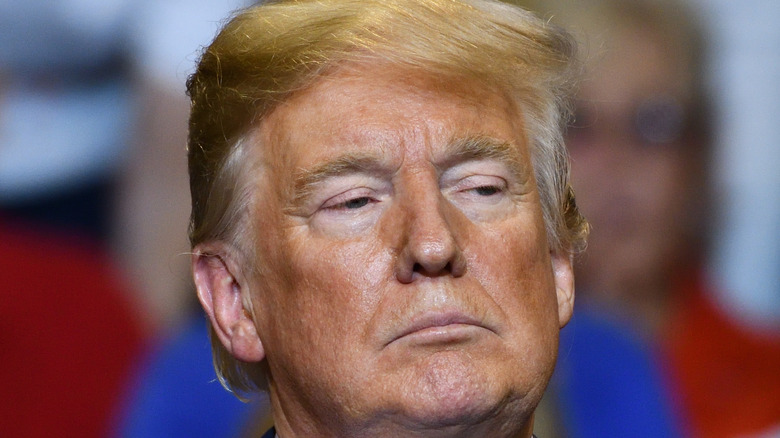 Evan El-Amin/Shutterstock
Each winter, D.C. gets a little brighter as the White House decks its halls — and lawns — with Christmas lights aplenty. This Christmas is President Joe Biden's first since ascending to the highest office in the land, and his White House Christmas decorations already have Twitter in a tizzy. Still, it might be his predecessor that's had Americans more confused.
Typically, the nation's first ladies take on the role of Christmas decorator. For example, Melania Trump's final White House Christmas decor was perhaps her grandest, even if it didn't receive much acclaim. In fact, The Independent recently reported that many Twitter users are already joking that Jill Biden's Christmas decorations this year are brighter and more beautiful than Melania's. Still, the former first lady and her husband are now working to relive their White House Christmases despite no longer being in office.
According to The Mercury News, the Trumps are recreating their White House Christmas display for a fundraising event in which people can pay to take a photo with the former president in front of the Christmas lights. However, this new photo-op has people raising eyebrows.
Photos with Donald Trump can cost up to $30,000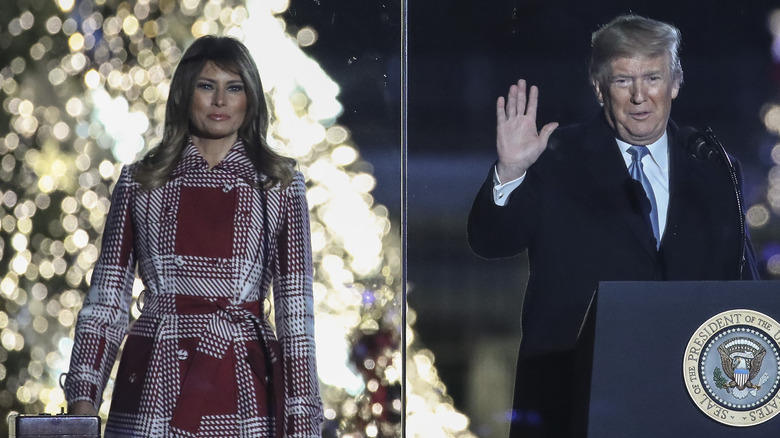 Drew Angerer/Getty Images
Donald and Melania Trump have an interesting public history with Christmas. Last year, a bizarre Christmas tape of Melania Trump was leaked to the public, raising a lot of eyebrows. Now, however, the Trumps are ready to capitalize on the holiday since they're no longer in office. The couple is hosting photo opportunities in front of a recreated White House lights display. According to The New York Daily News, a photo costs nothing short of $10,000 for individuals or $30,000 for a family of up to four members.
The lights display will be held in a Naples, Florida, airplane hangar on December 3 and will feature 100 lit-up trees. The Trumps are allowing the photos to be used for payers' Christmas cards, and they're capping the photo-ops at 90 people. However, people can also pay to view the lights, with this cap being 250 plus spouses and children.
According to The Mercury News, the trees will be potted so they can be replanted after the fundraiser. The event's organizer, Brad Keltner, explained that the proceeds will be split between charities and Trump. "The president is doing this to benefit several local causes in a community that strongly supports him," Keltner explained. "Trump does get a piece of the pie, but the lion's share will go to charity." Keltner also clarified that it's "not a political fundraiser."
The event and its costs have people raising their eyebrows, but Trump will always move to the beat of his own drum.