Inside Monique Coleman And Corbin Bleu's Relationship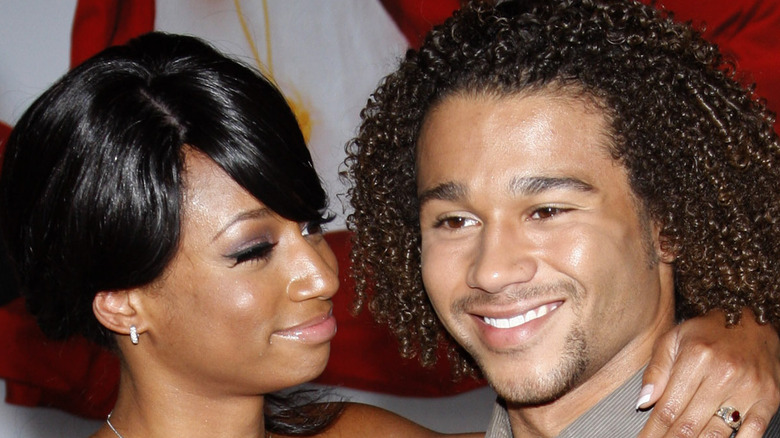 Tinseltown/Shutterstock
Two of East High School's most beloved Wildcats will dance and act together again in a Lifetime Christmas movie coming out this year. Monique Coleman (you likely remember her as brainiac Taylor McKessie) and Corbin Bleu (basketball pro Chad Danforth) are linking up for a new project called "A Christmas Dance Reunion." The aptly titled release marks the first time the duo has collaborated on a film since co-starring in Disney's massively successful "High School Musical" movies, the last of which premiered way back in 2008.
Deadline broke the news earlier this year about the mini "HSM" reunion, and anticipation has been growing ahead of the film's December 3 release date. In the movie Coleman plays Lucy Mortimer, a successful attorney who reunites with her old dance partner Bleu (Barrett Brewster). There's potential for sparks to fly as they rekindle their once-close relationship. It sounds like the actors certainly had no trouble falling back into their old connection. Coleman told People that she's even crossing her fingers that they can get together again for a sequel.
While this is Coleman and Bleu's first time co-starring together in more than a decade, the pair still have a close relationship. Read on to learn more about how they've kept tight since waving goodbye to "High School Musical."
Monique Coleman supported Corbin Bleu's theater career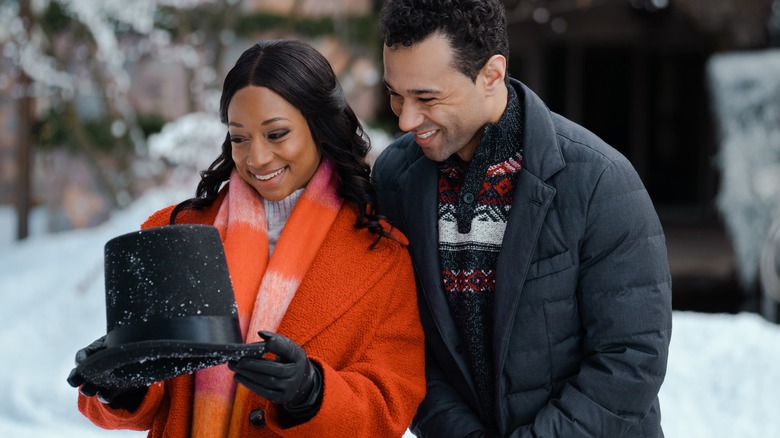 Lifetime
Monique Coleman and Corbin Bleu both continued landing roles after graduating from East High School in "High School Musical 3: Senior Year." Coleman's IMDb lists a multitude of appearances in films and shows over the years. She also launched a foundation called Gimme Mo', which was supported by a docu-series (via HollywoodLife). Bleu kept just as busy with a variety of projects (including a recent appearance on "Dynasty") listed on his IMDb.
Excitingly, Bleu was able to put the singing and dance skills he showed off in the "HSM" franchise to good use. The actor launched a successful career in theater. He channelled Fred Astaire with a stand-out role in Broadway's run of "Holiday Inn," which opened in 2016 (via EW), and he has several other shows on his resume. 
As it turns out, he is able to count Coleman as one of his biggest fans in the industry. "I've seen almost every single one of his shows on stage," she told People. "I've just watched him have this incredible illustrious career in theater and on Broadway." As a fan of his work, it makes sense that Coleman would be excited to collaborate with Bleu again. Starring in a Christmas movie was on her bucket list. She told the publication seeing Bleu's name in the mix made this project a golden goose. "It was the fastest I'd ever said yes to anything in my life."
Corbin Bleu said reuniting with Monique Coleman 'felt like home'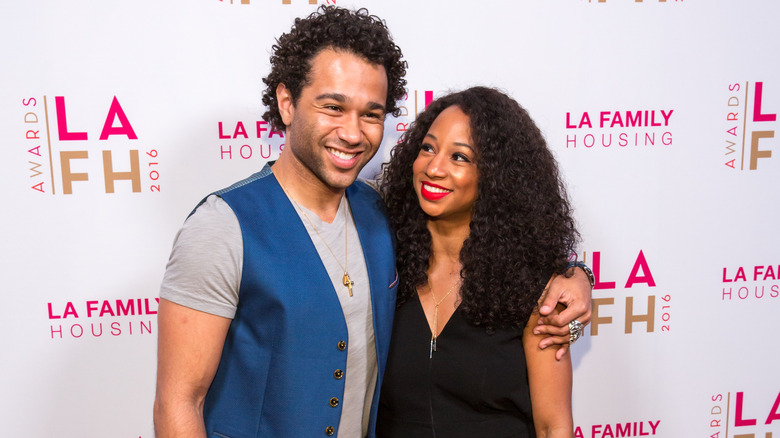 Greg Doherty/Getty Images
Corbin Bleu and Monique Coleman gushed about the working together again when they announced the "A Christmas Dance Project." Bleu shared a sweet comment on Instagram. "After 13 years it felt like coming home working and dancing with [Coleman] again." His dance partner's message was equally heartwarming. "Starring in a [Lifetime] Christmas Movie has always been a dream of mine, but never in a million years did I think I'd get [to] share the screen with one of my favorite people" (via Instagram).
Coleman doubled down and referred to her co-star as "one of my best friends" in her interview with People. "I forgot how utterly just talented and delicious he is," she said. "I forgot what it was like to work with someone who has such an incredible work ethic, who shows up and gives 110 percent every single time, every single take, whether he's on screen or not."
Even if a sequel does not come together, she wants to continue working with Bleu. "I honestly pray that we get to do more things together because we have that sort of spark that Tom Hanks and Meg Ryan had, and Leo and Kate, and Emma Stone and Ryan Gosling, and all of these different couples that we've seen in movie after movie together." We'd love to see it!