Here's How Many Grandchildren Sidney Poitier Has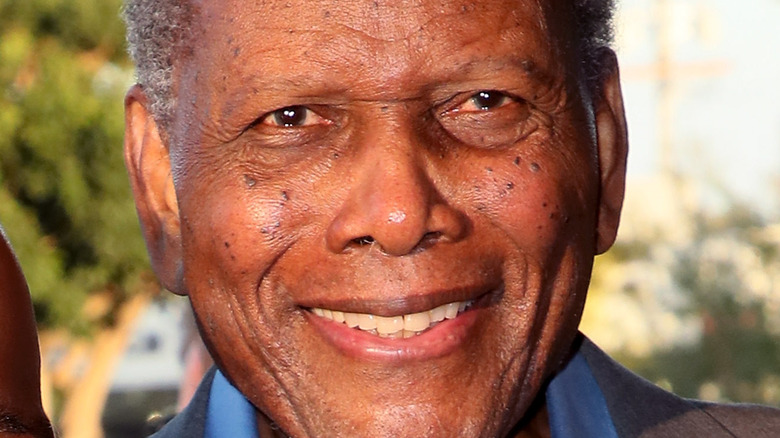 David Livingston/Getty Images
There are few living legends left in the entertainment world, but thankfully, Sidney Poitier is among them. The acclaimed actor, who will turn 95 in February 2022, was the first Black performer to win the Academy Award for Best Actor, and is one of the few living Oscar-winning nonagenarians (via Statista). In addition to his acting honors, Poitier is also a Knight Commander of the British Empire and a recipient of the Presidential Medal of Freedom (via Biography).
It's an impressive résume for the son of Caribbean tomato farmers with little schooling, who admitted to the "Today" show in 2008 that he could barely read when he was growing up in the Bahamas. Poitier moved to the U.S. as a teen, and served in an Army medical unit during World War II. He then moved to New York, where he worked as a janitor for the American Negro Theater in exchange for acting lessons. After several years as a stage actor, Poitier broke into film in 1950 with "No Way Out," playing a doctor (via Britannica).
The films that followed cemented Poitier's reputation not only as a distinguished performer, but also one who defied the stereotyped servant and comic roles typically given to Black actors. Poitier played complex characters, such as the detective Virgil Tibbs in "In the Heat of the Night" and inner-city teacher Mark Thackeray in "To Sir, With Love." He won his Oscar for 1963's "Lilies of the Field," as a traveling handyman who helps a group of nuns build a chapel in a remote area (via IMDb).
Sidney Poitier has a large and loving family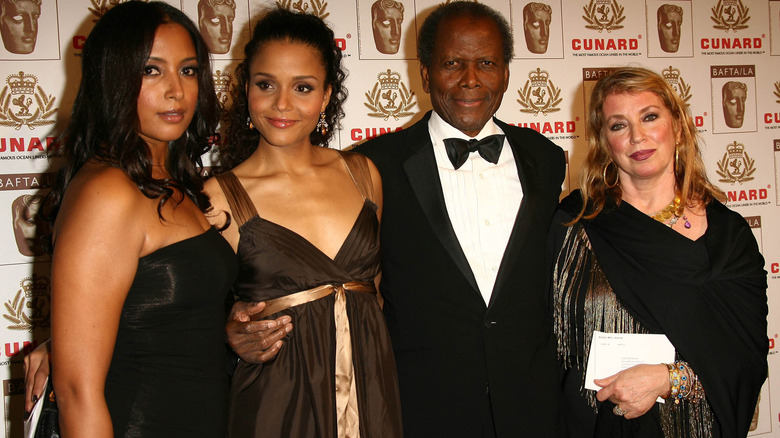 s_bukley/Shutterstock
Sidney Poitier has also been blessed with a large and loving family. The actor has been married twice, first to Juanita Marie Hardy, and for the last 40 years to interior designer Joanna Poitier. The unions produced six daughters, who in turn have given him eight grandchildren and three great-grandchildren. The extended family — including both wives — gathered for Poitier's 90th birthday in 2017, where they posed for a photo for The Hollywood Reporter. 
Two of Poitier's daughters, Pamela and Sydney, followed their father into acting; another, Anika, became a filmmaker. The other three went into different lines of work: Sherri as a chef, Beverly as a jewelry designer, and Gina as an administrative assistant. Sadly, Gina died a year after the big family portrait was taken (via Amomama).
In 2008, Poitier wrote "Life Beyond Measure: Letters to My Great-Granddaughter," a collection of personal memories and life advice dedicated to his then-infant great-granddaughter Ayele. "I decided I would write a book in the form of letters so I could cover everything that I've felt and learned, and talk to her about things that I don't understand," he told the "Today" show.
Poitier's film legacy is destined to stand for generations to come, and his children stand as a tribute to the man himself. Grandson Etienne Gourage told The Hollywood Reporter that his grandfather "knows how to make a room explode," and wife Joanna calls him "the most wonderful, generous, kind, honest man with the most integrity that I've ever known in my life."