Why This Former Staffer Thinks Donald Trump Is Bluffing About A 2024 Run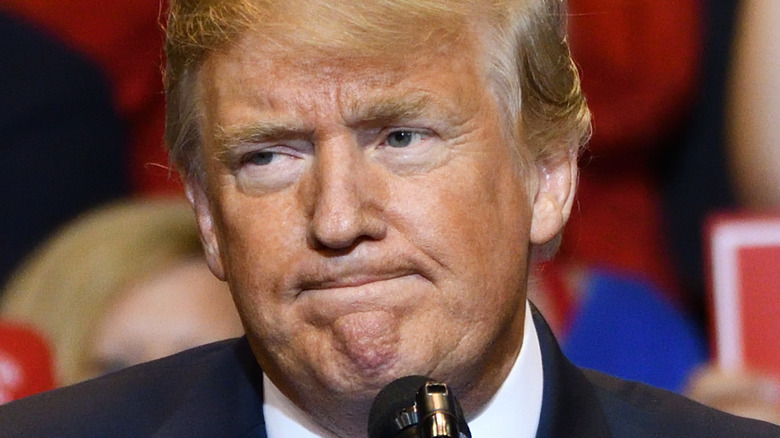 Evan El-Amin/Shutterstock
Will he or won't he? Run again, that is. That's been the question ever since Donald Trump lost the 2020 presidential election, refused to concede, and as of this writing, still insists he won. With Trump making sure to remain in the spotlight, unlike other former presidents when their term is up or they lose an election, Trump remains a top contender for the nomination in GOP polls of prospective candidates.
Of course, Trump has yet to officially announce his candidacy despite hinting at it whenever he can. He told Sean Hannity that he has made up his mind about whether he is going to run again for president, but has not said what his mind decided (via Yahoo! News). While left-learning Twitter and political pundits seem convinced Trump will be a 2024 candidate, people who know him well believe he is bluffing — and they have a very good reason for that assertion.
Donald Trump's former chief of staff doesn't see him running for president again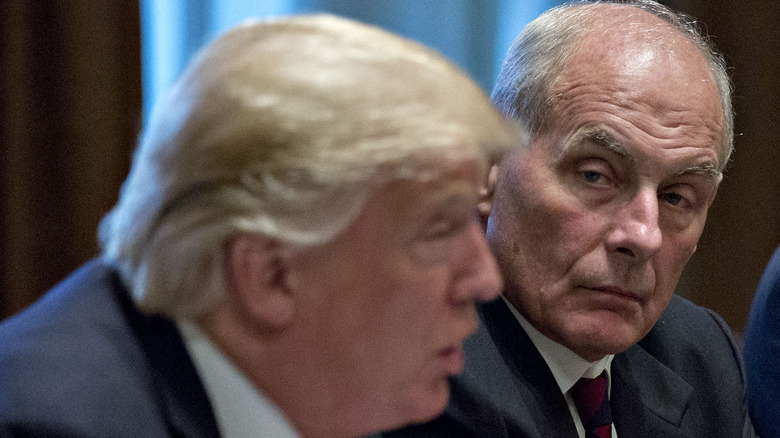 Pool/Getty Images
Despite all the talk of Donald Trump being a rare president to lose a re-election bid and run again, John Kelly (above, right), the former military general who served longest as the president's chief of staff during Trump's four years in the White House, doesn't think Trump will go through with it.
"Trump won't run," Kelly told The Atlantic. "He'll continue talking about it; he may even declare, but he will not run. And the reason is he simply cannot be seen as a loser."
Kelly is the not only one who has made this assessment about Trump's odds of a full-blown 2024 candidacy. Trump's former personal attorney, Michael Cohen, who went to jail for paying hush money to porn star Stormy Daniels so she wouldn't reveal her affair with Trump before the 2016 election, also believes this. He told NBC's Chuck Todd on November 28 (posted on Twitter) that Trump won't run because he will lose. Then his claims of 2020 voter fraud go away and his collection plate to fight the already-decided 2020 election results will dry up.
"If he loses, which he will in 2024, what happens to the 'Big Lie?'" Cohen said. "The big lie disappears. He can't now be like the boy who cried wolf. 'Oh, they stole it from me in 2020 — they now stole it from me in 2024.' Right? Now, that goes out the door and there goes his money."