Why Jacqueline MacInnes Wood Believes Steffy And Bill Could Happen Again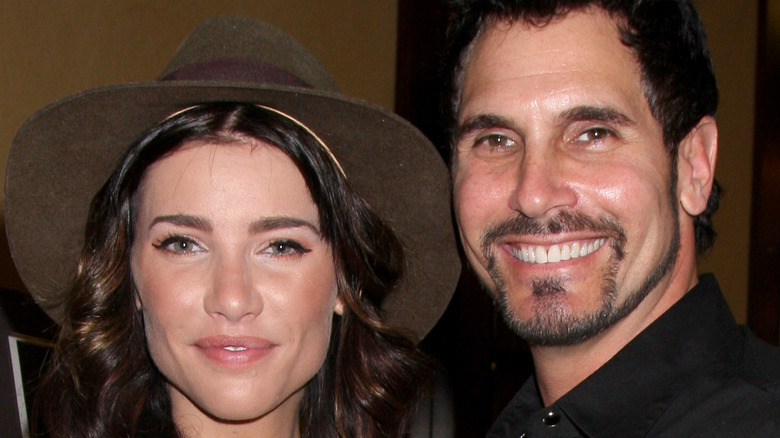 Kathy Hutchins/Shutterstock
There was a time when Steffy Forrester, played by Jacqueline MacInnes Wood on "The Bold and the Beautiful," couldn't get Dollar Bill Spencer (Don Diamont) off her mind. It didn't matter that she was first in love with Bill's son, Liam Spencer (Scott Clifton). The chemistry was there between Steffy and Bill when Liam was waffling back and forth between Steffy and her stepsister, Hope (Annika Noelle).
Even after Steffy and Bill were long over and Steffy was married to Liam, when Liam confessed he had kissed Sally Spectra, Steffy turned to Bill for comfort, and they slept together. Then, in typical soap fashion, Steffy learned she was pregnant and didn't know if the father was her husband, Liam, or his father, Bill. 
When Liam learned what happened, he left Steffy crying on the ground, begging him to stay (via Soap Hub), and ran into Hope Logan's arms, ending Steffy and Liam's marriage for good. As of this writing, Steffy is now married to Thomas Finnegan (Tanner Novlan) and happily raising a daughter, Kelly, and a son, Hayes (via Soaps.com)
But Bill is still out there — and single. Could Steffy and Bill ever be together again?
Jacqueline MacInnes Wood thinks there will always be something between Steffy and Bill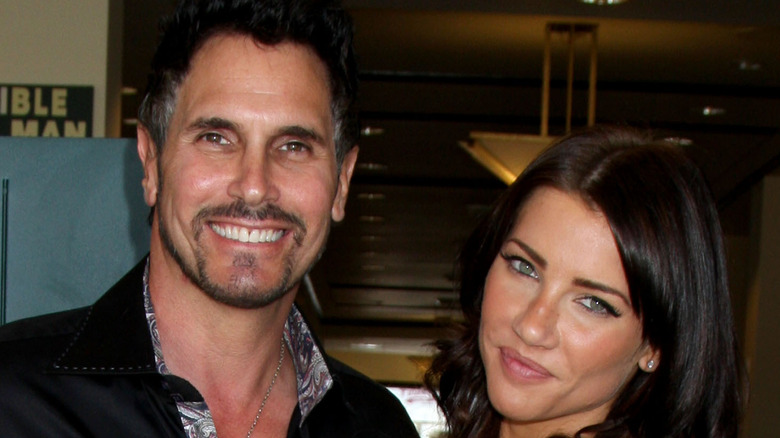 Kathy Hutchins/Shutterstock
All these years later, there are fans who believe that, when Steffy on "The Bold and the Beautiful" ran a DNA test to see if Liam or Bill Spencer was the father of her unborn daughter, the tests came back wrong and Bill really is Kelly's father. If that ever happened, it would be a big opening to allow Bill back into Steffy's life. For actress Jacqueline MacInnes Wood, the possibility of Steffy and Bill one day reuniting is a strong one.
"They have a really funny dance," Wood told Soaps.com. "Steffy is the one person who can tame him. She's able to push him in a way that not a lot of other people can or do. They're afraid of him, and he always has a wall up. And she can often be the same way, so when they're together you see another side to each of the characters. When you look at them in that context, they do seem like a perfect match."
Wood also acknowledges that Steffy is currently in love with Finn, but fans will recall that, when Steffy learned that Finn's biological mother was crazy Sheila Carter (Kimberlin Brown), she decided not to file their marriage license with the state. 
"She's very happy right now in her marriage to Finn," Wood said. "But it's a soap, and nothing lasts forever."