Alec Baldwin's Tearful Interview Has Twitter Fuming
Sam Aronov/Shutterstock
Acclaimed actor Alec Baldwin made headlines in October after he accidentally shot and killed Halyna Hutchins while on set for the upcoming film "Rush," according to Variety. Since news broke of the incident, Baldwin has remained silent — until now. Variety reported that Baldwin gave his first televised interview with George Stephanopoulos since the "Rush" incident. The interview aired on ABC and streamed on Hulu on December 2.
In an interview clip, an emotional and crying Baldwin explains how upset he is over the death of Hutchins, per CNN. "She was someone who was loved by everyone who worked with her, liked by everyone who worked with her — and admired," Baldwin said. "It doesn't seem real to me." However, Baldwin goes on to explain how he doesn't feel guilty over her murder because he didn't "pull the trigger," the outlet said.
Twitter went into a frenzy over Baldwin's claims. "I'm sorry, Alec Baldwin, but guns don't shoot themselves," one user tweeted. "You have to pull the trigger for them to discharge. You see, your finger pulled back on your trigger, your gun went off, you killed someone. That's how this works. You don't get to take it back!"
Other users fumed, speculating that Baldwin is likely to not get charged, considering his wealth and racial privilege. "Alec Baldwin not being in jail for killing a woman is peak white privilege," read another tweet.
Alec Baldwin faced criticism ahead of his televised interview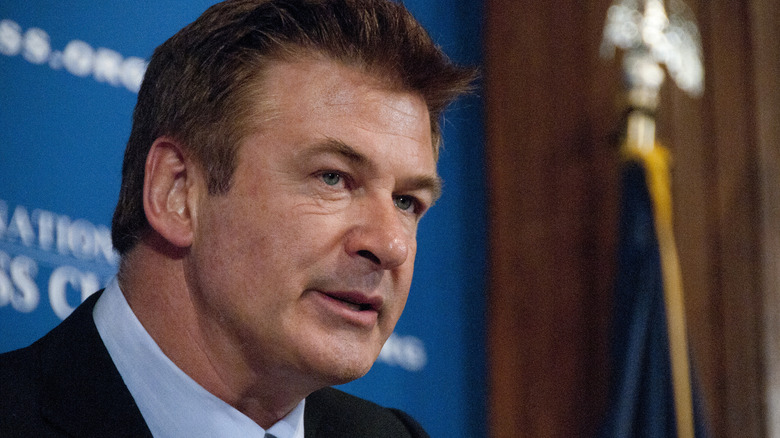 Al Teich/Shutterstock
Alec Baldwin is facing more criticism over his George Stephanopoulos interview. In addition to claiming he didn't shoot Hutchins, he also said he doesn't feel guilty over her death, as he is not responsible, ABC reported. "​​Someone put a live bullet in a gun, a bullet that wasn't even supposed to be on the property," Baldwin said (via ABC). "Someone is ​responsible for what happened, and I can't say who that is, but I know it's not me."
Baldwin continued, explaining how it was the film's first assistant director, Dave Halls, who handed him the gun and said it was empty, the outlet reported. Baldwin said he cocked the gun, which he didn't know was loaded, and let go of the hammer, but didn't pull the trigger. "I would never point a gun at anyone and pull a trigger at them," he said, per ABC. Halls corroborated Baldwin's account, stating that Baldwin's finger was outside the trigger guard, according to Hall's attorney.
While the truth of who's really responsible for the shooting will come after the sheriff's investigation concluded, people are definitely not fans of Baldwin right now. Will he ever bounce back from this? Only time and the investigation will tell.