Tori Spelling Just Dropped A Major Hint About Her Marriage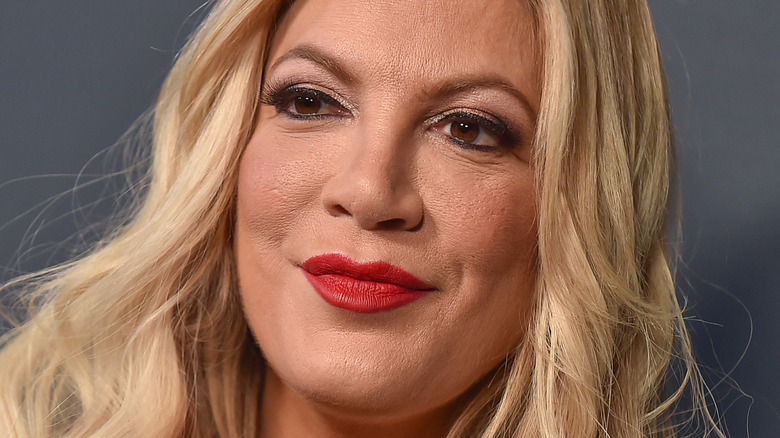 DFree/Shutterstock
Rumors about Tori Spelling and Dean McDermott's marriage continue to swirl as the couple appears to be headed for a split. In October, the "Beverly Hills 90210" alum was spotted outside of her lawyer's office, per Page Six. Photographers snapped pics of the actress, which revealed she carried a notepad with handwritten notes that mentioned the words "custody," "support," and "assets." The photos fueled the rumors of a split between Spelling and McDermott.
Days later, Spelling sat down for an interview with her friend, comedian Whitney Cummings, who was guest-hosting "The Wendy Williams Show" (via Yahoo! Entertainment). During her appearance, Cummings frankly asked Spelling about McDermott. "You're allowed to hit me in the face, but I do have to ask, what is going on with that guy?" Cummings asked. However, it seemed that Spelling didn't want to create any more buzz around her marriage. "What? You know I'm not going to answer that," she replied.
Sources previously told The U.S. Sun that the couple are "stuck together" because they can't afford to divorce at this time. "They have five kids and a ton of pets. Their home is always a disaster — it's just a total mess. Right now divorce isn't on the horizon because they can't swing it financially. They are in a living nightmare," an insider said. This week, Spelling reignited the divorce rumors when she sat down for a radio interview.
Tori Spelling talks family Christmas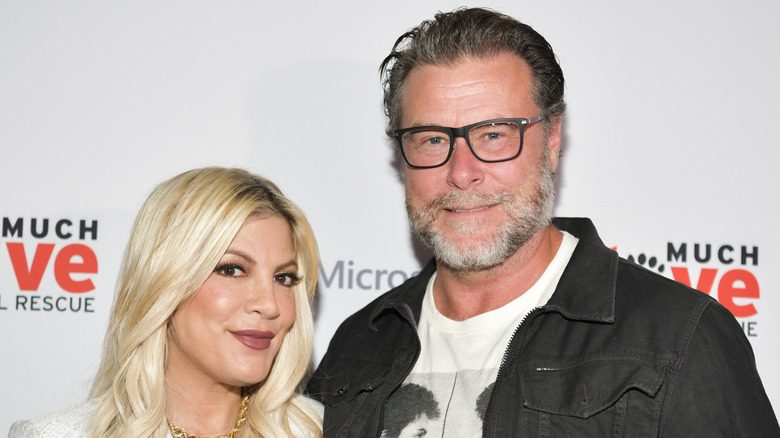 Rodin Eckenroth/Getty Images
According to Us Weekly, Tori Spelling recently appeared on Jeff Lewis' SiriusXM show. While the TV personality didn't spill any details about her marriage, or speak out much about husband Dean McDermott, Lewis did ask about the couple's holiday plans. "What are we getting Dean? Anything?" Lewis asked Spelling.
"Yes, of course, the kids are getting him something," Spelling, the co-host of "Messyness," replied. Of course, it didn't go unnoticed that she didn't confirm whether or not she would be purchasing a gift for her husband, or simply giving him something from their five children. However, the fact that she's giving him a gift at all could be a good sign.
Meanwhile, sources tell the magazine that despite any ongoing issues between Spelling and McDermott, they're determined to celebrate the holiday season as a family with the kids, and even spent Thanksgiving together. "Everyone chipped in for the cooking and preparation. They really are trying to celebrate the holidays as a family and put aside their differences," the insider stated. "Most importantly, [they] want their kids to be happy," the insider said, adding that a divorce isn't off the table, but that the pair have an "understanding" about spending the holidays together as "one unit." In addition, Us Weekly reports that many of Spelling and McDermott's friends are expecting the couple to divorce, and believe that they may split early next year.