How To Make An Iced Chai Latte Like From Starbucks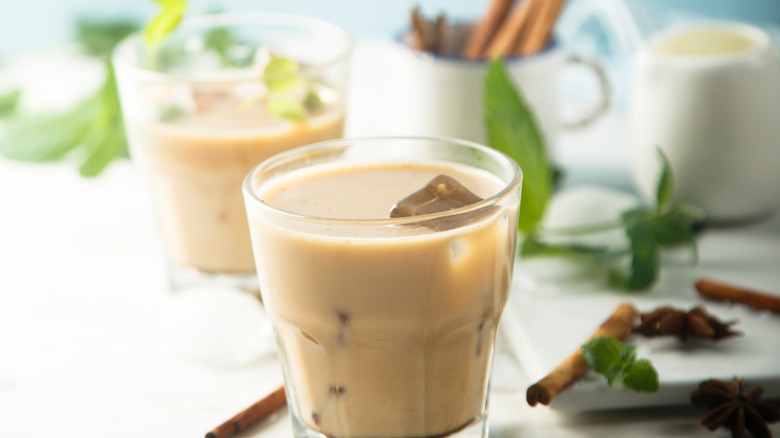 MariaKovaleva/Shutterstock
If you drink chai every day, you may want to start making some at home. Starbucks' iced chai latte is perfectly sweet and delicious with its spices, and its flavor is slightly customizable depending on which milk you order. However, it can get pricey when ordered daily, and making it at home can be the perfect morning, midday, or even evening break you need to recoup before getting back to work or your family.
Chai comes from India and traditionally consists of black tea that's been infused with warm spices such as cinnamon, ginger, and cloves. Then, after steeping and infusing, milk and sugar can be added to make this tea a proper latte (via Hip2Save). Chai can be thought of as a hug in a cup — hot or iced — and if you make it at home, you can not only have that hug any time but also prepare your drink as just the infused black tea rather than a latte if you prefer.
Starbucks describes their chai latte as "iconic," and who are we to disagree? It's particularly great in fall and winter if you want a Starbucks drink that's not pumpkin spice-oriented. To make this iced latte at home, you have a few options.
These are three easy ways to make homemade iced chai lattes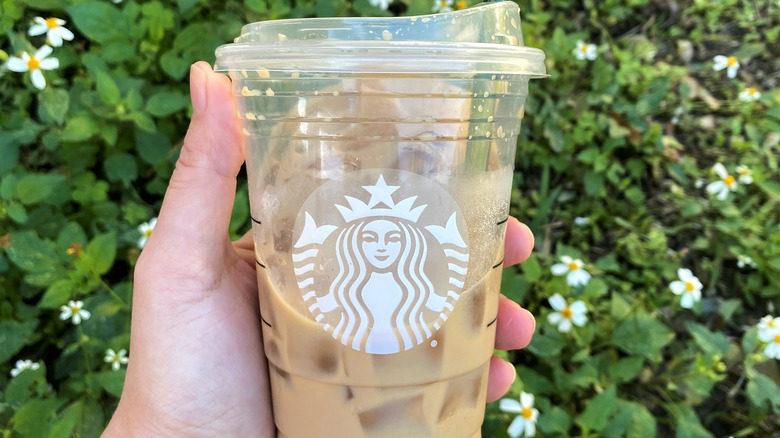 Blueee77/Shutterstock
If some Starbucks drinks are perfect for summer, chai is the best for the rest of the year. To make a Starbucks-esque iced chai latte at home, there are a few routes you can take. Hip2Save, for example, begins their recipe with chai tea bags, which they steep in hot water before adding milk, ice, and, optionally, sugar. However, an even easier version exists, as well as one that's completely homemade.
For an easier option that will taste most similar to Starbucks' latte, grab a box of shelf-stable chai concentrate from your local grocery store or order some online (via Sweet Steep). The Tazo brand's concentrate will get you the closest to Starbucks' taste, but any brand of chai concentrate will work. To make an iced latte with a concentrate, you simply pour some concentrate into a cup and top with ice and milk. It comes together in seconds, and you can adjust the strength and caffeine levels based on how much concentrate you add, so you're in full control.
However, if you want to make a completely homemade chai latte, you'll need to start with straight black tea, whether in bags or loose leaf. On the stove, boil your tea in water and add warm spices to infuse. Taste of Home recommends incorporating cinnamon, ginger, and allspice. Then, you can make a sweetened cream with brown or granulated sugar to latte-ify your tea when it's done. Taste of Home notes that this process can be expedited by steeping the tea and spices in a coffee machine.
Happy drinking!