What This Royal Friend Is Claiming About Kate And Meghan's Tearful Disagreement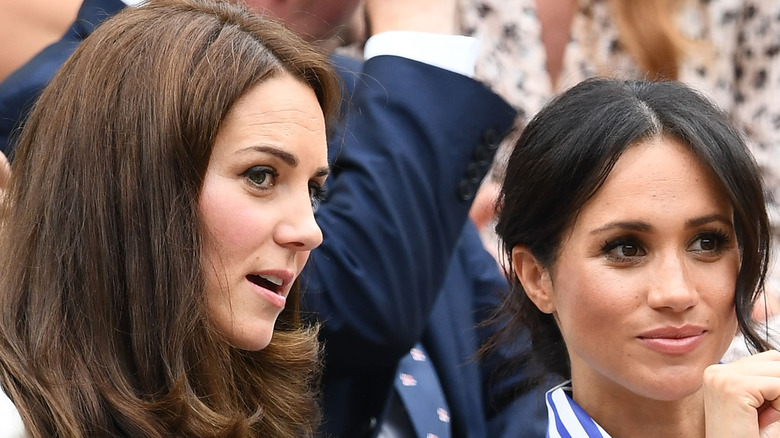 Clive Mason/Getty Images
One of the biggest bombshells, in a chat loaded with them, that came out of Prince Harry and Meghan Markle's interview with Oprah Winfrey was the revelation that Kate Middleton was actually the instigator in the women's long-rumored feud. As Elle reported at the time, the British tabloids had been pitting Kate and Meghan against each other for months but the former actor was always positioned as the aggressor, allegedly even reducing her sister-in-law to tears. In fact, as the Duchess of Sussex told Oprah, "No. [I didn't make Kate cry]. No, no, the reverse happened."
Meghan explained, "I don't say that to be disparaging to anyone, because it was a really hard week of the wedding, and she was upset about something, but she owned it, and she apologized, and she brought me flowers and a note apologizing and she did what I would do if I knew that I hurt someone. To just take accountability for it." However, despite the fact they patched things up in private, the tabloids ran with the story that Meghan made Kate cry. As the former "Suits" star clarified, "There wasn't a confrontation, and ... I don't think it's fair to her to get into the details of that because she apologized and I've forgiven her." 
According to royal expert Katie Nicholls, Kate wasn't happy when Meghan spoke out. She told OK! Magazine there were "several different versions" of the story. 
Kate took the disagreement with Meghan really hard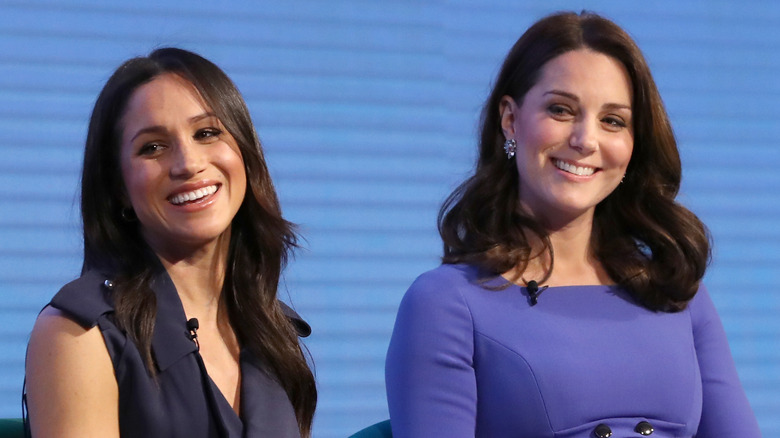 Chris Jackson/Getty Images
According to the Telegraph, royal friend Kirstie Allsop revealed Kate Middleton was even more annoyed that Meghan Markle spilled the details of their pre-wedding argument than we realized. Allsop clarified, "Kate never ever loses her temper, but she found out Meghan was being rude to staff at Kensington Palace and she was angry with her. Then, Kate burst into tears because she'd lost control and she did take Meghan flowers to try and patch things up." As far as the insider is concerned, Meghan should've kept her mouth shut since Kate clearly felt bad enough about the incident to bring her flowers and apologize in person. 
Likewise, Allsop pointed out that the Sussexes did the Oprah interview despite knowing Prince Philip was dying at the time, describing their conduct as "appalling." The royal insider counts Camilla Parker-Bowles as a family friend, given she's her brother Henry's godmother, while their late mother, Lady Fiona Hindlip, was also a childhood friend of the Duchess of Cornwall. The original issue with Meghan and Kate had something to do with bridesmaid dresses but, in the ensuing months, bullying claims have been waged against the former actor, which seem to be feeding into Allsop's take on the fight as it allegedly occurred.