Jennifer Lawrence Turns Heads In A Rare Public Appearance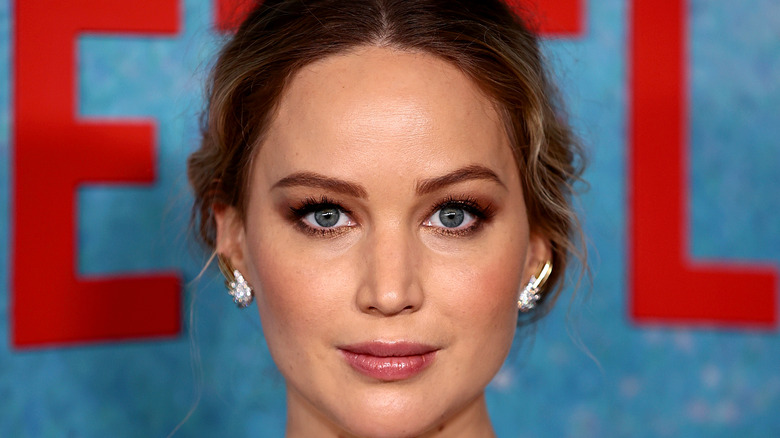 Dimitrios Kambouris/Getty Images
In theory, the concept behind a movie premiere is to highlight the release of a brand new film. However, on the rare occasion, a star of a movie manages to steal the light entirely, to the point where people forget what movie they were even there to promote. Fans has been eagerly awaiting the release of the heavily teased new "Don't Look Up" movie starring big names like Leonardo DiCaprio, Meryl Steep, and Jonah Hill (via IMDb). But the star of the New York City premiere night on December 5, 2021 was DiCaprio's co-star Jennifer Lawrence. 
Lawrence has infamously hidden from the public eye over the past few years. She recently explained to Vanity Fair, "I felt like I reached a point where people were not pleased just by my existence." The New York City premiere marks her first big red carpet appearance since 2019 (via E! Online). The "Dark Phoenix" star may have been tucked away, but she's definitely been busy. Between her marriage to Cooke Maroney, to the couple getting pregnant with their first child, she's had a lot going on (via Elle). But when Lawrence made her debut for "Don't Look Up", she had everyone looking up and looking directly at her.
Jennifer Lawrence and her baby bump were a vision in gold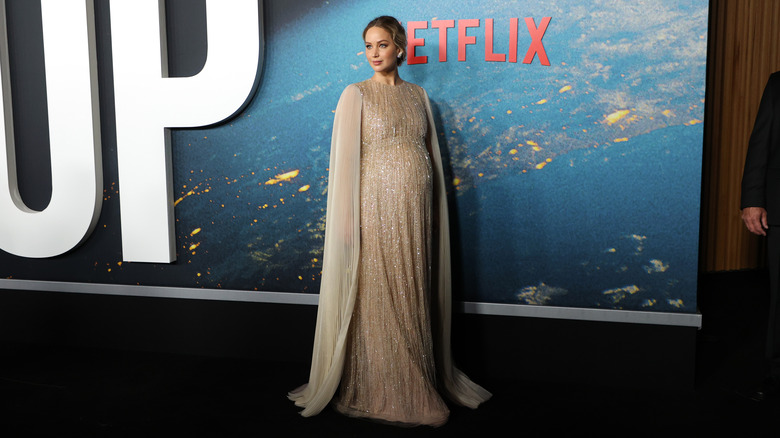 Mike Coppola/Getty Images
Jennifer Lawrence has never been one to miss the opportunity to absolutely stun at every red carpet event she attends. She rarely ever misses, and has a tendency to serve iconic looks (via Hollywood Life). While fans held their breath in anticipation of her return to not only the big screen, but all of our tiny screens with every promotional event for the new "Don't Look Up" movie, she certainly delivered at the New York City premiere. 
Glittering in gold, Lawrence was hard to miss. Her stylist Kate Young put together the perfect glamorous moment for the special occasion. Lawrence glowed in the glistening Dior dress with regal cap sleeves paired with a shimmery jewels provided by Tiffany & Co. (via Vogue). The movie wasn't all that was premiering that night though, as Lawrence debuted her adorable new baby bump. Lawrence has shared she was cautious about her return to Hollywood, "I'm so nervous. I haven't spoken to the world in forever. And to come back now, when I have all of these new accessories added to my life that I obviously want to protect"(via Vanity Fair). But with a sure-to-be hit new movie, it seems like her return will be met with loving applause.