Here's How You Can Spend A Night In The Home Alone House
The holiday season is going to be a little bit more magical for some lucky "Home Alone" fans. As a tie-in to the new Disney+ movie "Home Sweet Home Alone," the iconic "Home Alone" house in the Chicago suburb of Winnetka is going to be available for the first time ever on Airbnb at 1pm Central Time on December 7. It will be for just one night — December 12 — for four guests for the bargain price of $25.
The Airbnb ad, written from the perspective of the "Home Alone" big brother Buzz McCallister, outlines the opportunity: "While we're away on vacation (all of us, this time), I'm inviting one crew of mischief makers to let their inner eight-year-olds run free in my childhood home on Dec. 12."
And it's not just a chance to stay in the house itself, it will be a holiday adventure. It'll be decorated to the nines for the holidays, including a Christmas tree and stockings by the fireplace, and a screening of the movie "Home Sweet Home Alone."
Set booby traps and meet a tarantula for a Home Alone holiday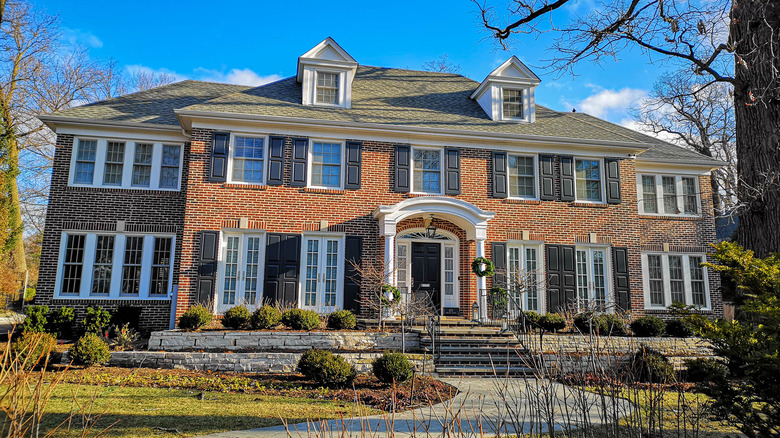 Emma_Griffiths/Shutterstock
Of course, it wouldn't be a "Home Alone" homage without getting to embrace your mischievous side. Guests will get to set booby traps, use the McCallister patriarch's aftershave, and perfect your scream in the mirror. Oh, and there will be a meet and greet with a tarantula too, per the Airbnb press release.
There will be plenty of food fit for your inner '90s child, including Chicago deep dish pizza and microwavable Kraft Mac & Cheese. Along with the memorable stay, the guests will get a LEGO Ideas "Home Alone" set to keep.
It's not a contest, you still have to get to and from Chicago, and it's not 100% clear what will determine who gets the chance to stay, but be ready to try your luck at 1 p.m. Central Time on December 7.
Buzz sums up the opportunity perfectly: "We may all be older and wiser now, but we're never too old for holiday hijinks."