The Real Reason Jimmy Kimmel's Radio Career Flopped
DFree/Shutterstock
As popular as Jimmy Kimmel is on the late night circuit, it wasn't his first gig. According to Biography, the comedian actually made his start in radio and his passion for the medium began while he was studying at the University of Nevada, Las Vegas and Arizona State University, where he tried his hand at being a radio disc jockey. He soon discovered that this was his calling, and by the age of 21, Kimmel began his professional career in radio.
However, his first job in this field didn't last long. As Kimmel explained during an appearance on "LIVE with Kelly and Ryan" (via YouTube), he was fired after just 10 months of working at a radio station in Seattle. 
"There were good reasons for my termination," the late night host said, going on to describe the various pranks he pulled during his time working there. "I would tape my boss in our meetings and then play them back on the air the next day. I would call his wife just to find things out about his life then repeat them on the air," he revealed.
Jimmy Kimmel eventually moved on to television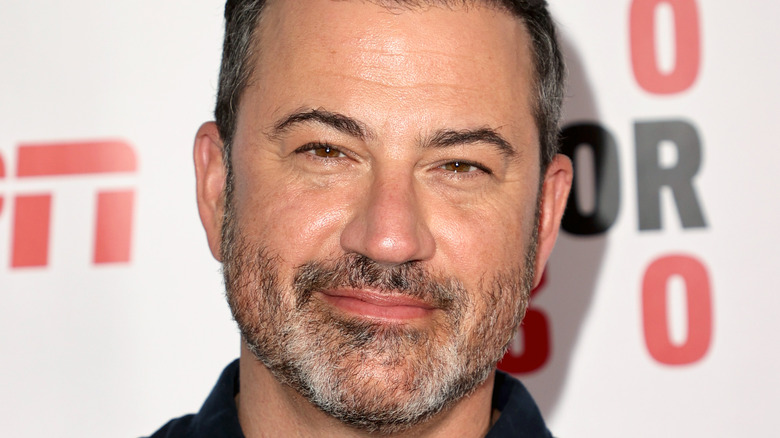 Kevin Winter/Getty Images
Ryan Seacrest was quick to point out that Jimmy Kimmel's hijinks were "the seeds of bits that you would end up doing on a talk show," and that his comedic streak was shining through even if he was self-sabotaging his first job for laughs.
According to Britannica, Kimmel eventually settled in Los Angeles and became known as "Jimmy the Sports Guy" on KROQ's "The Kevin & Bean Show" in 1994. Per Variety, Kimmel's former KROQ colleague, Gene Baxter, still had nothing but good words to say about the late night host years later. "You'll never find anyone who works harder than Jimmy, and he's a genuinely nice guy," Baxter said. "I think that's evident in the show he has now. No one has changed less from his success. He still sends thank you cards," he added. 
Although he wasn't fired from KROQ, Kimmel eventually decided to move on in 1997 to debut on the small screen as the host of Comedy Central's game show "Win Ben Stein's Money" (via Biography). From there, his television dominance only continued to skyrocket to where he's at now.