Jessica Camacho On Her New Holiday Movie A Christmas Proposal - Exclusive Interview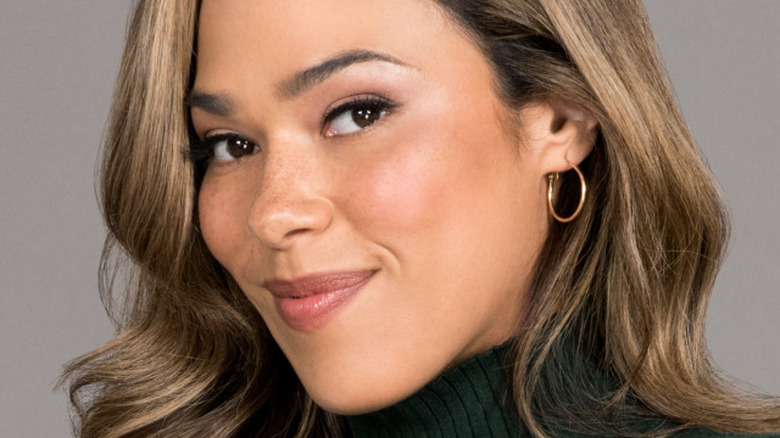 Dean Buscher/CBS
Jessica Camacho is no stranger to television viewers, boasting an extensive array of screen credits that include such series as "Last Resort," "Sleepy Hollow," "The Flash," and HBO's critically acclaimed "Watchmen." More recently, Camacho was a series regular on CBS legal drama "All Rise," playing an attorney with the Los Angeles County Public Defender's office whose personal life is marked by turbulence.
With the holiday season upon us, Camacho will next be seen in the CBS made-for-TV movie "A Christmas Proposal," playing a down-on-her-luck Seattle chef who agrees to pretend to be the girlfriend of a hotshot attorney (played by "CSI: Miami" and "Criminal Minds" star Adam Rodriguez), who brings her home to meet his family for Christmas in order to convince them that he's the ideal person to lead the family-run law firm. However, what began as a business arrangement soon becomes complicated by the magic of Christmas as genuine sparks begin flying between the two.
In an exclusive interview with The List, Camacho discusses her new movie, explains why working on a Christmas movie is a unique experience unto itself, and reveals the acting role from her past that, all these years later, continues to hold a special place in her heart.
Fans will see a different side of Jessica Camacho in A Christmas Proposal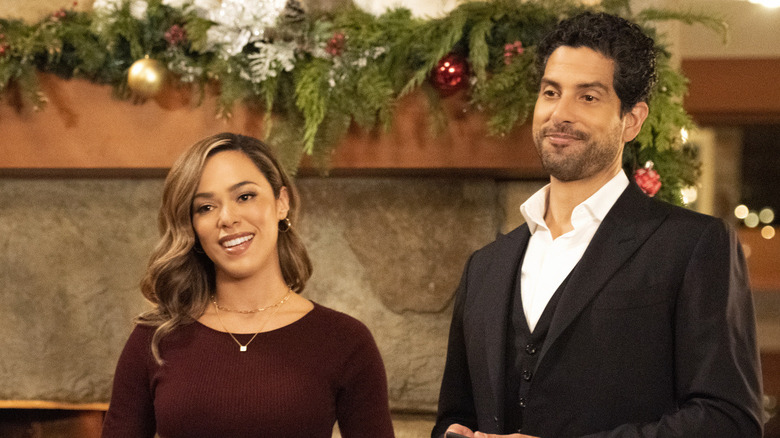 Dean Buscher/CBS
Tell me a little bit about the character that you play in "The Christmas Proposal."
Well, I play Maria, an enigmatic, kind, loving, passionate chef, whose goal it is to ... essentially, whose dream is to have her own food truck. She's super passionate about cooking, it's a gift, an art, a love that was passed to her from her parents, and that she just enjoys and puts her whole spirit into, and her whole joy of life. She finds that expression in her cooking, and her dream is to start with her own food truck, so she's kind of minding her own business, focusing on her goal, putting a stack of cash together one dollar at a time to finally start her dream, when she crossed paths with Julian, and things take an unexpected turn from there.
So Julian is played by Adam Rodriguez, and I know that from your past roles on CBS, you're usually in a courtroom, and he's investigating some sort of a brutal homicide. So, I'm guessing that we're going to be seeing different sides from both of you?
Yeah, yeah. And that's the joy, one of the greatest joys, I think, of being an actor and of this pursuit, is getting to explore different sides of ourselves, and getting to live within those different shapes and layers of who we are. And it was exciting for me to live in a little bit of a lighter realm, right? And to have fun with that, and to get to play with the kind of like magic that the Christmas season represents, of hopefulness and love, and all of the things that we cling to. And it was really fun to play in a little bit of a lighter world. And, of course, we still ... Adam and I talked about this a lot. It's important to both of us to bring depth, to bring real, grounded human experience to even the lightest of stories, so that there's something real to relate to for the audience. But it was, for the most part, I think for me, it was just a joy to play in that lighter world for a bit. It was really lovely.
What drew her to A Christmas Proposal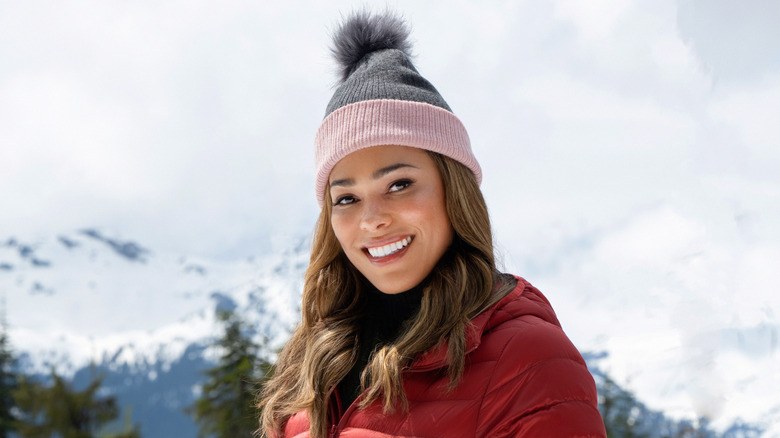 Dean Buscher/CBS
Was that part of the attraction to you about doing a Christmas movie, where you can live within this world where you're celebrating the spirit of the holiday season?
Oh gosh, yeah. I mean, I think a lot of us grew up kind of ... Well, I'll speak for myself. I definitely grew up loving holiday movies and even the Lifetime and Hallmark movies every year. It's just something about the magic of the season. In the twinkling lights and how cozy and warm the cocoa looks in their cups, and the scarves and the snowmen and just everything that ... The lightness, the message that that season represents, it transfixed me as a child. And so, to be finally offered the opportunity to play inside of that world, it's like stepping into a snow globe. That's what it felt like for me. It was just like everywhere I looked was magical, and it was like a dream, and it was just so ... It was just beautiful.
One thing I think a lot of viewers might not realize is that these movies are usually shot in the summertime. So for you, what was the experience like of recreating Christmas in the middle of the summer?
Yeah, that was a good challenge. That was a bit of a challenge, and it was funny to be on set with everyone, and they're like, "Yeah, welcome to it." I felt like I was paying my dues. They were like, "This is how it goes." ... Thank God for the amazing makeup team who's wiping sweat off of your brow and your nose and stuff because it is a very real experience when you are wearing layers of clothes and it's sunny and hot. And the snow is made of soap, so the snow that ... we never know until it lands on your tongue or your lip, and you're like, "Is that soap?" Yeah, yep, yep, that's soap.
And it doesn't dissipate, so if it lands on your eyelash during a scene, we were shooting a really climactic scene, and a dramatic scene, and a piece of it, some of the soap snow, landed on my eyelash, and it doesn't dissipate. So you kind of have it where you try and make it natural to look like you're wiping your brow in a dramatic movement, but it's really, you got to get the soap off, or it's going to be there throughout the whole scene and ruin the thing. So, just little things like that, that posed its own silly challenges. It was really fun.
Did you get to have any soap snowball fights?
No, man. I mean, we definitely should have made that happen — definitely should've made that happen.
Jessica Camacho loves watching Christmas movies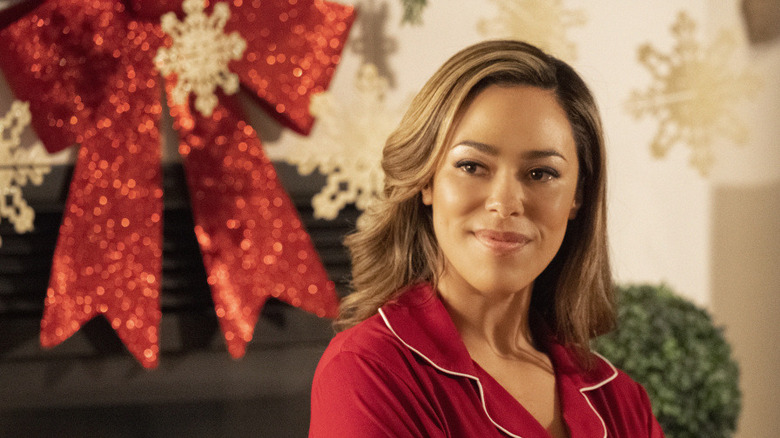 Dean Buscher/CBS
Are you a fan of these holiday movies? I know people who just cannot get enough of them. They just watch one after the other.
Yeah, I'm a fan. I mean, I think that there's something really ... Holidays, we put so much, we build them up so much, and there are a lot of themes at the same time. They can be really beautiful and magical and lovely, [but] they can also be difficult and challenging, and they can make you confront things that you don't normally do at any other time, like family and lives, and just all of these very human things. And so, I think it's really beautiful. I think some human beings need reminders to have faith, right? To have faith in magic, and a reminder that sometimes you have to create your own magic. You do! And that's what the holidays represent to me. It's like when you realize as a kid, like when I realized Santa wasn't real, it was just so ...
First of all, it was like a betrayal like I'd never experienced before. I was like, "What? What do you mean? You've been lying to me!" But after I got over that, I realized as you get older, your parents tell you that because they want you believe in something, and they want to see your face light up when it's time to put cookies out for Santa. In my family, we would put cookies out for Santa, but we'd also put carrots and celery out for the reindeer. And they want to see their kids just light up with that joy, and the expectation and the hope and the mystery and all of that. And I realize that as I got older, it's my parents creating that magic for me.
And that's what we try and do for the people that we love, right? That's what the holidays are for me. I want to give that magic back to the people that I love. I want to see their faces light up when they open something that didn't expect, and that touched them and means something to them. And so yeah, with these movies, maybe we're going through a hard time, like you never know what people are grappling with and dealing with. And I think there's something about these movies that maybe they seem silly, or maybe they seem light or whatever. But the thing is, it's the message that's in there, which is you can't let go of hope. You know what I mean? You can't let go of hope, and sometimes you've got to make that, you've got to go find it, you got to make that magic for yourself, and there's lessons in that. And so, I think that's what resonates most deeply with me about Christmas movies.
How it was filming during a pandemic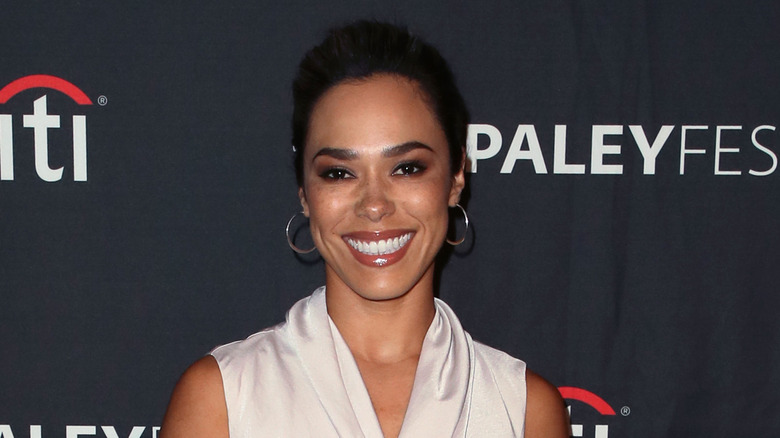 David Livingston/Getty Images
And also, when you're shooting these days, it's a different experience than it was a couple of years ago, obviously because of the pandemic. But I've spoken to a few actors who say that it's interesting when you suddenly do one of these Christmas movies, you get to take the masks off, and you get to sort of live in this make-believe world where that doesn't exist, and it's almost like going back in time. Did you feel that when you were filming?
Yeah. I mean, it's really cool to think about. I'm thinking back to when I was on "All Rise." It's true, there were so many extra steps that we had to take, and there was general ... I don't want to say panic at that time, but just this caution that everyone had to be aware of. And it's true, it's like right before we get ready to shoot, and you take the mask off, and it's action, you get to forget about all of that. And yeah, I hadn't thought of it like that, but I think I was just so engrossed in wanting to do my job well and focus on whatever I was experiencing in the scene at that moment. But yeah, I think it was a beautiful departure from the heavy reality of what we're all experiencing and the unknown of that, right? The fear and the caution and the paranoia — not even the paranoia but the reality that we're all grappling with. Yeah, so I guess to be able to put that to the side for a little bit and play in this beautiful realm of possibility and magic was definitely a gift.
Jessica Camacho on being part of All Rise's groundbreaking Zoom episode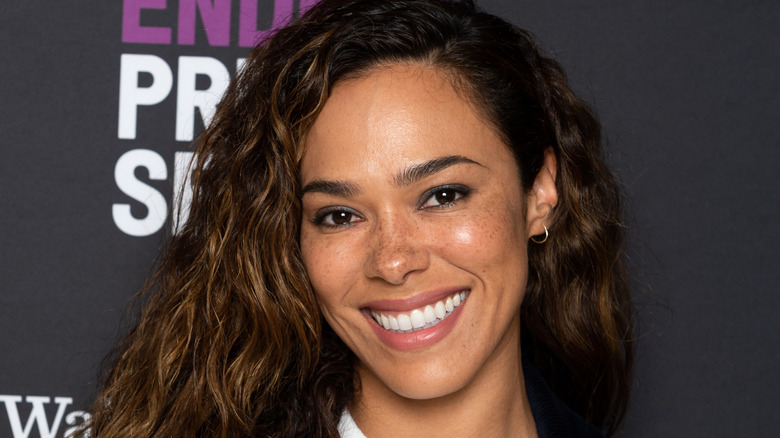 Amanda Edwards/Getty Images
Now, to touch on that a bit, correct me if I'm wrong, but wasn't "All Rise" the first show that did a pandemic episode? Weren't you the first ones to do that episode on Zoom? Is that right?
I think so, yeah. I think we were like the first currently running, currently airing show on primetime to do a virtual episode, so that was huge. And now it's par for the course, right? I mean, it's talk shows, it's every genre of show and movie. It's such a norm now, but that was really new and very challenging and exciting. I shot in my closet, and the lighting setup was reduced to a little clip-on light that I put on my phone, and there you go, and that was the setup. So yeah, it was kind of really cool to be at the forefront of that new, I guess, adventure.
At the time, did you have the sense like, "We are really breaking new ground here in television?" Or was it just more like a show-must-go-on kind of a thing?
I think at the time it was like, "The show must go on." We wanted to finish it; we wanted to finish what we started. That was our goal. It's like, "Well, let's finish this thing, and what are we doing? Okay, so we're doing this, huh? Okay. Well, here we go!" And you're all just kind of going with the flow, and not being sure of how it's going to come out or look or sound or be received. But there was something to that being the light in all of that darkness at the time, which was the darkness. It's like the fear while experiencing the isolation. It was nice to have that huge challenge just to take up our attention in our mind and give us something to focus on. And I'm really glad that it came out the way it did. It touched a lot of people. I think a lot of people were able to resonate with that and relate to that, and it brought a light into the darkness that a lot of people were experiencing. I was just honored to get to be a part of that.
Yeah, and as you mentioned, a lot of other shows, I think, saw that and said, "Hey, you know what? We can do that too."
Yeah, yeah, amazing, which is beautiful. I'm so ready for things to go back to normal, and they are little by little. But what's normal now? I think we're experiencing, we've all said, the new normal, but it's one thing to say that and be like, "Oh, is there a new normal?" But then it's another thing to really be accepting day by day that, yeah, this really is the new normal, and we don't know what that looks like yet. But I think all we can continue to do is take it a step at a time.
The one project from her past that still resonates with her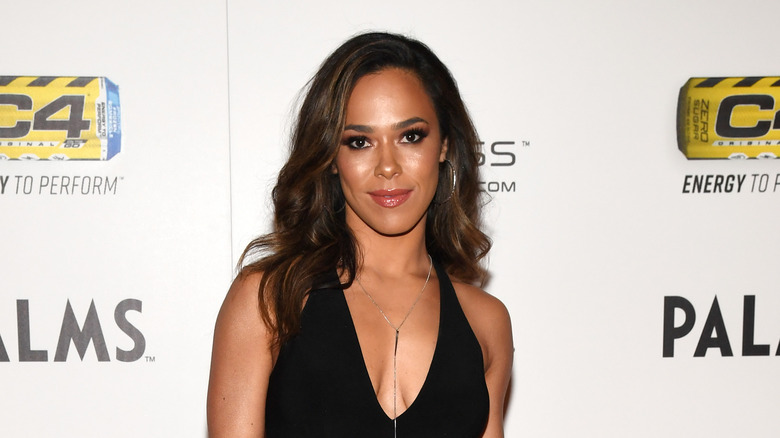 Ethan Miller/Getty Images
I was taking a look at your list of screen credits, and oh my God, that is such an extensive list of things that you've done, it's amazing. So, I just wondered if there's anything in particular that you've done in the past that really stands out for you still, as being the most memorable experiences that you've had, career-wise.
I mean, there's so many different experiences for so many reasons, and it honestly ... In every project that I've ever been fortunate enough to work on, there have been memorable moments, and I always feel very fortunate to be doing what I get to do, to be living my dream. It's never lost on me how magical that is, and how much I treasure that, how grateful I am. But I think one of the most memorable was when I worked on a show called "Last Resort," and I played a character named Pilar Cortez, and we shot in Hawaii. It was set aboard a submarine. We were Navy crew members, and we had gone rogue on this island. It was really cool. I was working with Andre Braugher. I mean, he's just fantastic, and I learned so much from him, and he's such a grounded, amazing actor with such a huge body of work, and to be in a scene with him and to be learning from him.
And at the time, I had promised myself that by the age of 30, I would no longer be working in restaurants, no longer be a server, and that was my goal, right? I was like, "I will not be serving tables at age 30." And on my 30th birthday, I was in Hawaii, and I found myself in my hotel room looking out at the ocean, and I was living my dream, and I had met my goal and kept that promise to myself. And it was just this really huge moment of realizing, "Wow, I'm so grateful." Yeah, it was a huge moment; it was surreal. It was surreal to be living in that dream that I used to conjure up in my head during my shift when I was waiting tables. And when things got really hard, and I didn't know how things were going to turn out, that was a big one for me in my journey as a young actor. That moment, and that experience was really big.
"A Christmas Proposal" debuts on CBS on Sunday, December 12 at 8:30 p.m. ET, 8 p.m. PT.