How Tim McGraw Helped Faith Hill Through Her Father's Death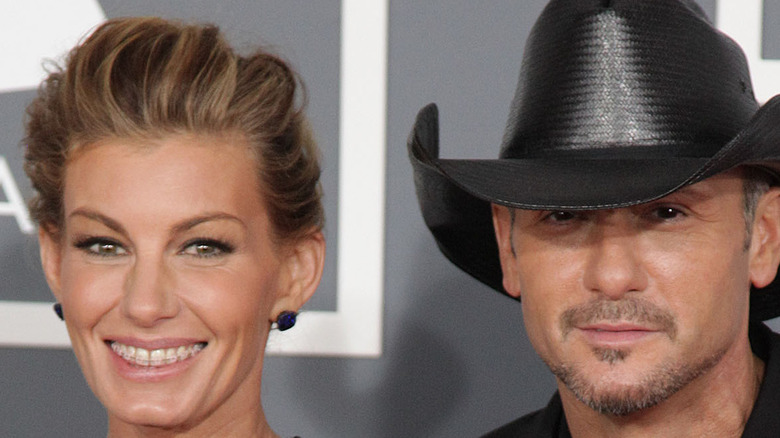 DFree/Shutterstock
Faith Hill says that Tim McGraw was "so present" as she dealt with the death of her father, just a couple of years after losing her mother.
Both successful singers, these two may be known best for being country music's power couple. They met back in 1994, and at that time, they were actually both with other people. However, two years later, while on tour together, they truly fell for one another. Hill and McGraw tied the knot in October 1996, and together, they have three daughters: Grace, who was born in 1997, Maggie, who was born in 1998, and Aubrey, who was born in 2001 (via Us Weekly).
In addition to singing, this couple has also acted. For instance, McGraw was in "Friday Night Lights" (via IMDb), while Hill has appeared in works like "Touched by an Angel" and "The Stepford Wives" (via IMDb). "We just feel fortunate and blessed and grateful for our kids and all the things we've gone through, the ups and downs," McGraw told People.
Faith Hill says Tim McGraw 'adored' her father and visited him daily
One of the recent downs Faith Hill and Tim McGraw have experienced together is the passing of her father, Ted Perry, in 2019. "It's difficult to lose parents just a couple of years apart and watch them pass right in front of you," said Hill, whose mother, Edna, passed in 2016. "My dad had Lewy body dementia, and it was difficult to watch a man you know be someone that you don't recognize."
Something that truly helped the country star during that time — and during every journey of her life — would be her husband. According to Hill, her father and McGraw "adored" each other, and her husband would even visit Perry daily. "Daddy loved Tim, and they shared many moments like this. Just the two of them," she wrote on Instagram.
The good news is that this couple has a high coming up, too, as "1883" premieres on December 19. A prequel to "Yellowstone," this Paramount + series will mark Hill and McGraw's first time to act together.