Here's What Pantone's 2022 Color Of The Year Really Means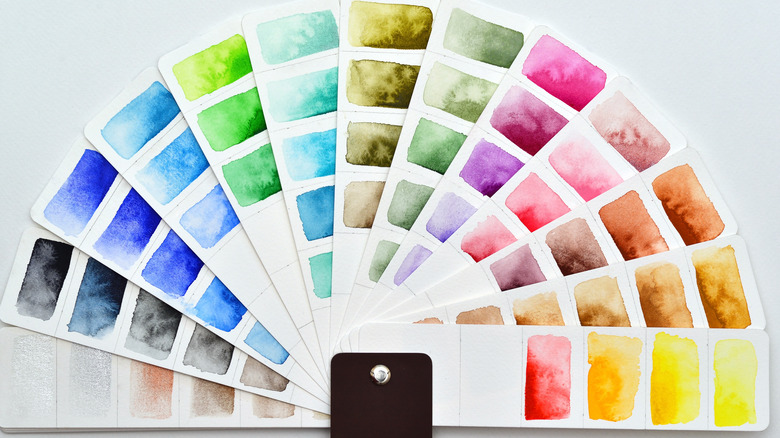 Anastasiya Deriy/Shutterstock
When you think of colors, your mind probably goes straight to Pantone, and with good reason. Colloquially dubbed the "global color authority," Pantone has designated a color every year since 2000 that ends up dominating trends in fashion, beauty, and home decor (per The Focus).
Each year, there is a secret meeting held among color experts around the world who then confer on the designated color of the year. The colors are chosen based on hues that are already trending, as well as what Pantone describes as "a color snapshot of what we see taking place in our global culture that serves as an expression of a mood and an attitude" (via Strategic Factory).
In 2021, Pantone assigned two colors as "Color of the Year" — Ultimate Gray and Illuminating, the latter of which is a lemon yellow (per ARTnews). The gray represented the ambiguity of the ongoing pandemic, while the lemon yellow signified hope at the end of a dark tunnel.
Other paint and color companies also designate their colors of the year. For 2022, five other companies chose various shades of sage green to represent the aspiration for a fresh start and more peaceful times (via Houston Chronicle). Pantone decided to take a unique approach and create a new color just for this upcoming year. Pantone's 2022 Color of the Year that mimics a dusky sky aims to stand out as a breath of fresh air.
This color will bring serenity to troubled times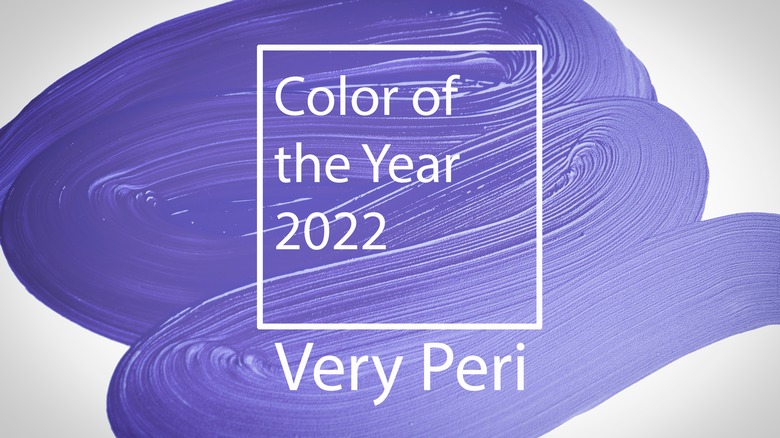 vovidzha/Shutterstock
Cue the drumroll — Pantone's 2022 Color of the Year is Very Peri (via Pantone). Like its name implies, Very Peri is a dark periwinkle that is more purple-leaning than blue (per Houston Chronicle).
According to Pantone, Very Peri's combination of blue with violet-red undertones represents "a spritely, joyous attitude and dynamic presence that encourages courageous creativity and imaginative expression." The color authority hopes that Very Peri can help us open up to endless possibilities and give us the confidence to change our lives for the better, as we start to come out of a prolonged period of isolation.
"Creating a new color for the first time in the history of our PANTONE Color of the Year educational color program reflects the global innovation and transformation taking place," said Laurie Pressman, vice president of the Pantone Color Institute. Pressman added, "As society continues to recognize color as a critical form of communication, and a way to express and affect ideas and emotions and engage and connect, the complexity of this new red violet infused blue hue highlights the expansive possibilities that lay before us."
Expect to see Very Peri everywhere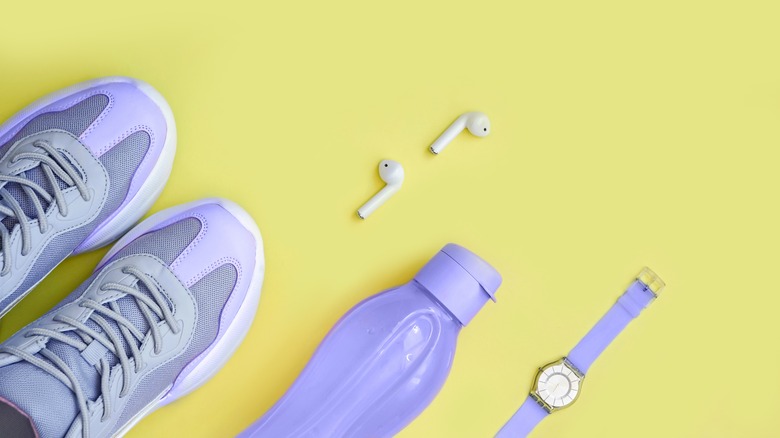 Tatiana Maksimova/Shutterstock
Particularly inspired by the growth in digital technology, Pantone worked with Microsoft for the 2022 Color of the Year (per CNN). Very Peri will be available as digital screensavers as well as interface options on PowerPoint, Teams, Edge, and Windows. Allure predicts this color will be among the hottest beauty trends in the new year from nail polish to eyeliner, and even hair, if you want a bold new hair color. The universally-flattering color makes a statement, while enhancing your features, and not overpowering them. Expect to see this color in glittery, saturated looks, as well as more subtle matte finishes.
According to WWD, there will be plenty of fashion-forward clothing choices available in Very Peri. Pantone executive director Leatrice Eiseman recommended looking for dresses made of metallic or silk fabric in Very Peri for a night out, while opting for Very Peri fleece separates in casual wear. The color is versatile enough that you will look elegant whether you are working out, or dining out.
A pop of Very Peri can even bring in a calm aura into your house, whether you decide to paint an accent wall in Very Peri, or pair beige furniture with some Very Peri throw pillows (per House Beautiful). Just like the color seeks to inspire people with the infinite opportunities out there, it looks like the possibilities are truly endless when it comes to incorporating Very Peri into your life in 2022.