TIME Magazine's Pick For Athlete Of The Year Has Twitter In A Tizzy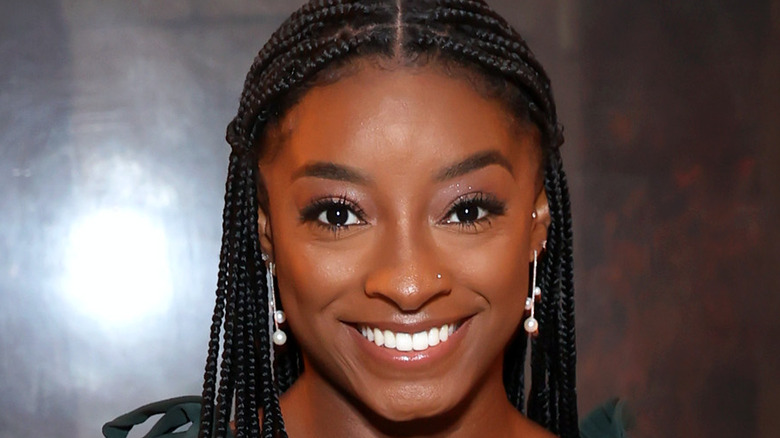 Emma Mcintyre/Getty Images
One of the longest traditions in magazine history has been TIME's Person of the Year, a distinction the editors give to the individual(s) they feel have had the greatest influence on the world in the past 12 months. It's far from a popularity contest; the cover subjects over the past 94 years include Vladimir Putin, Donald Trump, the Occupy and Arab Spring protesters of 2011, and even Adolf Hitler and the Ayatollah Khomeini (via CBS News). Still, each year's pick is destined to spark either approval or outrage.
In recent years, the magazine has expanded its annual listing to include other categories as well: Entertainer, Businessperson, and Athlete. For 2021, TIME chose Simone Biles, widely considered the GOAT (greatest of all time) in women's artistic gymnastics. The highly decorated athlete is known for her gravity-defying routines — she has developed four skills named after her — and for blowing away the competition in the 2016 Olympics. Biles was poised to repeat history in Tokyo this past summer, but instead, she opted to bow out of four of her scheduled events. She was going through mental health issues which affected her spatial perception, and she felt that it was too dangerous to compete under those circumstances (via CBS News).
It was precisely this act of self-preservation that won Biles the honor in TIME. "An athlete's clout is increasingly measured in much more than wins and losses," the magazine wrote in its tribute. "[T]his year demonstrated how athletes are uniquely positioned to propel mental health to the forefront of a larger cultural conversation." 
Many people disagreed with TIME's choice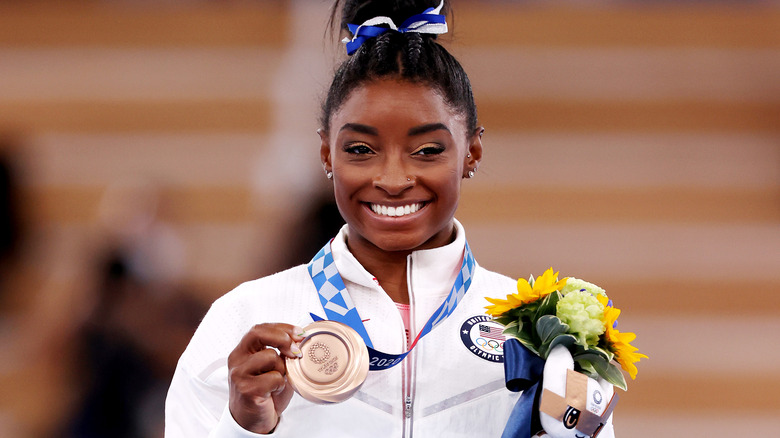 Jamie Squire/Getty Images
The TIME article also praised Simone Biles' courage in testifying before the Senate this year about being one of the women who had been sexually abused by longtime team doctor Larry Nassar — a scandal which rocked the gymnastics world. Black women have historically been objectified and subjugated, the article explained: "So when a Black female athlete like Biles takes visible steps to safeguard her own mental and physical health, to indicate that it's worth protecting, that action carries a special power."
Simone Biles posted a photo of the TIME cover on her Instagram account, which has gotten nearly 72,000 likes as of this writing, along with dozens of congratulatory messages. The Twitterverse, however, was far more harsh. When TIME tweeted the announcement, commenters voiced their disapproval. It seems many still feel that Biles is a "quitter" who let down Team USA. One critic wrote: "This is unbelievable. There are so many athletes who don't have the riches or resources this person has and they kept going regardless of issues they were facing. This should have gone to someone with the fortitude to continue and accomplish, not the opposite." 
Former gymnast Scott Wilbanks offered a rebuttal: "Her birth mother was a crystal addict. She was raised in the foster care system. She was sexually molested by her doctor while the USAG looked the other way. She's the most decorated gymnast in history. She brought mental health awareness to the world stage. Well earned, I say."
If you, or anyone you know, have been a victim of sexual assault, help is available. Visit the Rape, Abuse & Incest National Network (RAINN) website or contact RAINN's National Helpline at 1-800-656-HOPE (4673).