The Heartbreaking Death Of Monkees Star Michael Nesmith
Before bands such as One Direction and BTS were ever a twinkle in music producers' eyes, there was The Monkees — and today, fans of the popular 1960s band are heartbroken. One of the group's founding members, Michael Nesmith, died December 10 of natural causes at the age of 78, Rolling Stone reports. Known for wearing a green wool hat and speaking in a Texas drawl, Nesmith shot to fame thanks to a number of catchy chart-topping songs and a hit TV show, "The Monkees." The series followed Nesmith and his fellow band members Davy Jones, Peter Tork, and Micky Dolenz as they got caught up in fun, campy, and fictional adventures while trying to become successful musicians. A singer, guitarist, and songwriter, Nesmith wrote many of the band's hits, including "Mary, Mary," "Listen to the Band," and The Girl I Sometimes Knew."
Nesmith was only a tall, lanky 24-year-old when he was cast in the TV show. "The Monkees" sought to capitalize on the popularity of The Beatles by casting young musicians who could act, while forming a band and mirroring the comedic style of "A Hard Day's Night," according to The Hollywood Reporter. At the time, he had worked as a songwriter, penning such hits as "Different Drum" sung by Linda Ronstadt. Nesmith played the role of the oldest member, and by default, the leader of The Monkees — a role that seemed to carry into real life.
Nesmith helped the band gain control over its music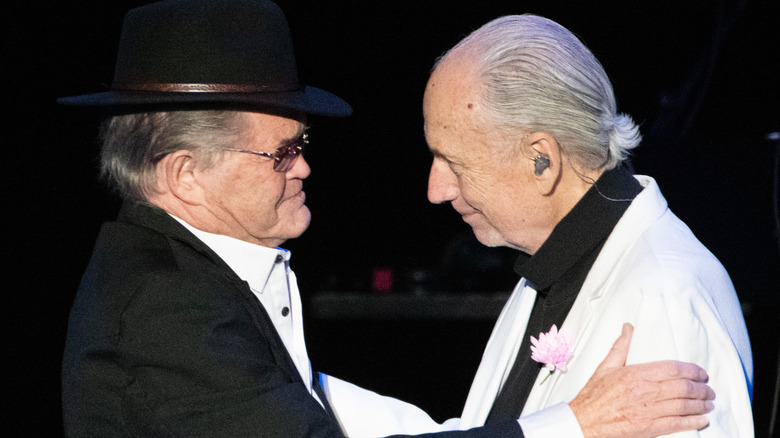 Scott Dudelson/Getty Images
In 1967, Michael Nesmith led The Monkees as they sought control over their music against record producer Don Kirshner, according to Rolling Stone. In a 2012 interview with the publication, the musician and TV star revealed it was more fun to perform songs that suited the group member's preferences. "We were kids with our own taste in music and were happier performing songs we liked — and/or wrote — than songs that were handed to us," Nesmith said.
Although The Monkees disbanded in 1970, Nesmith continued to work in the entertainment industry, writing songs for other musicians and founding a multimedia company that created the prototype for MTV (via The Hollywood Reporter). In 1980, his mother — Bette Nesmith Graham, who invented Liquid Paper — left him her fortune, which he then used to produce numerous films, including the cult favorite "Repo Man." He reunited with The Monkees in 1996 to record a new album and toured with the group after Davy Jones' death in 2012. The surviving members of The Monkees participated in a farewell tour in 2021, and Nesmith played in their final show November 14 in Los Angeles.
Micky Dolenz took to Twitter to issue a statement following Nesmith's death, calling him "a dear friend and partner." He added, "I'm so grateful that we could spend the last couple of months together doing what we loved best — singing, laughing, and doing shtick. ... Rest in peace, Nez."