The Truth About Steven Tyler's Journey With Addiction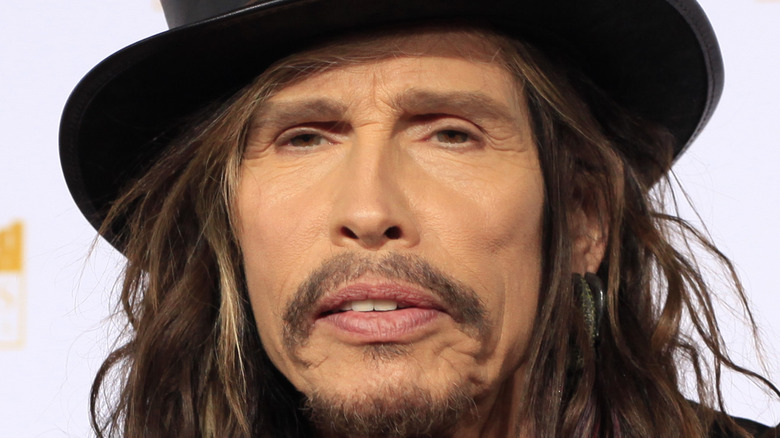 Kathy Hutchins/Shutterstock
Steven Tyler is the lead singer of one of the most iconic rock bands of all time, Aerosmith. Tyler and his bandmates Joe Perry, Brad Whitford, Tom Hamilton, Joey Kramer, and Ray Tabano together conquered the '70s and '80s (via Express). The group has produced dozens of hit songs such as "Dream On," "Crazy," "Sweet Emotion," "I Don't Want To Miss A Thing," and "Walk This Way," (via Return of Rock).
However, as the band was navigating their rising fame and popularity, things behind the scenes weren't always easy. The hard-partying lifestyle that was the rock scene in the '70s and '80s took a toll on many rock stars of that time, including the Aerosmith frontman. In fact, Tyler's serious addiction to drugs and alcohol nearly cost him everything, including the iconic rock band and his life. Thankfully, Tyler was given the help he needed on multiple occasions to continue creating the music that his fans love so much.
An intervention sent Steven Tyler to rehab in the '80s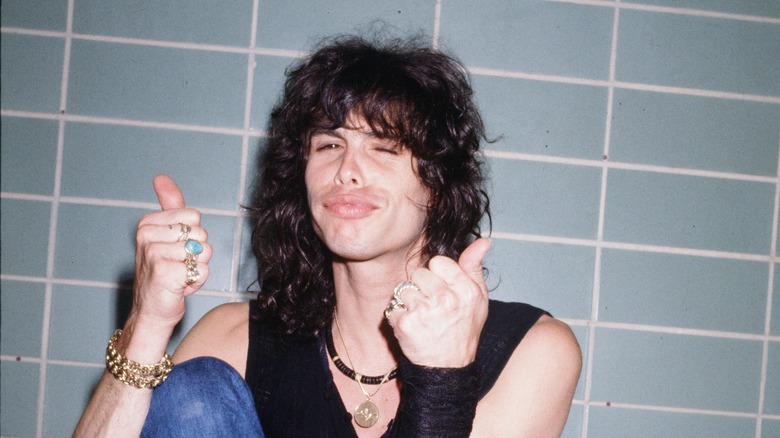 Koh Hasebe/shinko Music/Getty Images
While Steven Tyler's music career was skyrocketing, he was spiraling into a pit of addiction, per American Addiction Centers. "It was more or less the thing to do," Tyler told GQ of his hard-partying. "I don't think there were any bands that even knew what sober was," he said. Tyler admits to drinking way too much and using a multitude of drugs such as cocaine, heroin, methamphetamine, and LSD. However, because that was considered to be the rock and roll lifestyle, Tyler didn't believe he had a problem.
Instead, Tyler claims he believed that the drugs and alcohol helped his creative process and allowed him to produce hit songs. "It absolutely works for a while. But then things go wrong," he admitted. "You become addicted, it's something you do all the time, and suddenly it starts influencing your greatness," he told the magazine.
Eventually, things got so bad for the singer that his bandmates were forced to speak up. The band staged an intervention for Tyler in the '80s and sent him to rehab. Following the intervention, Tyler received help for his addiction issues and stayed sober for a decade after. Sadly, he didn't remain sober.
Steven Tyler struggled to stay sober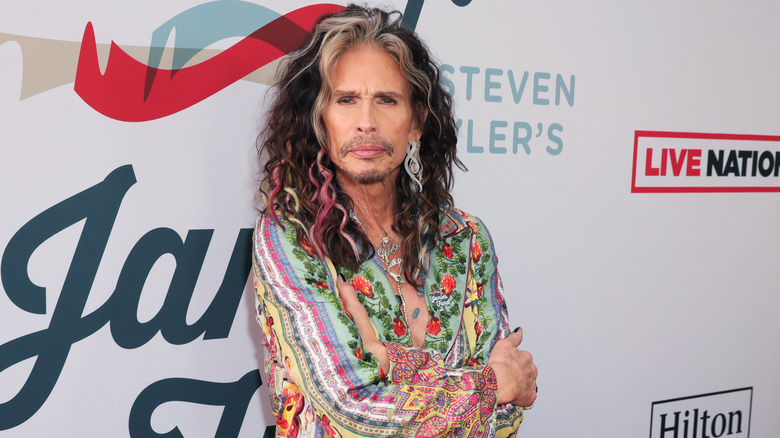 Leon Bennett/Getty Images
After an intervention set up by his band, Steven Tyler spent a decade clean and sober (via American Addiction Centers). However, the Aerosmith singer suffered a relapse in the early 2000s when he was forced to take prescription pain medication following foot surgery. Tyler struggled for years after falling off the wagon. However it wasn't until he checked himself back into rehab in 2009 that he returned to sober living yet again. The rocker has admitted that it was because of the intervention in the '80s and his first trip to rehab that he had the courage to find help following his relapse.
These days, Tyler is sober yet again and takes the proper steps to help him maintain his sobriety, which includes attending AA meetings. "I continue to partake in the 12-step program," he told GQ. "I can be in Afghanistan, I can be in Japan, and go to a meeting and the room is full of alcoholics and people that did drugs like I did. Only nobody's high. And, believe me, the stuff they say is phenomenal. They're still crazy, they're just not under the influence."
Fans are grateful that Tyler is open to sharing his story and that he and Aerosmith are still rocking after all of these years. "I got a band that's still together, the guys are still alive, everyone's healthy. We play better than we did 50 years ago," Tyler said.