The Truth About Steven Tyler's Multiple Marriages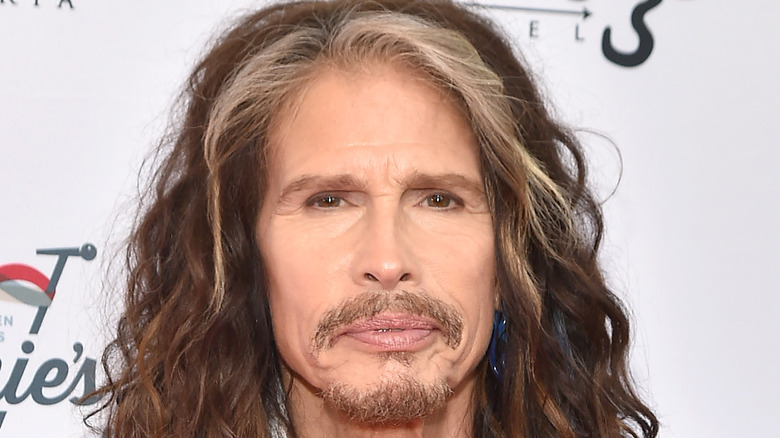 Theo Wargo/Getty Images
Steven Tyler is the legendary rock star whose nine lives in the industry have seemingly lasted decades. From fronting Aerosmith to judging on "American Idol," Tyler has more than made his mark on the zeitgeist, while his relationship with actor daughter Liv Tyler continues to court headlines. In a 2018 interview with Fox News' "OBJECTified," via Deadline, Tyler admitted to feeling pressured to keep the long-held tradition of sex, drugs and rock 'n' roll alive even if it was at his own expense.
Tyler explained, "I have an addictive personality so I found certain drugs I loved and didn't stop to the point of hurting my children, hurting my life, hurting my family, hurting my band." In fact, "There was a point where I didn't have a band and I didn't care." The iconic singer has understandably had a tumultuous time finding the right partner, acknowledging, "I certainly had my way with women and women had their way with me." Unsurprisingly, then, Tyler has been married more than once. 
The Aerosmith front-man is a serial monogamist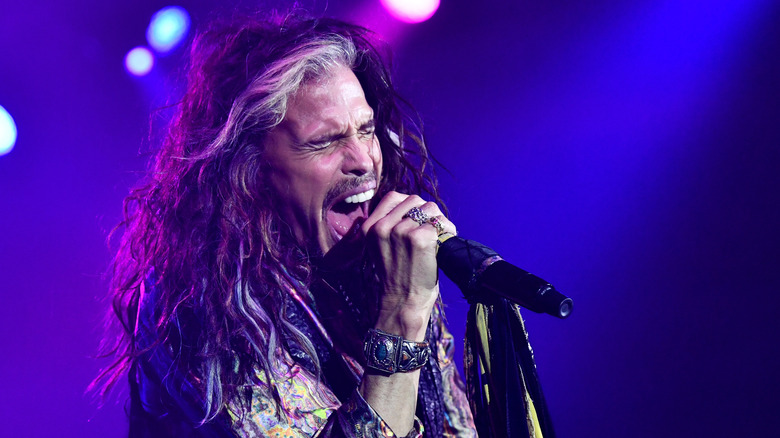 Emma Mcintyre/Getty Images
Steven Tyler has enjoyed a pretty wild life but, along the way, the Aerosmith front-man has made several valiant attempts to settle down. As Express notes, Tyler has had several serious girlfriends over the years and has been married twice. His first big, long-term relationship was with Julia Holcomb, whom the rock star began dating at the age of 27, back in 1975, when she was just 16. In fact, he became her legal guardian at one point. They were driven apart by an abortion and the significant age difference between them.
In Aerosmith autobiography "Walk This Way," Tyler admitted to being "devastated" when it didn't work out with Holcomb. "It's a major thing when you're growing something with a woman, but they convinced us that it would never work out and would ruin our lives," he explained of the tough situation. Liv Tyler, meanwhile, was the result of her father's 1977 relationship with Playboy Playmate Bebe Buell, though she didn't find out who her father really was for over a decade. 
Steven Tyler tends to go for much younger women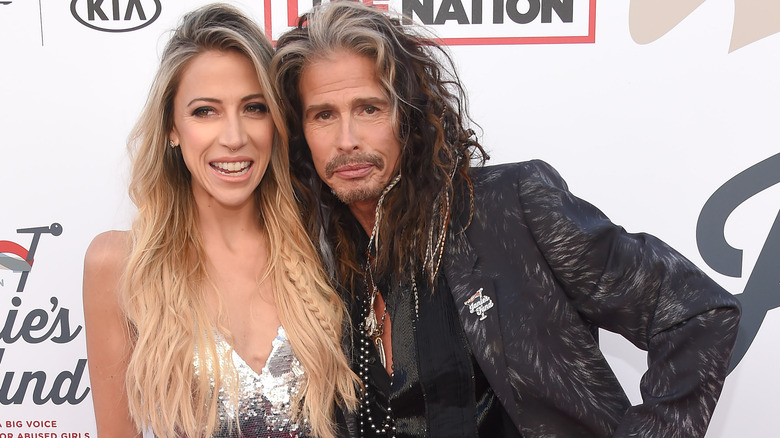 DFree/Shutterstock
Per Amo Mama, in 1978, Steven Tyler married model Cyrinda Foxe, with the couple welcoming daughter Mia later that same year. Mia grew up to become a model, too. They divorced in 1987, and Foxe subsequently passed away in 2002. Just a year after their divorce was finalized, the Aerosmith singer married designer Teresa Barrick. The former couple shares two children; Chelsea, who was born in 1989, and Taj, who was born in 1991. Their marriage lasted until 2006. 
That same year, Tyler began seeing Erin Brady and the couple even became engaged in 2011, but broke up in 2013. According to a Daily Mail article, his family weren't too impressed with how close Brady and Liv were in age. As Us Weekly notes, Tyler has been dating his former personal assistant, Aimee Preston, since 2016 despite their 40-year age gap. Preston was also married previously, to talent agent Scott Shachter, per The Things, who confirm she and Tyler were originally linked romantically back in 2014. Maybe she's the one?