The Hidden Connection Dwayne The Rock Johnson Has To James Bond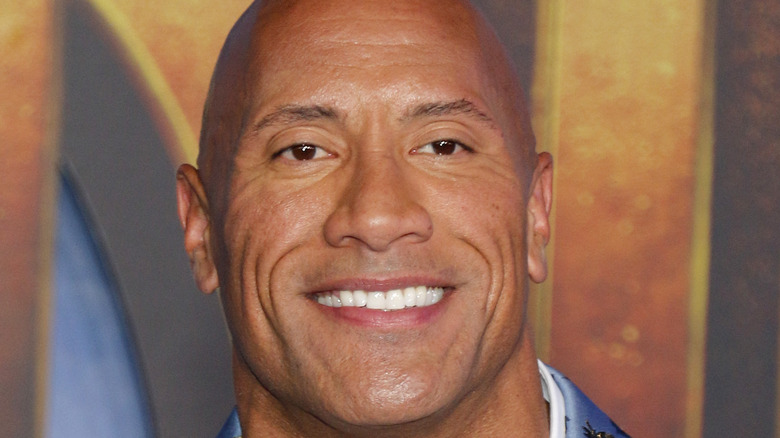 Tinseltown/Shutterstock
As Daniel Craig's tenure as James Bond is sadly over, the casting team for the franchise has their work cut out for them in finding a successor. However, thanks to the uptake in quality British actors as of late, there is plenty to choose from. According to Vogue, some of the most likely candidates seem to be "Bridgerton's" Regé-Jean Page, "Crazy Rich Asians" star Henry Golding, "The Suicide Squad's" Idris Elba, and "Venom's" Tom Hardy.
But there are a few wild cards that would like to take on the role, too. During an interview with Esquire, Dwayne "The Rock" Johnson revealed that he's got his eyes on being the world's most famous spy and has little interest in playing a villain.
An American actor has never taken on the role of James Bond, but there's certainly a first time for everything. And seeing as the actor has a history with the franchise, it's actually rather fitting.
Dwayne Johnson wants to follow in his grandfather's footsteps
You see, Dwayne Johnson's grandfather Peter Maivia actually had a role in 1967's "You Only Live Twice," which starred Sean Connery in his fifth film as the British spy. The film was Maivia's only acting role during the peak of the Samoan-American's professional wrestling career (via IMDb). While only brief, he did have the opportunity to not only act opposite Connery, but also throw him through a Shoji Screen wall (via YouTube). Maivia is also credited as a stunt fight choreographer on the film, too.
Obviously, "The Rock" could easily play a similar, villainous role as his grandfather did. But as much as he would like to do that, it's the main role he's after. "I would like to follow in his footsteps and be the next Bond," he told Esquire. "I don't want to be a villain. You gotta be Bond," Johnson added. 
As amazing as that would be, it's probably not going to happen. Especially since Barbara Broccoli, who has a major say in who plays Bond, has specified that he's got to be British. "He should be British, so British can mean any [ethnicity or race]," she told The Hollywood Reporter.