Is Donald Trump's Tour With Bill O'Reilly A Total Flop?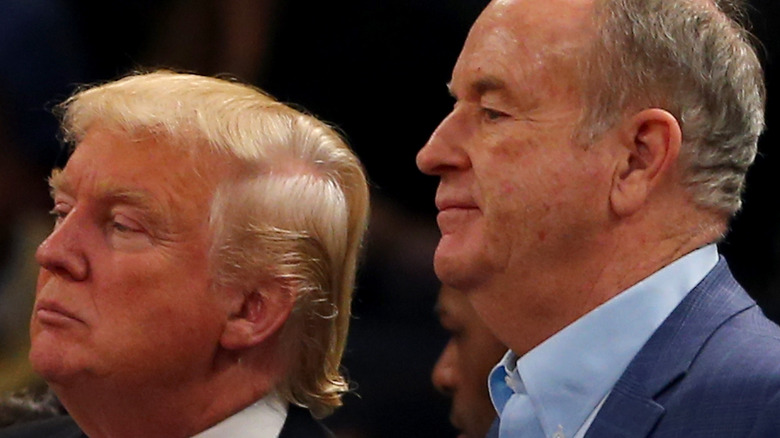 Elsa/Getty Images
Back in June, former President Donald Trump and former Fox News personality Bill O'Reilly announced that they would be embarking upon a "History Tour" on four separate dates in December. As Politico reported, this tour gives Trump a chance to speak with his fans and prepare for his alleged 2024 presidential run. For O'Reilly, who was ousted from Fox News over sexual assault allegations, the tour provides a way for him to gather a following once again. "In a series of live conversations across the country, Mr. Trump and Mr. O'Reilly will discuss exactly how things were accomplished, as well as challenges, both good and bad, during the four years of Mr. Trump's presidency," a description of the event reads on the Amway Center's website.
That same month, tickets went on sale for $100 to $300, while a VIP meet and greet package that offers guests a chance to attend a pre-show reception and take pictures with Trump and O'Reilly is more than $8,500 per person. According to Politico, ticket sales leading up to the events were not as strong as predicted by Trump and O'Reilly. "The History Tour has already sold over $5 million of tickets, and the excitement and enthusiasm is unlike anything we've seen before," Trump spokesperson Liz Harrington said in a statement. "Come December, the sold out shows will be a memorable night for all."
The History Tour is reportedly full of empty seats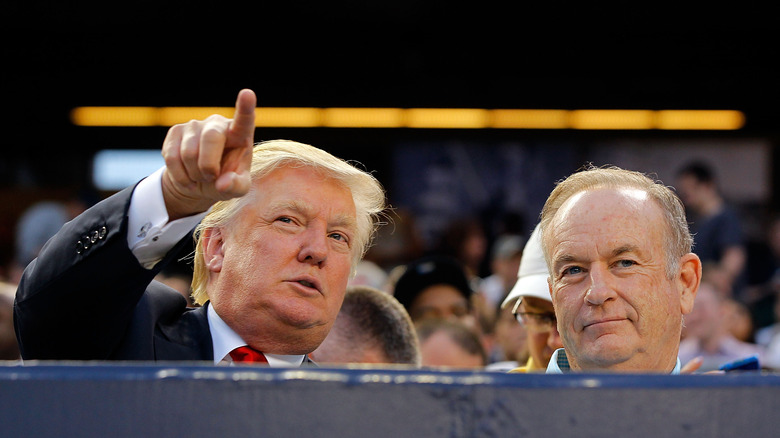 Jim Mcisaac/Getty Images
Perhaps the first signs of trouble for the "History Tour" came in July when Bill O'Reilly threatened a Politico reporter after he inquired about the alleged lag in ticket sales. "We have more than $7 million in the bank," O'Reilly told Politico. "We haven't spent a nickel on marketing, nothing. All those 7 million for four shows were done on the announcement. Marketing will start in about a week. Nobody has sold tickets this fast at this price, and VIPs are sold out at 3 of the 4 venues. ... You put one word in there that's not true, I'll sue your a** off and you can quote me on that. You're just a hatchet man and that's what you are."
The first tour date, which took place on Saturday in FLA Live Arena, located in Sunrise, Florida, was reportedly full of empty seats. So much so, in fact, that the top level of the arena was closed off and those who purchased seats in the top level were automatically upgraded to seats in the lower bowl of the arena, according to the Sun-Sentinel. Additionally, a number of floor-level seats were empty. The seats at the tour event on Sunday in Orlando, Florida, were also similarly empty, per The Daily Beast. It appears as though, according to Newsweek, thousands of tickets are still up for grabs for the History Tour's other dates in Houston and Dallas later this month.