How DaBaby Is Making A Name For Himself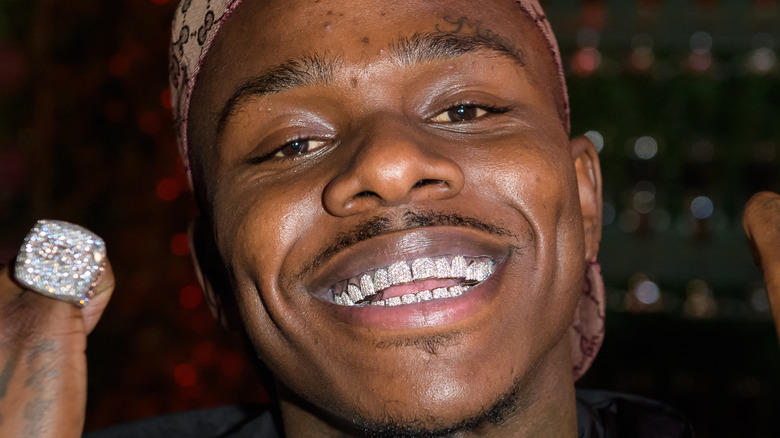 Jason Koerner/Getty Images
DaBaby is fast becoming one of the most talked-about rappers in the game, thanks in no small part to his controversy-stoking comments about the LGBTQ community. Per Billboard, the rapper, whose real name is Jonathan Kirk, disparaged gay people and in particular made a dodgy connection between AIDS and dying quickly during a 2021 performance at a music festival. Although he subsequently apologized, the rapper then removed the post from his social media, leading many to believe it wasn't genuine in the first place. 
Despite this, however, DaBaby continues to make strides in the music industry. He's already been nominated for six Grammy Awards over the course of his short tenure in the spotlight, while hit song "Rockstar," featuring Roddy Ricch, spent seven non-consecutive weeks at the top of the Billboard chart. DaBaby's lengthy arrest record adds to DaBaby's mystique but, underneath it all, the real reason he got into music is surprisingly altruistic. Clearly, Kirk is talented, particularly in this key area that's gaining him serious notice. 
DaBaby is a killer freestyler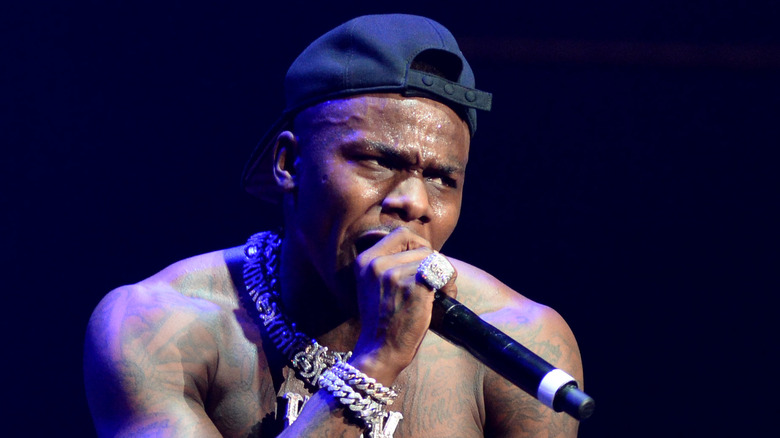 Brad Barket/Getty Images
Rapping is one thing but, as Iggy Azalea infamously learned, live on the radio, freestyling doesn't necessarily come easily to everybody (via USA Today). DaBaby has no such issue. In fact, as Complex notes, the man born Jonathan Kirk initially gained traction on social media thanks to his killer freestyles. In particular, DaBaby was praised for his rapid flow in the esteemed 2019 XXL Freshman Cypher. Over the years, he's demonstrated his impressive abilities everywhere from Funk Flex to The L.A. Leakers and F***YouTalmbout. Following the Leakers display, none other than T.I. himself gave Kirk props, writing words of praise for his "boi" on Instagram. 
As Cheat Sheet notes, DaBaby has worked incredibly hard to get where he is, putting out mixtapes regularly until 2016's "God's Work Resurrected" caught fire. That year alone, there were six DaBaby releases overall, with fans in his home state eating them up. In 2019, double-hitter albums "Baby on Baby" and "KIRK" really put him on the map, solidifying as though there was any doubt that he was one to watch. 
Of his approach, the rapper told The Guardian matter-of-factly, "I like pushing the envelope and being creative. I'm a high-level performer — [it's about] how I can take it to another level. I try not to be complacent in my music or with my performances. I gotta keep it fresh and rock out."