Here's The Hallmark Holiday Movie You Should Watch If You're A Cancer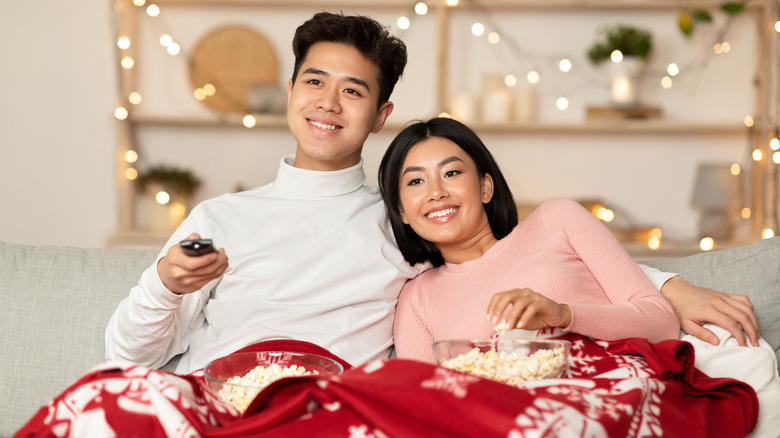 Prostock-studio/Shutterstock
If you were born under the sign of Cancer, you're likely to be on the emotional side, as water signs often tend to be. Cancers are frequently portrayed as being all about home and family, and to some extent that is true, although Refinery 29 points out that Cancers may be more multi-faceted than they're painted. What's more, your rising sign and your moon sign may be exerting their own influence.
If, however, you do identify with typical Cancerian traits, you may be quite a fan of the Hallmark Channel, particularly of their holiday fare. While The Saturday Evening Post points out that Hallmark movies are somewhat formulaic and lacking in diversity, they are undeniable comfort fare and as such they appeal to Cancer's desire for security and happy endings. Viewers even enjoy how predictable the films can be –- heck, Hallmark actually markets a Hallmark Channel Christmas Movie Bingo card with entries like "bells are jingling," "romantic carriage ride," "perfect snowfall," and "a Christmas miracle."
If you're that rare Cancer who hasn't already checked off your bingo card, you really ought to try watching at least one Hallmark Christmas movie this season. Sure, you could just pick one at random, if even Hallmark admits they're pretty much alike. You could, however, entrust your choice to the stars, and go with a movie that has been astrologically assigned (by ScreenRant, so save your complaints for them if you don't like it).
You may enjoy this royal romance
So what do the heavens have in store for your movie-watching pleasure? They (or at least ScreenRant) seem to feel that you will enjoy a movie called "One Royal Holiday." This movie is about a nurse -– a very caring profession, so a natural fit for Cancer. This nurse is spending the holidays at her family's bed and breakfast, so we're hitting the whole "home and family" thing here, both themes that also have Cancer written all over them. This nurse invites a stranded mother and son to stay, and no, the son's not an adorable wee thing, but rather a full-grown (and conveniently single!) man. You already know where this is going (bells jingling, snow softly falling, etc.), but wait, there's more! Turns out he's a prince and his mom is a queen. Looks like Our Heroine may well be joining the royal family by the time the credits roll. If all that sounds like your cup of cocoa, then go forth and stream!
If, on the other hand, you're more of what Refinery 29 calls a "literal crab," then the thought of so much mushiness may make you say "bah humbug!" In that case, you could always go watch "Mr. Magoo's Christmas Carol" (courtesy of Vimeo), whose grumpy-but-cute hero may well resonate with you. PopSugar also recommends "Elf" as a great pick for Cancers more into feel-good comedy than schmaltzy romance.