Peloton Strikes Back At Sex In The City With A New Commercial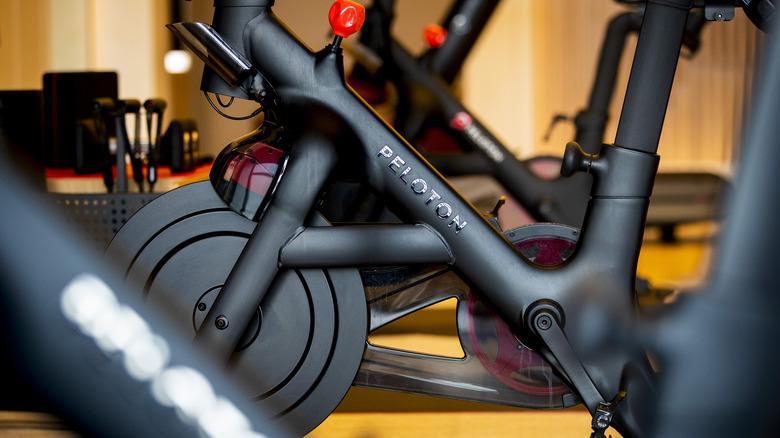 Bloomberg/Getty Images
The history of product placement in movies stretches almost as far back as movies do themselves -– according to Premium Beat, a 1920's Fatty Arbuckle/Buster Keaton comedy called "The Garage" prominently featured a brand of gas called Red Crown, although it was never actually proven that Red Crown had paid for this new form of advertising (predating TV by a few decades). Throughout the following century, product placement has proven to be incredibly effective –- just look what "E.T." did for Reese's Pieces or "Risky Business" for Ray-Bans.
Sometimes, however, product placement can be not so great for the product in question — case in point, Peloton stationary bikes, one of which featured very prominently in HBO Max's limited series "And Just Like That." While it is not known whether Peloton was involved in a formal product placement deal for the "Sex and the City" reboot, intellectual property and entertainment lawyer Nancy C. Prager told The New York Times that HBO must have obtained consent from the company to feature both their bike and their workout routine. As the portrayal of the Peloton product was, shall we say, less than positive (no way to continue without a spoiler: Mr. Big drops dead of a heart attack after a ride), Prager says Peloton could possibly have grounds to sue. Instead, it seems the company is choosing to fight back another way. HBO handed them a lemon, so they used it to garnish their Cosmo with a clever new commercial!
Peloton's new commercial brings Mr. Big back to life
Within days of the "And Just Like That" shocker, Peloton had a new commercial hit the airwaves starring none other than Chris Noth, the actor who played the late Mr. Big. In this commercial spot, Noth and Peloton instructor Jess King (who also has a role in "AJLT") are enjoying a Hallmark holiday movie moment cozied up on a couch in front of a roaring fire while soft music plays. The twosome talk of "new beginnings," and as the commercial comes to its close, Noth asks King, "Shall we take another ride? Life's too short not to." (Innuendo notwithstanding, the camera pulls back to show that he is talking about a Peloton bike ride.)
A voice-over at the end, provided by Ryan Reynolds doing his best pharmaceutical warning impression, adds the info: "And just like that, the world was reminded that regular cycling stimulates and improves your heart, lungs and circulation, reducing your risk of cardiovascular diseases. Cycling strengthens your heart muscles, lowers resting pulse and reduces blood fat levels. He's alive." 
The comments section of Peloton's YouTube channel, which posted the ad, was all here for Peloton's save! One person called it "The best add [sic] of the year, and it isn't even Super Bowl Sunday," saying "My impression of Peloton just shot through the roof." Another, perhaps aware of the 11% drop Peloton stocks took right after Mr. Big's last ride (via The New York Times), quipped "And just like that, Ryan saved Peloton with his marketing genius."