Are EOS Lip Balms Bad For You?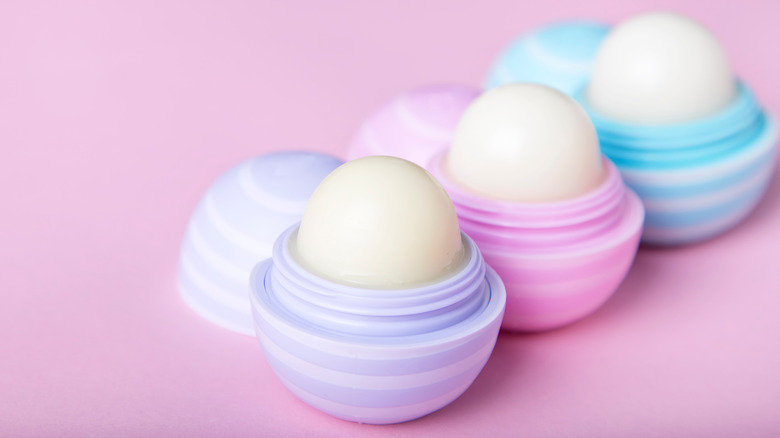 Aleksandra Berzhets/Shutterstock
The EOS lip balms — aka the egg-shaped lip balms that come in cute little colored pots — are a popular choice for hydrating and nourishing lips, particularly as the brand is cruelty-free and vegan. However, there are some concerns on Reddit that the brand's products may not be safe, with the concerns linking back to a lawsuit from 2016.
As per Glamour, the popular lip balm brand EOS faced a lawsuit after a woman had a severe reaction after using one of their products. The lip balm, which was purchased from Target, caused the woman's lips to bleed, crack, and peel. News of this lawsuit spread quickly causing controversy around the brand and its products. It wasn't just the one lawsuit, either. As per Betches, there were more cases of adverse reactions to EOS products reported back in 2016 as well, which makes you wonder if the EOS lip balms are still bad for you to this day. 
Are the EOS lip balms safe to use and has the lawsuit been resolved?
Mallmo/Shutterstock
The brand claims that their lip balms are completely safe for use now. As per the EOS website, the company states that: "The lawsuit has been resolved, confirming that EOS lip balms are safe. Our lip balms are hypoallergenic, dermatologist tested, made with the highest quality ingredients, meet or exceed all safety and quality standards set by our industry and are validated by rigorous safety testing conducted by independent labs."
According to Glamour, at the time the lawsuit was settled, EOS said: "We are pleased to announce that the class action lawsuit brought against EOS earlier this month has been resolved." The brand also thanked their valued customers for sticking by them, stating, "We love our customers and their enjoyment of our products is our top priority. We thank them for their continued support."
However, it's worth noting that the EOS website does state that they use coconut oil and shea butter in their products, which can cause allergic reactions in people with certain allergies or sensitivities. It's also worth noting that the brand manufactures products containing nut oils, so again, for anyone with allergies the products could cause an allergic reaction. Other than that, the EOS brand seems to be safe for you to use again, which is great news for anyone looking for last-minute holiday gifts or stocking stuffers.