The Toby Keith Smash Hit That Was Supposed To Be For Blake Shelton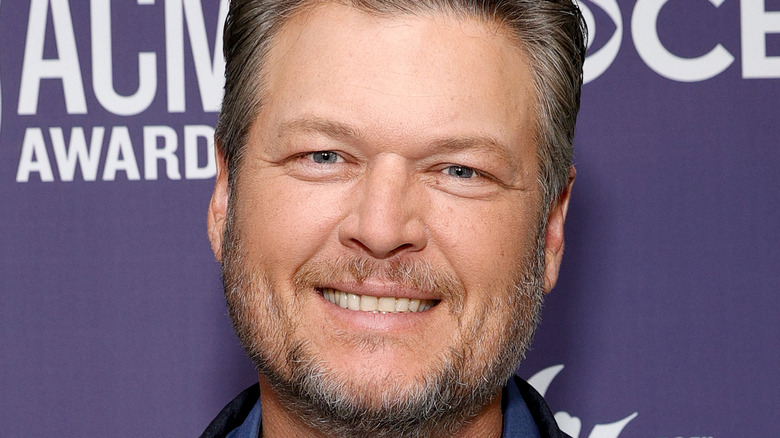 Jason Kempin/acma2021/Getty Images
It's been a good few years for country singer Blake Shelton. It's true that the country star was well-known even before becoming a judge on "The Voice" in 2011 — having been nominated for a Grammy in 2010 for his album "Hillbilly Bone," per Britannica — but his role on "The Voice" put Shelton on the map in a whole new way. Buoyed by the popularity of the show, Shelton went on to be nominated for even more Grammys, earning nods for his albums "Red River Blue" and "Based on a True Story," according to Cheat Sheet. It was also through "The Voice" that Shelton met his now-wife, Gwen Stefani. While there were some naysayers who thought that their romance was just for publicity, their relationship has proven the test of time — and Blake Shelton and Gwen Stefani have enjoyed a glamorous life together.
"We like to take our publicity stunts all the way," Shelton joked during a December 2021 appearance on "The Tonight Show with Jimmy Fallon" (via E! Online). "We'd thought we would go ahead and seal the deal," he added, in reference to his and Stefani's recent nuptials. Given his wedding and the fact he nabbed Country Artist of the Year at the People's Choice Awards, via Taste of Country, there seems to be nowhere to go but up for Shelton. But despite the success he's enjoying now, the hitmaker also endured his fair share of setbacks earlier on in his career.
Toby Keith was the more experienced choice for this single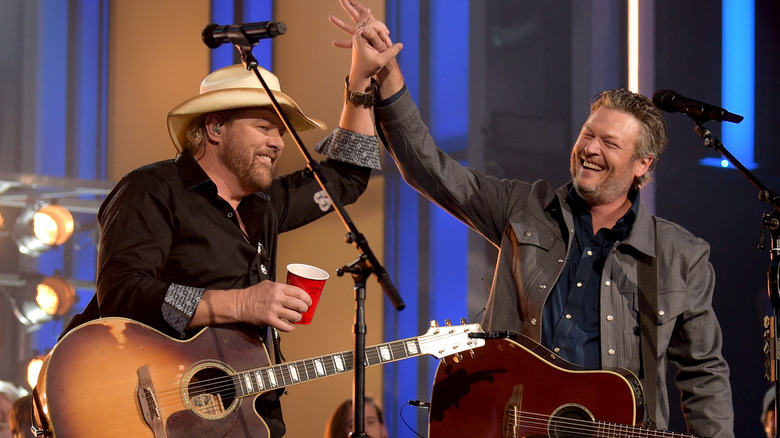 Jason Kempin/acma2018/Getty Images
Before the success he's enjoyed today, Blake Shelton was just a green country artist looking for his big break. As Today.com reports, the singer was all set to release "I Wanna Talk About Me" in 2001, which was written by Bobby Braddock. Per PBS, Braddock is famous for writing country hits such as "Golden Ring," "I Believe the South's Gonna Rise Again," "Come On In," and more. In fact, it was Braddock who first discovered Shelton, bringing him into Electra Records and working with Shelton as his producer. However, the label ended up shelving Shelton's release of "I Wanna Talk About Me" because they thought the country-rap song might not be the best fit for the newcomer, according to Song Facts. Instead the song went to fellow country star, Toby Keith, who recorded the track for his record, "Pull My Chain." Even so, the more experienced singer was skeptical about the track. "They're going to call it a rap," Toby told Billboard (via Song Facts). "[But] there ain't nobody doing rap who would call it a rap."
While Shelton missed out on his chance with "I Wanna Talk About Me," he still saw success with the single "Austin," which reached number one on Billboard Hot Country Singles and Tracks, per The Boot. And of course, he doesn't appear to hold anything against Keith. The pair even teamed up to duet "Should've Been a Cowboy" at the ACM awards in 2018, according to Classic Country Music!