Here's What Kelly Clarkson Looks Like In Real Life Vs. Instagram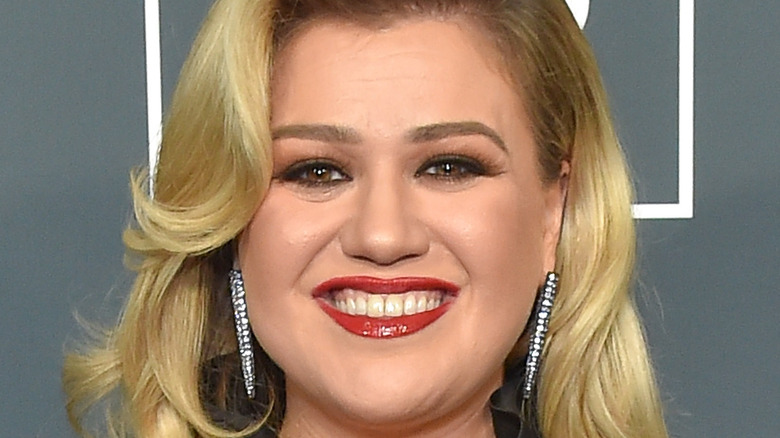 DFree/Shutterstock
Kelly Clarkson originally found fame as an "American Idol" winner, but in recent years, the pop star has re-emerged as a body-positive activist and fan-favorite judge on the hit reality show, "The Voice." Although Clarkson has endured her fair share of tough moments in the spotlight, these days she's completely at ease with herself. "Confidence is everything," Clarkson told InStyle in January 2020. "I'm comfortable in my skin. I don't want to dress, sing, or think like someone else."
Clarkson may have three Grammy awards under her belt, per Grammys.com, but it's her weight that continues to be a headline-making topic. Even so, the hitmaker has learned to brush off the criticism about her body. "I felt more pressure from people actually when I was thin, when I was really thin, and not super healthy because I just was worn out," she admitted to Glamour UK in June 2020. Speaking to the outlet, Clarkson also recalled being shown images of other women in an attempt to force her to compete with them. These days, she (thankfully) couldn't care less about what anyone else thinks. And nor should she, because "The Voice" judge looks just as fabulous in her glamorous Instagram posts as she does out and about without a speck of makeup on. 
Kelly Clarkson is all about keeping it real
In keeping with many other celebrities, Kelly Clarkson will occasionally choose to disguise her makeup-free complexion with a big hat and sunglasses, but even so, there's no disguising how incredibly clear the singer's skin looks. The "Love So Soft" star claims to do pretty much nothing to keep her face in tip-top condition. As she told People in 2018, she isn't too bothered with a multi-step beauty routine. "And I mean that in a positive way," she clarified. "I just don't care about things I feel like people put a lot of weight and gravity in. ... I care about things that I feel like are important. So my beauty mantra is just to be a beautiful, kind, nice and thoughtful [person]." 
In fact, the "American Idol" winner feels her best when she's wearing no makeup whatsoever. While shooting "The Kelly Clarkson Show" during the COVID-19 pandemic, Clarkson had no access to her hair and makeup team, so she went without — and looked great while doing so. "My favorite part of ranch life is the no hair and makeup," the star quipped (via YouTube). "Yep, this is me in my glory." Although Clarkson acknowledges how much fun it is to get glammed up for work, she's also laid back enough to forego makeup entirely. Luckily for her, she looks gorgeous either way.