What Was Mike Pence's Big Break?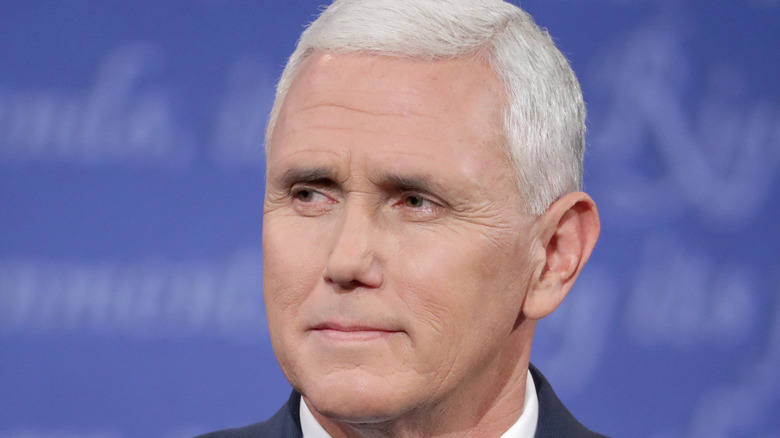 Chip Somodevilla/Getty Images
Former Vice President Mike Pence became a household name after ex-President Donald Trump named him as his running mate in the 2016 election, but more recently, the staunch conservative has noticeably distanced himself from his former boss. As the Washington Post reported in 2021, Pence earned Trump's ire after agreeing to verify President Joe Biden's election victory. When the House and Senate convened to confirm Biden's victory on January 6, rioters stormed the Capitol. Sources claimed that Trump never even checked to make sure Pence was okay after the fact. 
Pence fought hard to be Trump's running mate, per Politico. And while Trump didn't particularly like Pence at first, because "to Trump, he carried the whiff of a loser," as Politico noted, the presidential candidate eventually came around ... for a very Trumpian reason. According to an excerpt published in Vanity Fair, Trump ultimately landed on Pence "because he says nice things about me." The governor was pitched as a strong evangelical candidate who could appeal to important battleground states such as Pennsylvania and Iowa, but Trump was more concerned with Pence's personal loyalty. That said, the Indiana governor was already well-established in his own right when Trump chose him as his future vice president.
Mike Pence held the third highest-ranking leadership position in the Republican Party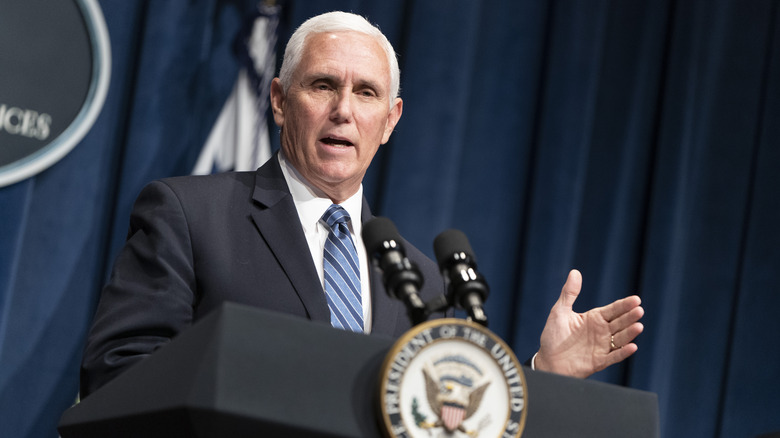 Joshua Roberts/Getty Images
As Fact Retriever notes, Mike Pence rose to prominence in 2009, when he was elected Republican Conference Chairman. Given this is the third highest-ranking leadership position in the party, it's clear there was a huge swell of support behind Pence, giving him the big break he needed. Per the Indy Star, it was the politician's "communications skills and conservative credentials" which landed him the job and helped him craft the party's key messages and platforms moving forward. CNN confirms that Pence held the position until 2011, at which time he was elected governor of Indiana following a successful grassroots campaign called the "Big Red Truck Tour."
It wasn't to be Pence's only moment in the spotlight, either. In 2015, he signed a highly controversial "religious freedom" law which sparked immediate backlash, as Politico reported. The devoted Christian evangelist initially defended the law, refusing to adequately address concerns about whether it discriminated against the LGBTQ community in particular. Pence even told "Fox & Friends" that he stood by the law no matter what (via the Indy Star). However, he appeared to contradict himself in an op-ed in the Wall Street Journal, writing, "As governor of Indiana, if I were presented a bill that legalized discrimination against any person or group, I would veto it." Pence eventually caved and signed legislation revising the law, thus differentiating himself from his future boss, per CNN.