Did Donald Trump Really Yell This At His White House Aides?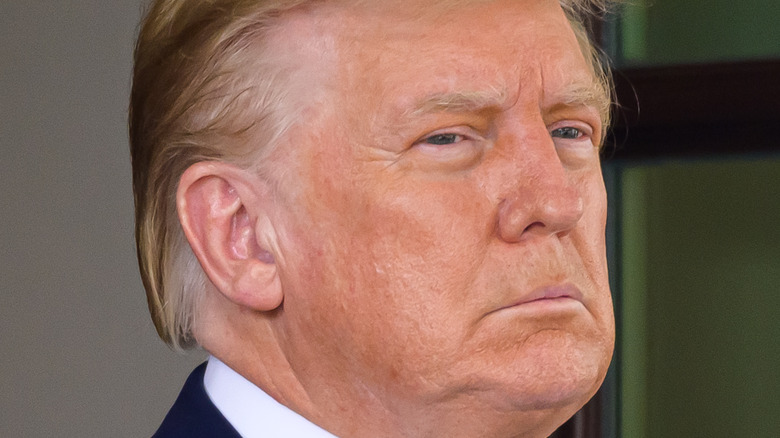 noamgalai/Shutterstock
Former President Donald Trump is infamous for demanding loyalty from practically everybody that comes into his orbit (via Politico). He also has no issue cutting off those deemed not to have shown the requisite devotion, regardless of how high the stakes are. 
Most recently, Trump railed against former Israeli prime minister — and former close pal — Benjamin Netanyahu for allegedly not doing enough to broker peace between Israel and neighboring Palestine. "I don't think Bibi ever wanted to make peace," Trump told journalist Barak Ravid in an interview (per the Independent).
Netanyahu cultivated a close relationship with the U.S. throughout Trump's tenure, but things soured between the two men when, Trump believes, he was betrayed by his buddy. In fact, according to the former "Apprentice" host, Palestinian Authority President Mahmoud Abbas was far more willing to negotiate. 
"I thought he was terrific," Trump said. "He was almost like a father. Couldn't have been nicer. I thought he wanted to make a deal more than Netanyahu." As far as Trump is concerned, Netanyahu had no interest in discussing the matter with Abbas, which ultimately stalled peace talks. 
However, there was another moment that suggested that the former Israeli PM wasn't willing to play ball with Trump — and it was one that the then-president reacted to in a big way at the time.
Donald Trump was not impressed with the fallout from this event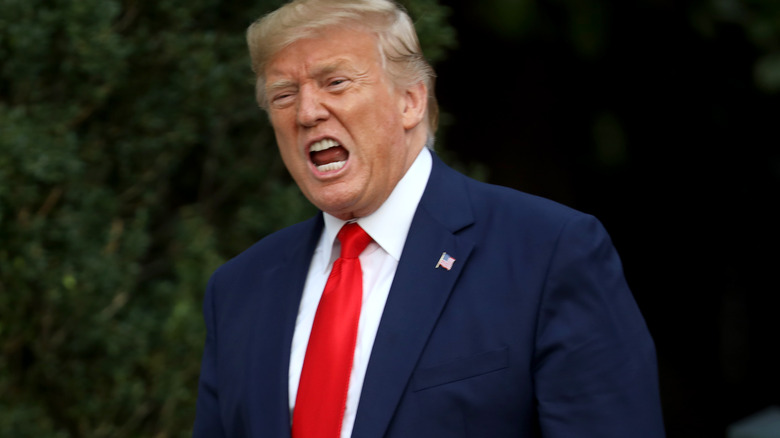 Win Mcnamee/Getty Images
Barak Ravid's book, "Trump's Peace: The Abraham Accords and the Reshaping of the Middle East," details how desperate Donald Trump was for a close relationship with Israel during his tenure and, in particular, with former Prime Minister Benjamin Netanyahu. 
According to The Forward, Ravid describes how the president put son-in-law Jared Kushner in charge of the White House's Middle East relations. When his administration unveiled their "peace plan," which notably included no input from Palestine whatsoever, in 2020, "Netanyahu caused an uproar by suggesting the U.S. initiative was a green light for the annexation of the occupied West Bank." 
There was scope for Israel to eventually cut around a third of the West Bank for security or religious reasons, but, as The New York Times clarified, the White House didn't explicitly endorse an immediate, complete annexation.
As a result, a former Trump official told Ravid that Netanyahu had used Trump "as a flowerpot" during the unveiling ceremony, after which the then-president allegedly yelled at aides, "What the hell was that?" Israel subsequently delayed their plans to annex the West Bank. 
Trump ultimately cut ties with his old friend after Netanyahu acknowledged President Joe Biden's election victory, railing, "F*** him," in an interview with Ravid. As the author explained, in Trump's eyes, the issue was about more than just siding with Biden. "It was a broader expectation that Netanyahu would give him the same political support domestically that he gave him in Israel," he said.