This TikTok-Viral Soap Makes A Great Stocking Stuffer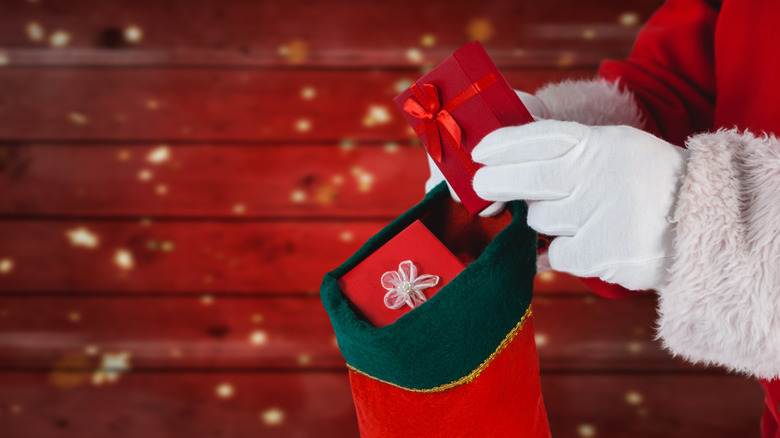 vectorfusionart/Shutterstock
We may receive a commission on purchases made from links.
If you're buying a gift for someone who has it all, you can head over to TikTok for inspiration. The search #tiktokmademebuyit currently has 7.2 billion views, and, of course, some of the product demonstration videos go viral. There's even a word for them — "demotainment" (per The New York Times). TikTok influencer and blogger Lisa Ghammie told The New York Times "It is always hit-and-miss which videos become so popular, and usually they center on something satisfying."
One such satisfying viral video is about hand soap, and who doesn't use hand soap everyday? That's what makes it the perfect stocking stuffer! And if the TikTok videos with the hashtag #mykirei are any proof, it will make just about anyone of your gift list smile. The MyKirei foaming hand soap is made from rice water and Japanese Yuzu fruit extract, and it was designed to be usable with just one hand, which makes it more accessible and easier to use than traditional soaps, but that's not what made it TikTok famous.
You can choose between a flower and a paw print with the soap
The videos that got people raving about the MyKirei foaming hand soap shows that when you pump it, it dispenses the soap in the shape of a flower. They've also got a version where you can get a paw print!
"I purchased this whimsical hand soap — which dispenses suds in the shape of a flower — after seeing it all over my FYP, and it's brought me a surprising amount of joy over the past few months," Karli Bendlin, senior editor at beauty and style website Byrdie. "Has it changed my life? Maybe not. But it has turned a mundane, forgettable part of my routine into something that makes me smile. Without a doubt, I'll be repurchasing."
It's also a good buy for the planet. It's vegan friendly, cruelty free, the bottle can be reused, and the refill pouch is recyclable. It's currently $18 for one bottle and $11.88 for the refill pouch on Amazon, and it's pediatrician and dermatologist approved. And it will make washing your hands a little bit more fun.