Meet Katherine Flynn, Jane Seymour's Daughter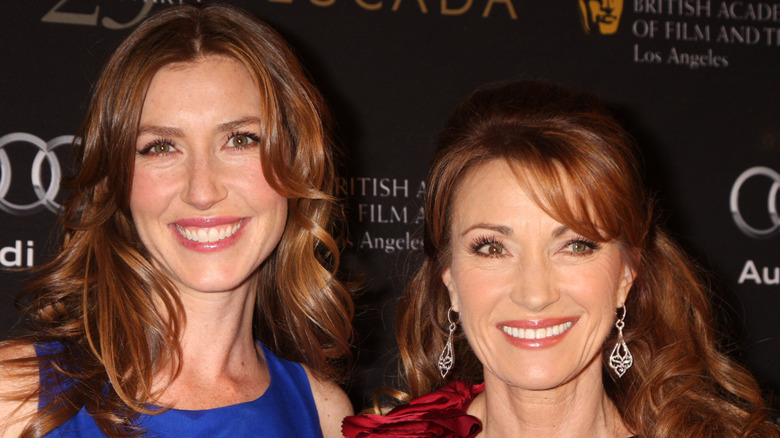 Joe Seer/Shutterstock
For Jane Seymour, work and motherhood have always been intertwined. Whenever she had an acting role, Seymour made sure her children were close by. "I took my kids all over the world," she told People. When her twins were born, they joined their mom on the set of "Dr. Quinn, Medicine Woman," and even had a special baby trailer (per Motherhood Later). As a mom to four and stepmom to two, Seymour told the Guardian, "I'm very proud of all my children."
While she loves spending as much time as possible with her family, Seymour keeps busy working. Now a grandmother to six, Seymour took her granddaughters to a premiere of a movie she executive produced (per Closer Weekly). As an actor, her recent roles include: "The Kominsky Method," "The War with Grandpa," and the upcoming historical series, "Glow & Darkness," where she plays Eleanor of Aquitaine (per IMDb). Seymour also takes advantage of these many acting opportunities to combine work and family, as in the case of her daughter, Katherine Flynn.
Katherine Flynn the actor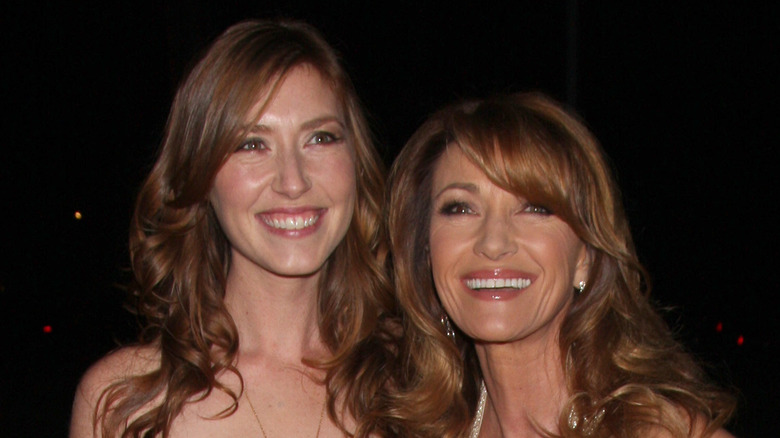 Kathy Hutchins/Shutterstock
Jane Seymour's oldest child, Katherine Flynn, was born on January 7, 1982 (per Closer Weekly). Flynn and her brother, Sean Michael Flynn, are the children of Seymour's third marriage to David Flynn.
According to IMDb, Seymour and her two older children first worked together in the 1989 drama, "The French Revolution." Seymour played Marie Antoinette, and Flynn played Madame Royale. Flynn also played a small role in a two-part episode of "Dr. Quinn."
After reaching adulthood, Flynn earned her B.A. from Columbia University and began acting in New York. She also took acting classes at the William Espers Studios (per Hallmark Channel).
Seymour's only daughter, Flynn has grown up to look a lot like her mom, as demonstrated by a photo the actor shared on Instagram (per Hello!). In more recent times, the mother-daughter duo has had additional opportunities to work onscreen together, in the 2014 Hallmark Channel movie "A Royal Christmas" and the 2018 film, "Mistrust" (per IMDb).
Sometimes credited as Katie Flynn, the she has enjoyed starring roles in movies like "Stormhouse" and "Chloe and Keith's Wedding" (per Hallmark Channel).
Katherine Flynn: writer, photographer, and mom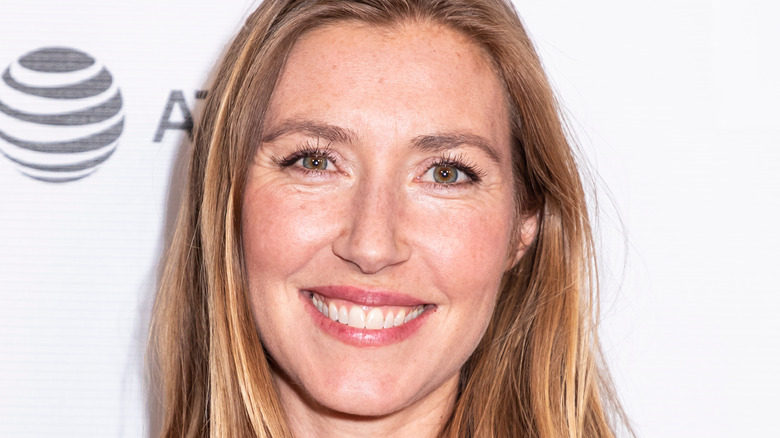 Sam Aronov/Shutterstock
Besides acting, Flynn is the co-founder of Young Hearts, a volunteer program that is part of Seymour's Open Hearts Foundation (per katiejflynn.com).
As a writer, she worked on the ATOM TV web series "Quitters" (per Hallmark Channel). According to tubefilter, the show captures the "absurdist hilarity" of two women in their twenties attempt to give up smoking. Flynn plays Sarah, one of the young women, and Seymour also appears as Sarah's mom.
Flynn continued her comedic writing with the movie "Oversharing." She also wrote and directed the award-winning short film, "Townes," which she called her "passion project."
Flynn has also followed in her mom's artistic footsteps off screen. Seymour is known for her paintings, both in oil and watercolor, as well as jewelry designs (per Ocean Galleries). Flynn is an enthusiastic photographer. On her website, Flynn describes her artistic vision as showing "the hidden beauty in everyday situations and ordinary objects." Her work has been published in LaLa magazine and exhibited in London as well as online (per katiejflynn.com).
On the personal side, Katherine has two daughters of her own, Luna and Willa (per Closer Weekly). From Seymour's Instagram, it's clear the family is having a wonderful time together.