Chris Noth Answers The Burning Question Of Why Carrie Didn't Call 911 On AJLT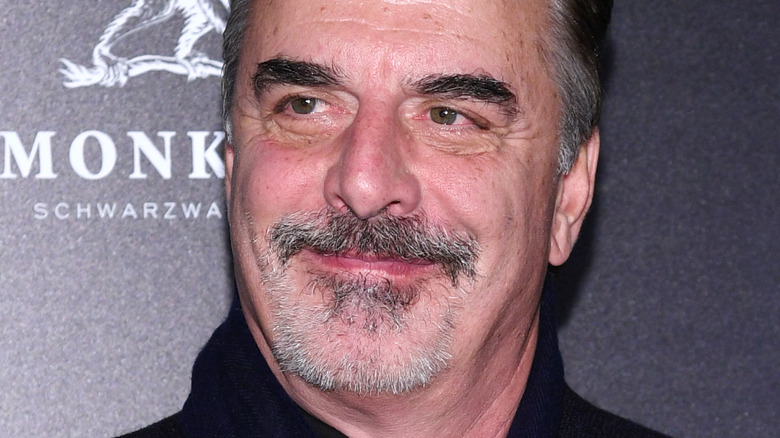 Dimitrios Kambouris/Getty Images
Who wasn't devastated when Mr. Big died of a heart attack after an intense Peloton ride at the end of the first episode of the long-awaited "Sex and the City" reboot, "And Just Like That...?" And who wasn't also wondering why Carrie, played by Sarah Jessica Parker, didn't get up off the shower floor and call 911 right away?
"Was anyone else yelling at Carrie to call 911 instead of kiss on dying Mr. Big??" one fan demanded on Twitter. "Why didn't Carrie call 911, get the aspirin, get the nitro, anything to try to save him. The length of time she just stood there was agonizing," another angry fan said.
Now, Mr. Big himself, Chris Noth, is answering the burning question of why his wife did not reach for the phone soon after discovering him near death in a new interview with Vogue. The actor recounted an important conversation with showrunner Michael Patrick King, saying, "One thing Michael and I agreed on: We both called it the 'Bonnie and Clyde' moment, which is that moment when Bonnie and Clyde are about to be eviscerated by bullets," he explained (via People).
Mr. Big could not be saved according to Chris Noth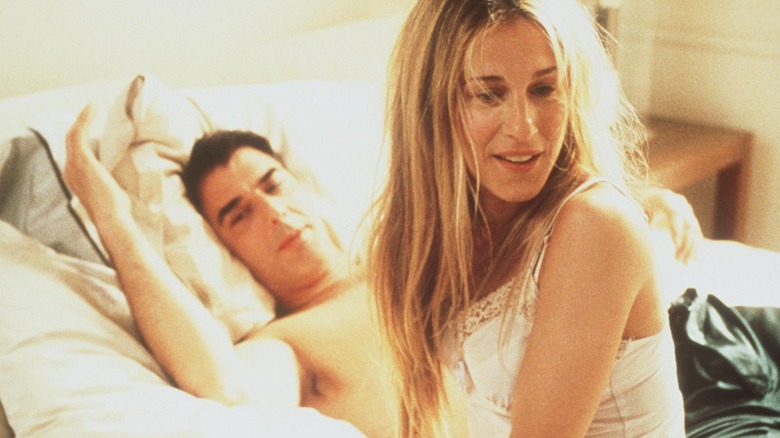 Getty Images/Getty Images
Going on to elaborate on using "Bonnie and Clyde" as inspiration for Big's death, Noth told Vogue, "They have that look with each other, Warren Beatty and Faye Dunaway. They both know that it's the end."
As for how Carrie and Big would say their last goodbye, the star said, "We knew that we had to have that, that I just shouldn't die alone in the bathroom. There had to be that last moment and no words, no corny dialogue, just a look, and I thought [King] did it so beautifully" (via People).
Thus, Big seemingly had to die and no call for help would have ended with a different conclusion. When asked if fans will ever get to see the character again, Noth told Vogue, "I think there may be something. I can't tell you what, but...there may be a little...there may be a haunting that happens. I don't know. I don't want to get in trouble."
Hopefully Noth's explanation will satisfy fans, because Twitter has not responded kindly to Carrie's inaction in the scene. "Carrie is one of the most frustrating characters of all time," one vented, while someone else drew a comparison to an iconic scene in the movie "Titanic," tweeting, "Everyone yelling on Twitter about Carrie had time to call 911 is the new Rose had room on the door debate."