Are Freebird Shoes Really Worth It?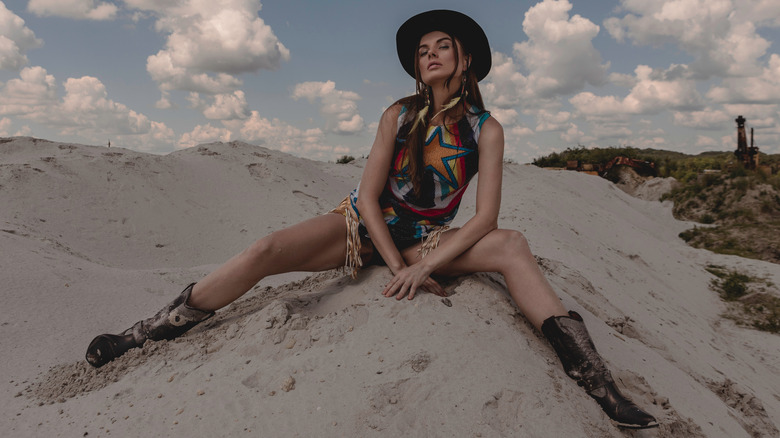 yuliya ivanenko/Shutterstock
If you're a leather-goods enthusiast, you're probably heard of Freebird. This Denver, Colorado based brand burst onto the fashion scene in 2009. Freebird's core values of freedom, individuality, and independence are reflected in their eye-catching, distinctive style of boots, shoes, and bags.
Cowgirl Magazine spoke highly of the brand, calling Freebirds "not just a shoe, but a piece of art." Freebird's stunning shoes include Bellevue, a stacked heel penny loafer. Brilliant green croco leather gives this shoe a fresh, vibrant look. For strappy style, Felicity boasts four buckled straps and leather embellished with gleaming silver studs. While all Freebirds pay homage to their western heritage, boots like the Lusitano take this styling further. This spin on the classic western boot comes in exciting options like leopard print and brown leather, brilliant red croco, and white snake.
Freebird's exotic leathers, hand finishing, and detailed designs mean these shoes and boots don't come cheap. Prices range from $195 for shoes up to $395 for a tall pair of boots. So are Freebirds worth the investment?
The difference in the Freebird details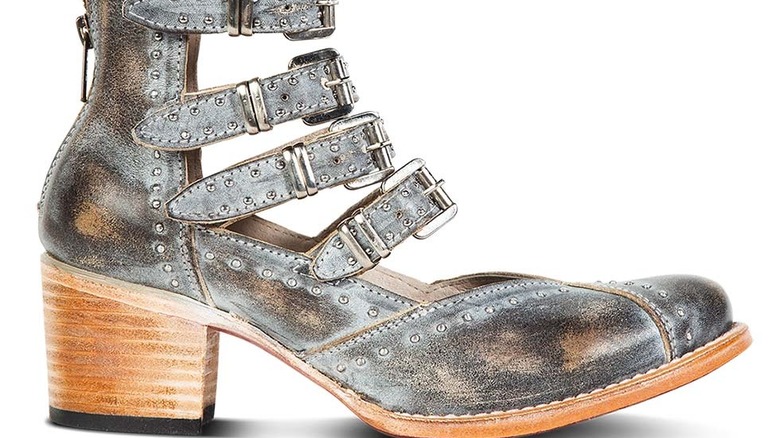 Freebird
Freebird shoes are handmade and have a rugged aesthetic (per Fashion&Mash). This rugged styling pairs well with a western styled shoe. Freebirds look like they're ready to hit the trail and go for an adventure. Since Freebird shoes are made from real leather, buyers may notice some imperfections, but these are normal variations. Lloyd Miller of WalkJogRun says that Freebird's creative stitching makes a "perfect product out of imperfect materials."
Freebird touts the high-quality of their boots and shoes, including the footwear's Goodyear Welt Construction. According to Primer Magazine, this technique is the most durable and most time-consuming way to construct a shoe or boot. The welt is a strip that runs between the upper and outsole of the footwear. Goodyear Welting ensures that a shoe is built to last. This assembly technique also makes it easier to resole the shoe, extending the life of the footwear.
Brian Wentz of Shoe Reports declared Freebirds "worth it in the long haul." He noticed that Freebirds are carefully made, down to details like intricate metal work. Wentz also liked the high-quality of Freebirds leather. He pointed out that leather will stretch over time, increasing the comfort of the shoe.
Go the extra mile for your Freebirds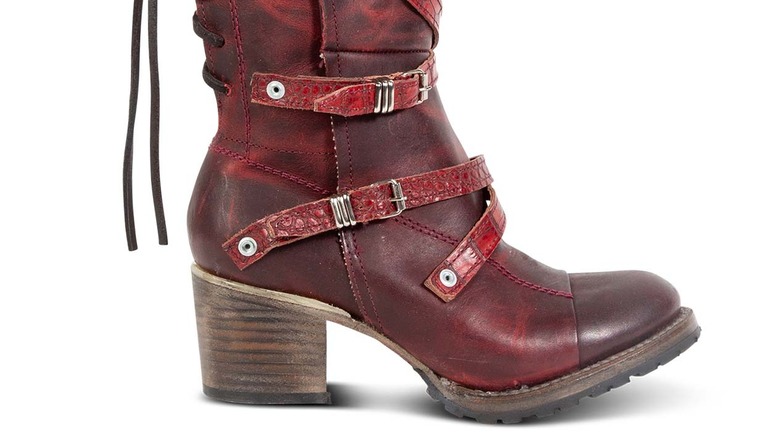 Freebird
While Freebird's rugged styling means they don't need to be handled delicately, these shoes do require maintenance to make them last and look their best. According to Randy Lipson, owner of Cobblestone Shoe Repair in St. Louis, leather shoes can last 5–15 years (per Seattle Times). Proper cleaning and conditioning keeps the leather from stiffness and cracking. Some shoes can last even longer, as in the case of Prince Philip.
Freebird recommends treating their boots and shoes with a water resistant spray to prevent staining. David Mesquita, VP of Leather Spa, told Harper's Bazaar that he recommends moisturizing leather shoes and boots to help them retain their shine and suppleness. Mesquita also suggests using a boot shaper to help taller boots maintain their shape and posture. As a daily habit, he advises wiping off dust or dirt to keep your leather goods looking on point.
Sure, Freebirds are a chunk of change at the start. But with their durable materials and construction, these artful shoes and boots are made to last. If you're willing to put a bit of care into your shoes, it'll be a long-lasting relationship between you and your footwear.