The Actual Lip Color Beyoncé Wore In The No Angel Music Video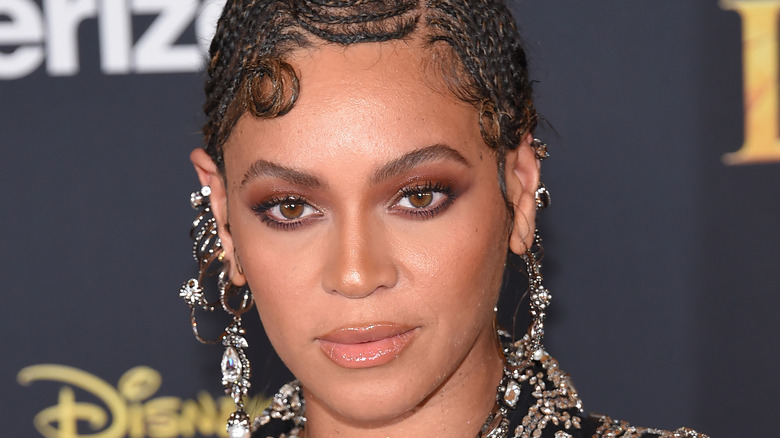 DFree/Shutterstock
Beyoncé's name is as synonymous with glamour as it is music. The pop titan's career is liberally littered with both hits on the Billboard Hot 100 and major style moments. Earlier this year she became the first Black woman to ever wear the iconic yellow Tiffany Diamond when she rocked it in an ad campaign (via CNN). She even has her own successful fashion brand — Ivy Park (via Vogue). And while she hasn't followed in the footsteps of peers such as Rihanna, Ariana Grande, or Jennifer Lopez to drop her own beauty line, people still clamor to replicate her flawless skin (via Women's Health) and learn where to pick up her makeup staples (via Fabbon).
It's safe to say Bey has the sort of style everyone wants to emulate. For example, Normani paid tribute to one of her most iconic looks in her "Motivation" music video (via Refinery29). Even the mogul herself has been known to reference the past. She threw it back to her "Dangerously In Love" album cover in a recent photoshoot (via PopSugar) and referenced other iconic looks in a commercial for Pepsi (via YouTube). How can you blame her when her style is just that good? 
If you also want to pay tribute to the queen's style but aren't sure where to start, why not pick up some tips from her beauty routine? We can tell you the exact shade of lipstick she wears in a very glam video if you read on.
Beyoncé wore MAC's Retro Matte Lipstick in shade Flat Out Fabulous in her No Angel music video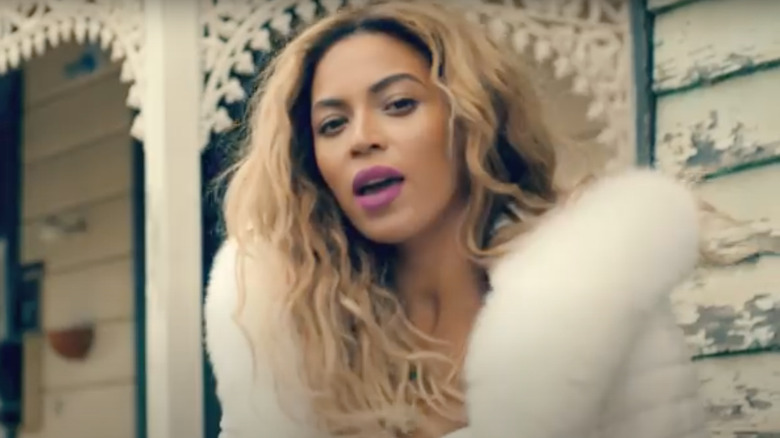 YouTube / Beyoncé
Every music video is a chance to make a stylish statement. Beyoncé never lets the opportunity pass her up. Take her "No Angel" music video (via YouTube), for example. The visual is a tribute to her hometown Houston (via Vice). There isn't an intricate dance routine like in "Single Ladies (Put A Ring On It)," but the hitmaker serves a look. This one is centered around a statement magenta lip. Luckily, her makeup artist Sir John told People how to copy it at home.
What products do you need? Sir John defined her lips using Urban Decay Cosmetics's 24/7 Glide-On Lip Pencil in shade Speedball. According to him, it's an essential step that "allows your lipstick to stay on longer." He selected the magenta shade because the blue-based color makes the star's teeth look extra white and recommended applying lipstick with a finger to make lips appear fuller. But what lipstick did he use?
That's where beauty guru Brittany Cale comes into play. She did some digging to nail the specifics on TikTok. She said Sir John used the Retro Matte Lipstick in shade Flat Out Fabulous from MAC Cosmetics. The color has been described as a "bright plum matte," and the formula is as "long-wearing" with "intense" payoff. The Urban Decay liner has been discontinued, but Cale recommended picking up a lip pencil in shade Magenta from MAC.
How to copy the rest of Beyoncé's makeup from the No Angel video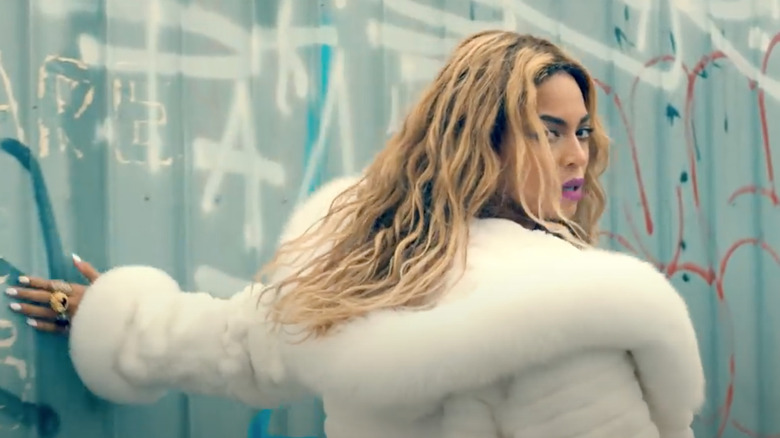 YouTube / Beyoncé
Here's one of the best things about rocking a bold purple lipstick: The other makeup on your face fades into the background. Since she was making a strong statement on her lips, Sir John opted to keep the rest of Beyoncé's glam simple in the "No Angel" video. He told People how to pull the rest of the look together. Chiefly, it's all about the eyes.
Instead of putting her in a smokey eye, Sir John dusted Bey's lids with brown contour powder to add depth. He added a deeper shade of brown eyeshadow (instead of an actual eyeliner) along her lash line to create additional dimension there. In this situation, it was all about the matte shades, which he described as an "optical illusion." How so? He referred to them as the "Spanx of makeup" and said "they absorb light and allow you to hide imperfections and add shape."
Sir John finished Bey's eyes with brown mascara. Why brown instead of black? According to Byrdie, a brown mascara is ideal for a softer, natural glam. Since her lips were colorful, we'd guess that the goal was not to draw attention elsewhere. The end result? Sir John described it as "modern ... Like a New York girl." Clearly he must have meant a New York girl by way of Houston, Texas.