Here's The Hallmark Holiday Movie You Should Watch If You're A Scorpio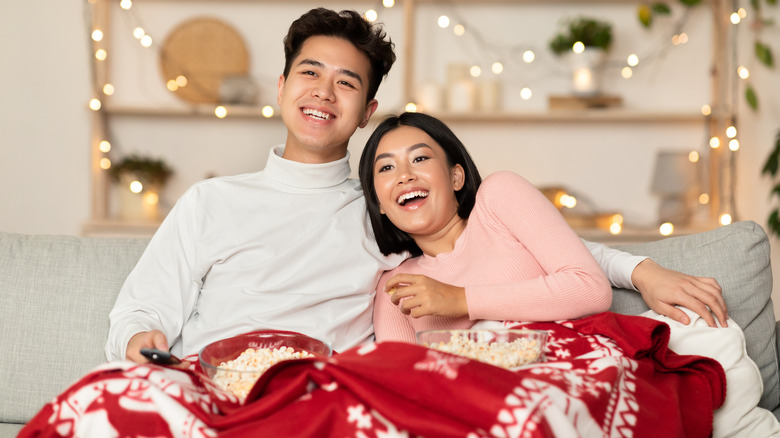 Prostock-studio/Shutterstock
The Hallmark Channel doesn't just call itself the home of Christmas, but also the heart of Christmas. And for good reason too, since there's genuinely something for everyone among its bulging slate of festive fare. In 2020, Hallmark released a plethora of new movies to soothe the blues of everybody stuck at home in lockdown. Even if we couldn't be together and do all the Christmassy things we usually would, Hallmark kept us feeling festive regardless.
A whopping 40 new holiday movies were added in 2020 alone, all of which are still available to stream. Naturally, since their "Countdown to Christmas" begins around the end of October, there's plenty of time to catch up on anything you might have missed. As Entertainment Weekly detailed, there were "unlikely romances, holiday homecomings, charming inns, and reporters seeking holiday scoops."
For Scorpios looking to pick the perfect holiday movie to suit their astrological sign, unsurprisingly, Hallmark has you covered.
Scorpios will see themselves in this Hallmark holiday flick
As Screen Rant points out, Scorpios are born leaders who approach each project they take on with courage and conviction. They're so passionate and stubborn that, sometimes, Scorpios can become a little too entranced by their work. However, at their core, Scorpios are simply driven to succeed no matter what. 
As a result, "A Christmas Tree Grows in Colorado" is the perfect embodiment of Scorpio energy. Lead Erin (Rochelle Aytes) is determined to make her struggling town's Christmas celebrations its best ever, but in order to do so, she needs the perfect spruce tree. However, dashing firefighter Kevin (Mark Taylor) is reluctant to give up the stunning shrub growing on his property. Erin works tirelessly to convince him, and her dogged determination should speak to Scorpios watching at home. 
In an interview with TV Fanatic, Aytes enthused, "Everyone in the project was great to work with, from the crew to the director, to the other actors. We had a lot of fun." She also expressed a desire to work on more festive fare with the company — though her subsequent Hallmark project, "Redemption in Cherry Springs," wasn't very Christmassy. 
On the central message of the film, Aytes pointed to the importance of spending time with the people you love, rather than worrying about everything being perfect, while chatting to TV Goodness. Likewise, in a move that will have Scorpios cheering, she argued, "I think just following your passion is a great takeaway."