Kim Kardashian Regrets Doing This To Kanye West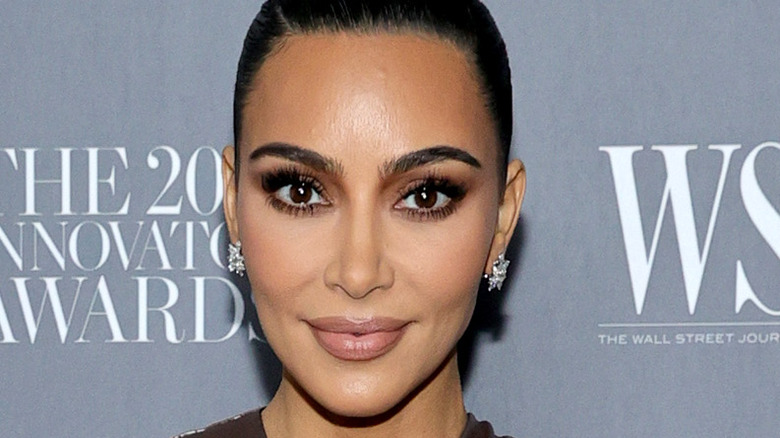 Jamie Mccarthy/Getty Images
One of the most prominent power couples in the entertainment world is officially calling it quits. Kim Kardashian began legal divorce proceedings from Kanye West in February 2021, and more recently, she filed a petition to be declared legally single and drop the "West" from her name, stating that she "no longer wishes to be married" to the music and style icon (via People). Kardashian appears to have already moved on from her marriage, judging from her public outings with "SNL" star Pete Davidson (via Elle).
Still, there appears to be no real bad blood between the soon-to-be exes. A source has told Us Weekly that Kardashian wants West "to be a big part" of the lives of their four children, and that the door will always be open to him for major family events such as the Christmas holidays. Not only has Kardashian not had a harsh word to say about West, she also regrets one particular argument she had with him.
In an exclusive interview with Common Sense, the reality star and SKIMS founder was asked about West's famous appearance as the musical guest on "SNL" in 2018. After the 90-minute show stopped taping, West was allowed to stay and perform one more number for the studio audience. It was then that he launched into a speech defending his support of then-president Donald Trump (via The Hollywood Reporter). As proof of his support, he wore a controversial piece of headgear that got a lot of flak from both the audience and from his wife.
Kim Kardashian now defends Kanye West's freedom to wear a controversial cap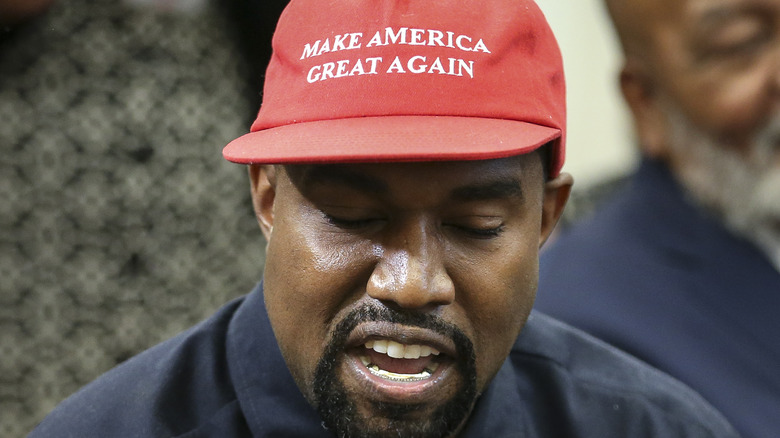 Pool/Getty Images
Kim Kardashian admitted in the Common Sense interview that she was "very nervous" about Kanye West's decision to wear a MAGA (Make America Great Again) baseball cap, a sign of support for Donald Trump. "I'm very neutral, but that night I was very forceful with him, and argued with him like, 'You have to take that hat off,'" she recalled. "And now looking back, I think, why should he take that off if that's what he believes in? ... Half of the country voted for (Trump), so clearly other people like him."
In the end, West won out, defying the naysayers, though he claimed that he was "bullied" backstage for wearing the hat. Kardashian said she doesn't necessarily agree with his fashion choice or his beliefs, but she supports her estranged husband's right to free expression. "I respect the fact that he knew exactly what he believed in and always stood by that," she said. "To me, that's a good quality to have, no matter who is against you and no matter what the circumstances are. I think that it's just admirable and it's just a really cool quality." The whole incident "taught me to be a little more empathetic for people that just want to do what they want to do," she added.
Kardashian is also still a fan of West's music; she told interviewer Bari Weiss that "Yeezus" and "My Beautiful Dark Twisted Fantasy" are two of her favorite Ye albums.