Eric Trump Dishes To Jay Cutler About His Family's Political Inexperience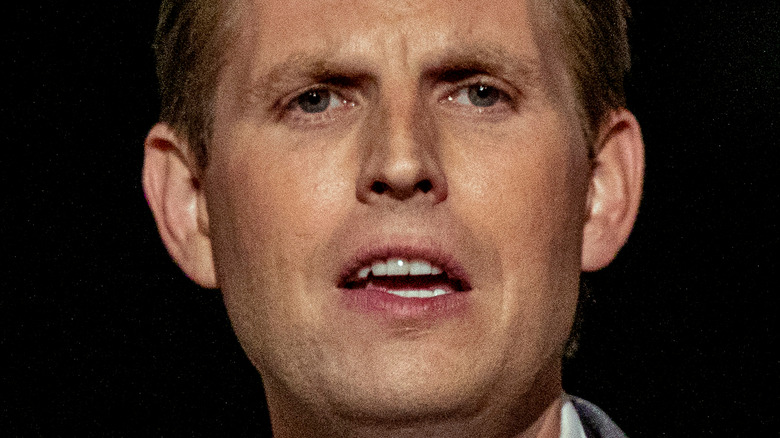 mark reinstein/Shutterstock
Eric Trump has stayed out of the spotlight more than his brother and sister (via Business Insider). As the Trump family's middle child, Eric played a pivotal role in the campaign of his father, former President Donald Trump, but didn't have a role in the White House like Ivanka. He also stayed away from the media, unlike Donald Trump Jr.
While Don Jr. and Ivanka were always in the public eye doing work for their father, Eric was heavily involved behind the scenes (per the Washington Post). He had been given the role of helping Don Jr. with the Trump Organization. While he was mostly unseen by the public, he was constantly in communication with his father.
Eric was often giving updates on what was going on with the business to his presidential father. He made it clear that there are boundaries to what the pair discuss regarding the business. He said there was a "clear separation of church and state that we maintain" and that the conversations were mostly "on the bottom line, profitability reports and stuff like that." He did add, "I talk to him a lot. We're pretty inseparable."
Now, the middle Trump child is facing backlash for dishing a little too openly and honestly with Jay Cutler.
Eric Trump openly shared his family was not smart enough for politics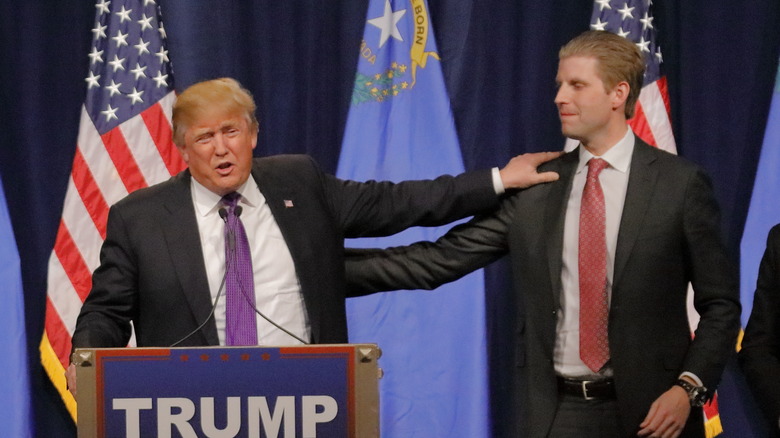 Joseph Sohm/Shutterstock
Eric did a decent job of staying out of the spotlight during his father's presidency, but now he is out in the open, dishing about family secrets to a former NFL quarterback. According to Business Insider, Eric did an interview with Jay Cutler for his Uncut podcast, where he talks openly and honestly about his family.
While this conversation could be insightful, it took a turn when Eric openly explained that his family had no business being in politics, because the Trumps had no idea how the political process worked. He told Cutler, "Jay, I remember walking up to a caucus in Iowa saying, you know, I looked at this young staffer and I go, 'Hey, can you tell me what a caucus is?' Because I have no idea what the hell I'm supposed to be doing here,'" (via the Independent).
It didn't stop there. Eric continued to talk about how his family was not smart enough to hold such power. "We weren't smart enough to collude with Russia," he said. "We didn't know what the hell we were doing. We didn't know what a delegate was."