Here's How Tall Kevin Hart Really Is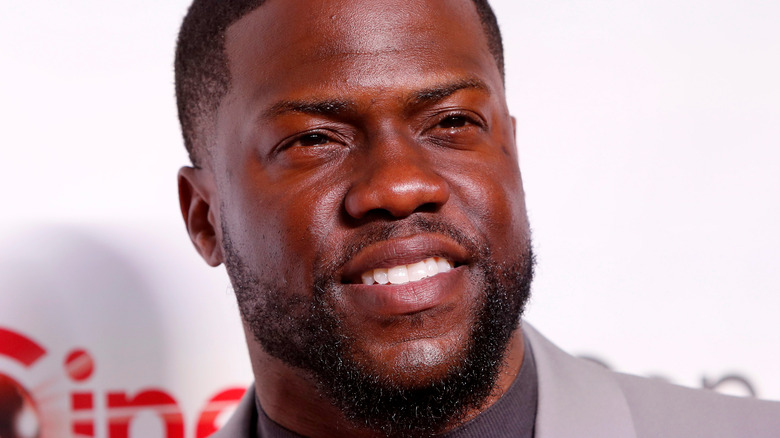 Kathy Hutchins/Shutterstock
You may find an article online that suggests that short men like Kevin Hart are better than taller men in bed (via New York Post). You may even find another one about how short men make better husbands than taller guys (via Self), but there isn't much linking height with humor. So, maybe we may never find out if Hart's loud-mouthed hilarity is something shorter people have in general or if his sense of humor has nothing to do with his height at all.
More than anything, funny is the word that most describes 42-year-old Hart, who is as much an actor as he is a standup comedian and movie producer. With multiple sold-out comedy shows and hit movies like "Central Intelligence," "Jumanji," and "Fatherhood" amongst others, Hart has shown his versatility and ability to whip up laughs to the point that you can expect one or two of those once you see him on the cast of any movie.
His talents are definitely unmistakable and he is being rewarded and awarded for them. He's worth $200 million, per Celebrity Net Worth, and he's won multiple accolades including BET and MTV awards, per IMDb. Another unmistakable thing about the comedian is his height. Amongst actors and fellow comedians, not many men stand at the same height as Kevin Hart, and you might be wondering how tall the actor actually is. And on that, we have some very interesting stats.
Kevin Hart's height might actually shock you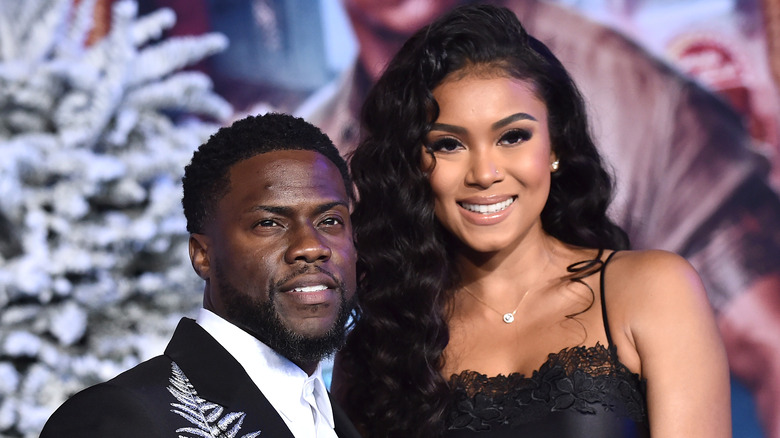 DFree/Shutterstock
Kevin Hart is extremely short; with the comedian standing at just 5 feet 2 inches, per Suggest. That is about 4 inches shorter than his wife, Eniko Parrish who is 5 feet and 6 inches tall, per Amomama, but that has nothing on their love.
Speaking about his height, the comedian confessed to Oprah Winfrey that he had to use "self-deprecation" as a defense tool when he was much younger and other kids would try to make fun of his height. While addressing another question about his stature he said, "This is it. This is what I was given. This is my playing cards. If we were playing poker, I've got to make this hand work. This is it for me. And this is what I'm going to ride out," via Oprah Prime.
And boy, is he riding out! Hart stands toe to toe with most other entertainers in terms of talent and commercial success. He was in fact named the highest-paid stand-up comedian of 2019 by Forbes, ahead of Jerry Seinfeld, Jim Gaffigan, and Trevor Noah, among others.
Hart may be short in a way that is shocking to some, but he seems to totally love it. In an interview together with pal and "Jumanji" co-actor, Dwayne "The Rock" Johnson, Hart was asked what he would do if he woke up in the body of the former wrestler, who stands at 6 feet 5 inches. "Pray to God to get back to myself. I don't want this," he quipped, via YouTube.
How tall is Kevin Hart compared to other comedians?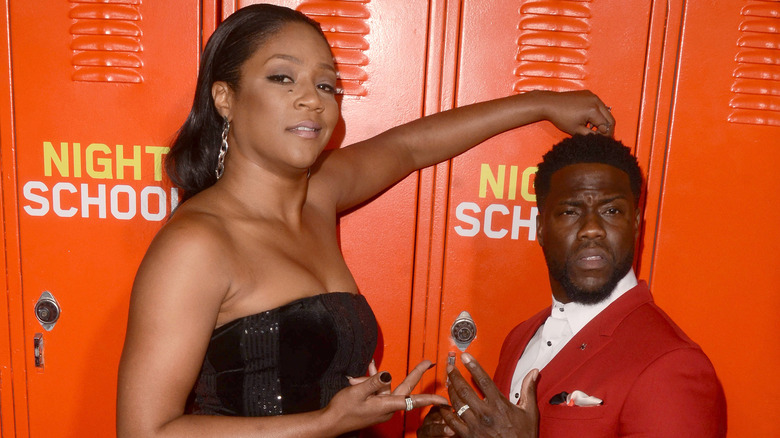 Kathy Hutchins/Shutterstock
Compared with other great comedians, Kevin Hart's height falls pretty short. While he may match up in talent, wealth, and acclaim, he definitely does not in physical presence. For example, of all comedians listed as the best 10 of the 2010s, via Ranker, Kevin Hart is the shortest.
Dave Chappelle, the first on the list is 6 feet tall, according to Superstars Bio, a whole 10 inches taller than Hart. Bill Burr, another well-liked comedian, stands eight inches above Hart at 5 feet 10 inches, per Celeb Heights. John Mulaney is also 6 feet tall, per The Sun, clearly taller than Hart. Jim Gaffigan and Louis C.K are the other stand-up comedians to round up the top 5 on the list and of course, at 6 feet respectively, they are both several inches taller than Hart.
While he sits in 8th place on Ranker's top 10 list of comedians who have been at the top of their game in the 2010s, by height, however, he'd be even lower as he would surely be at the bottom of the pile.
Compared with fellow movie stars he has worked with, the "About Last Night" actor still takes the cake for shortest height. A lot of actors he has worked with all tower above him, like Seth Rogen in "This Is The End" and Chris Rock in the 2014 movie "Top 5" (via Screen Rant.) Both actors are 5 feet 11 inches and 5 feet 10 inches respectively — nine and eight inches taller than Hart.