Royal Expert Explains How Prince Charles And Prince Harry Have Turned A Corner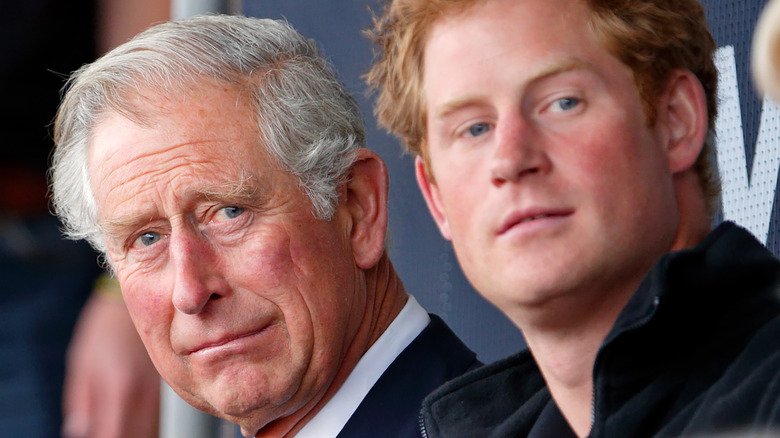 Max Mumby/indigo/Getty Images
Prince Charles and his youngest son Prince Harry currently have a very complicated relationship. Charles was said to be very upset when Harry and his wife, Meghan Markle, opted to exit their roles as senior members of the royal family in early 2020, per The Mirror. Charles was also reportedly "in a state of despair" in March 2021 when the Duke and Duchess of Sussex dropped bombshells about the firm during a tell-all interview with Oprah Winfrey (via Vanity Fair). The strained relationship between the father and son has played out in the media over the past two years, but things may finally be getting better between the pair.
Page Six reported on December 2, 2021 that Charles and Harry had re-opened the lines of communication between them despite all that had transpired between them. "Charles was hugely hurt when Harry and Meghan just dumped it on the family they were giving up their roles and moving abroad," a royal insider told the outlet. "I don't think [Harry and Charles] talked for a good while, but now the channels of communication are open." The source went on to add that the relationship between the royals isn't healed, but it's a good first step to reconciliation. "I don't think it's all roses. It's not like they are sitting down for a heart-to-heart on the phone once a week."
This week, a royal expert is giving fans an update on Charles and Harry's relationship status.
Charles and Harry are reportedly taking small steps to repair their relationship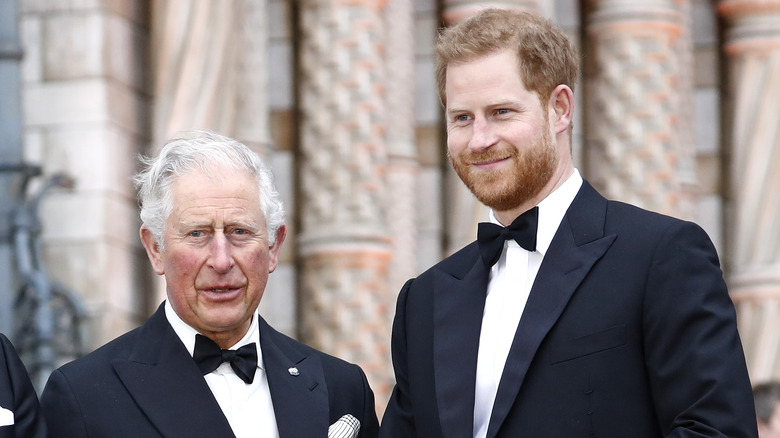 John Phillips/Getty Images
Prince Harry and Meghan Markle's rift with the royal family has been well documented over the past few years, but it seems that things may be headed in a better direction going into 2022. Us Weekly reports that Harry and his father, Prince Charles, have been taking baby steps to repair their relationship bit by bit and that things have improved between them. Royal expert Stewart Pearce says that the royals have "absolutely" started the process of healing the tension that exists in their relationship.
Pearce explained that Charles and Harry have very different ways of expressing their feelings, which can often cause issues "It's just their style of managing that level of emotional intensity is completely different, you know?" the royal author said. "Prince Charles is, by nature, a very shy man and like to [be by] himself. That doesn't mean he's uncaring it, he just finds demonstration or emotional display ... [to be] really difficult." In addition, Pearce claims that while Charles often "closes down" his emotions, Harry is "more forthcoming" with his feelings. He went on to admit that both Charles and Harry are "really busy" which has forced them to "be as honest as possible" when they do get the chance to connect with one another.
Many fans are now hoping that 2022 will be the year that Harry finally reconciles with the royal family.