Why Prince George Isn't Allowed To Sit With The Queen At Christmas Lunch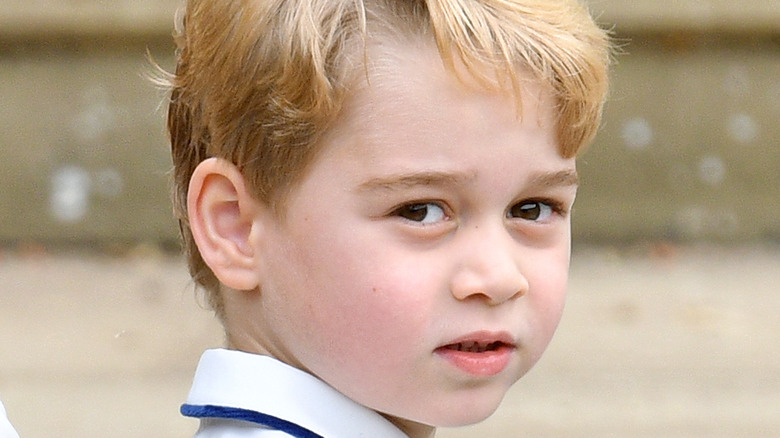 Pool/max Mumby/Getty Images
December is a time for the marking of old traditions and the making of new ones as the holidays bear down. That's even the case for the royal family, especially since they're a group where tradition is doubly important at any time of the year. However, like everyone else, the British royals have been forced to adapt some of their long-standing Christmas celebrations in the face of the ongoing pandemic.
Although we made inroads toward putting the pandemic in the rear-view mirror earlier this year, the recently discovered Omicron variant has caused problems. Britain reported 78,610 new cases of the virus in one day earlier this week. These staggering numbers led to calls for people to minimize their holiday plans (via the New York Times). Even Queen Elizabeth took that recommendation to heart. The publication noted that she cancelled her annual pre-Christmas lunch for the second year in a row.
Had it gone forward, this year's event would have veered from tradition. For starters, it was set to be hosted at Windsor Castle instead of the usual Buckingham Palace. Cosmopolitan also noted that it will be the first Christmas since the passing of Prince Phillip. One tradition would have remained the same, though. Prince George, the queen's great grandson and third in line to the throne, would not be seated next to the queen or any other adults at the event. Read on to find out why.
The children in the royal family have their own table for Christmas lunch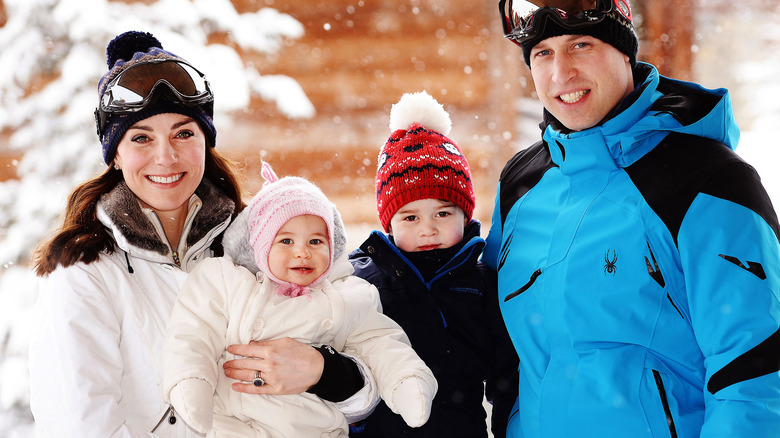 Wpa Pool/Getty Images
Here's another way the British royal family is just like most other families out there; they have a kids table at major events. Apparently, Queen Elizabeth recognizes that Prince George, his siblings Princess Charlotte and Prince Louis, and the rest of her great grandchildren need their own space. While it may seem like a slight that they aren't seated with the queen and other prominent royals, the truth is that the children probably are happier on their own since they get to just be kids for a while.
Mike Tindall, husband of Queen Elizabeth's granddaughter Zara Phillips, opened up about the seating arrangements at the annual pre-Christmas lunch on his podcast "The Good, The Bad and the Rugby." According to Cosmopolitan, he revealed that the kids have more than their own table; they have their own room. Who keeps an eye on them? It sounds like that responsibility goes to some of the older kids such as Lady Louise Windsor and James Viscount Severn (via Express).
This holiday celebration is on the larger side, too. Tindall revealed that they usually expect around 70 guests. "This is the family lunch, there were seven tables so there must have been about 70 of us there," he said. "The kiddies have their own little one in a different room." With that many people around, we'd want to sit at the low-stress kids table, too!
Queen Elizabeth spends other time with her great grandchildren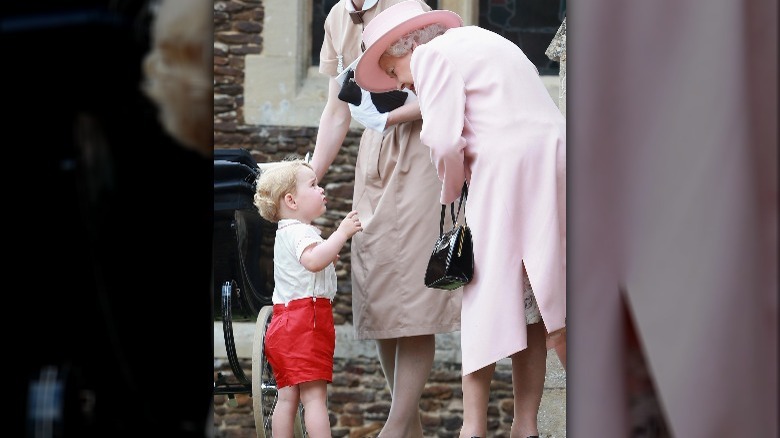 Chris Jackson/Getty Images
She may not sit next to them at the pre-Christmas lunch, but we know Queen Elizabeth gets to spend other time with her adorable great grandchildren. She has plenty of royal duties, but the long-reigning royal is also a mother, a grandma, and a great grandma. She appears to take those responsibilities every bit as seriously as her royal ones, too. 
Earlier this month the internet went wild after noticing a photo of her and the late Prince Phillip posing with some of their youngest relatives. Royal fans spotted the precious snapshot in the background of a photo from an event the queen hosted at Windsor Castle (via People). The family shared another such photo on Instagram earlier this year.
What do you call your great grandma when she is the ruler of a country? Apparently, Prince George used to refer to her as "Gan-Gan" (via Hello Magazine). How utterly adorable is that?! He and Queen Elizabeth are said to have a strong relationship, and we hope they get to spend some precious time together during the holiday season this year. Even if it doesn't happen during the now-cancelled traditional lunch.