How To Adjust Your Foundation As The Seasons Change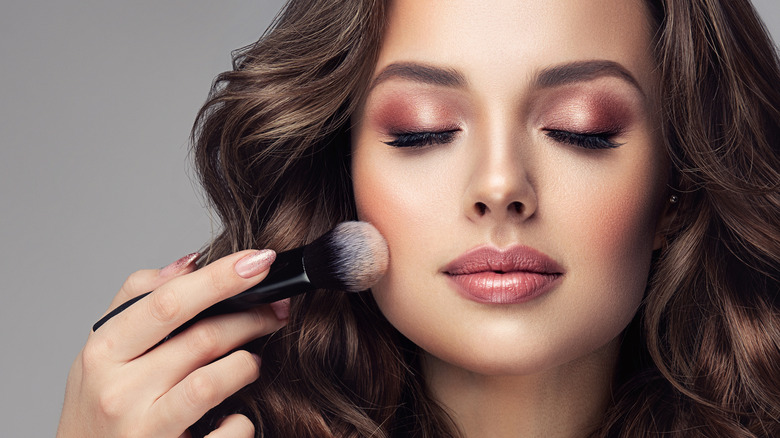 Sofia Zhuravetc/Shutterstock
Truth be told, it is quite an accomplishment if you can find the ideal foundation for your skin tone, type, and concerns. It is time-consuming and exhausting to find the perfect foundation, and when you do, it feels like you have won the lottery. However, your skin tone can change with the seasons, as Byrdie notes. That means the foundation that worked perfectly in July may not exactly match your skin tone in January. Our skin gets tanner in the summer months hanging by the pool and looks paler in the colder months because we do not spend as much time outdoors. It is inevitable to have to adjust the shade of our foundation based on the seasons.
Are you ready to let your foundation work its magic on you irrespective of the time of the year? Other than skin tone, you may have to make modifications to your foundation because of how seasons affect your skin. Depending on your skin type, the foundation's formula may be too greasy for the summer or too matte for the winter (via Makeup.com). The good news is that a change in your skin tone or the weather is not reason enough to get rid of your foundation altogether. You just need to learn a few tips and tricks to make your flawless foundation work for you all year round (via Fashion News Ireland).
Tips to winterize your foundation for the colder months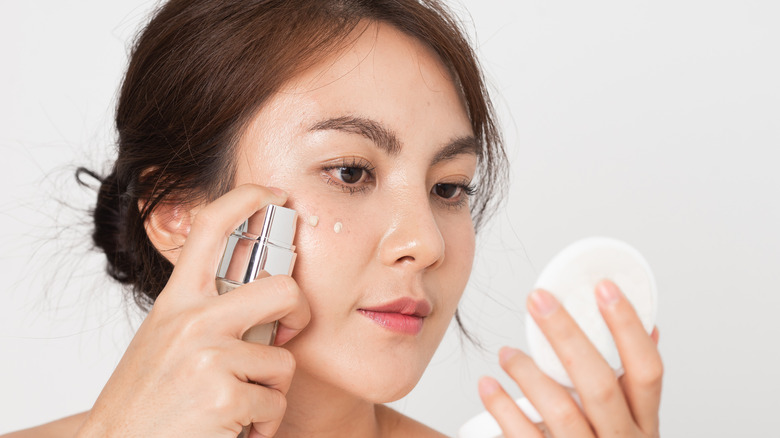 ME Image/Shutterstock
One of the best ways to lighten your foundation for the cooler months is by mixing it with a moisturizer or face oil because it lightens the pigment of the foundation (via Byrdie), making it work better when your skin is lighter. The extra hydration can sheer out the foundation's formula giving you a dewy finish.
If you don't want to water down your foundation with a moisturizer, there is another way. Makeup artist Lucas Dean told Byrdie, "Moisturizer has the risk of diluting your foundation too much, so what I really recommend doing is using a hydrating primer." He added it sheers the formula while setting your makeup to last for hours.
If you are not a fan of mixing other products to your foundation, you can swap your foundation brush with a fluffier brush for a lighter application. New York City-based makeup artist Vincent Oquendo told Allure his go-to brush is the Shiseido Maru Fude Multi-Face Brush because the bristles fan out to create a more airbrushed finish. "It won't cake on too much product, either," added Oquendo. With these tips, you can easily transition your summer foundation into winter.
Tricks to darken your foundation for the warmer months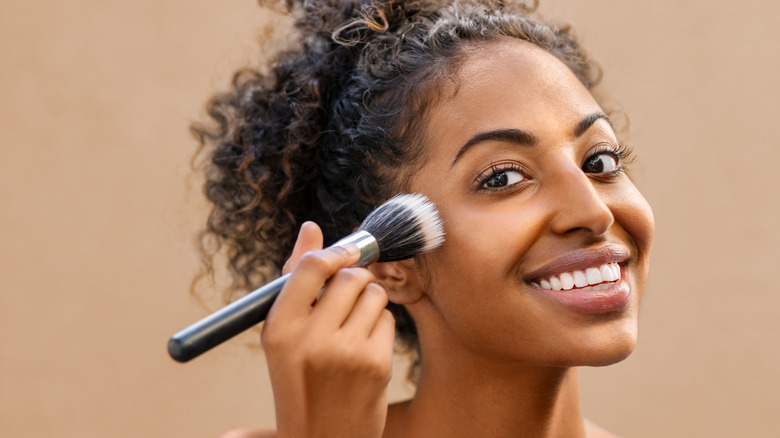 Rido/Shutterstock
If your skin gets tanner in the summer, there is a quick fix to adjust the shade of your foundation to match your skin tone instead of buying a whole new product. Adding a bronzer to your foundation is easy to darken the shade because it adds a natural warmth and sun-kissed look (via Physicians Formula). Just remember not to get carried away while mixing your bronzer because it can get too dark. You can also take makeup artist Jenna Menard's suggestion to only apply the bronzer on areas of your face where you would look naturally tanned (via Byrdie).
According to Stylecraze, adding a little turmeric can darken the foundation if you have a yellow undertone, though it's important not to add too much. Similarly, it is a great idea to mix some blush to your more lightweight foundation if your skin has a pinkish undertone. These tricks can help darken the color to match your skin tone more.
Makeup artist Lucas Dean told Byrdie that you could buy the foundation shade closest to your skin tone when it is the lightest and another two shades up (for the summer) if it is a foundation you truly love. "You're able to have a variety in range when mixing the two, so you can match your skin year-round,' added Dean. Mixing the two foundations as needed depending on the time of the year would help you match your color to your skin tone, irrespective of the season.