Corset Vs Bustier: What's The Difference?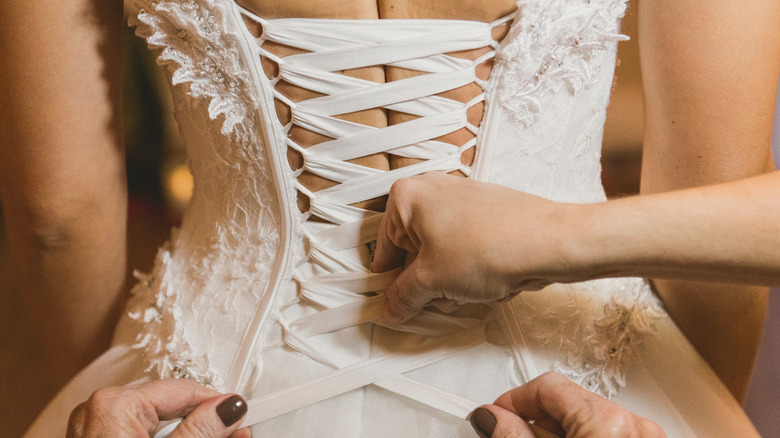 Julio Ricco/Shutterstock
Several people seem to be getting behind the corset trend as the historical piece is making a comeback to the closets of women, per Telegraph UK. A corset is a restrictive garment specifically designed to reduce the waistline and emphasize your curves. Think of it as a piece of clothing designed to create or accentuate an hourglass figure for anyone who chooses to wear it.
One thing you might often hear, however, is that wearing a corset may be uncomfortable, but it really does not have to be like that, per Cement Answers. The pinching and bruising often associated with corsets only occur when people choose to wear sizes that are inappropriate for them, per The Dreamstress. Yes, corsets are designed to be form-fitting but not that dangerously form-fitting. It is unregulated use of corsets that don't fit that can lead to problems, per E-Times.
Another fashion item that can serve as a shapewear for you is the bustier and that fact alone seems to make people mix the two of them up with each other. Like corsets, bustiers have evolved over time to perform the function of outerwear as well as that of innerwear, per Refinery29. One iconic use of an underwear as outerwear was when Jean Paul Gaultier designed one for Madonna's "Blond Ambition" tour in 1990, per Vogue.
Despite these close similarities though, corsets and bustiers are really not the same and here are ways to spot the differences between both pieces of clothing.
The difference between corsets and bustiers is clear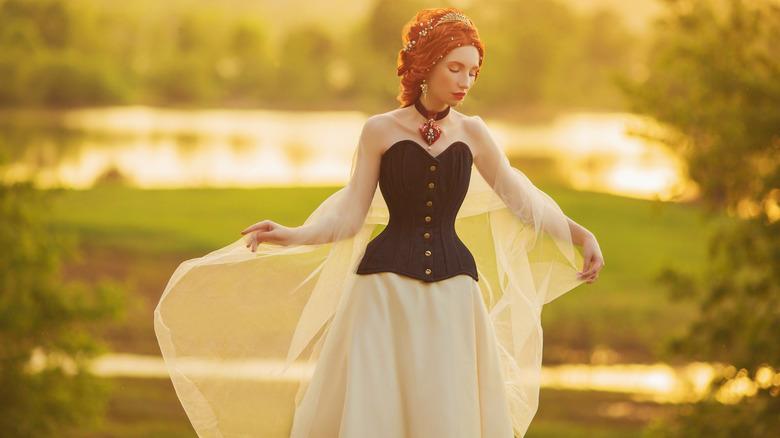 iiiphevgeniy/Shutterstock
A bustier is that shapewear that clings to the wearer's waist, emphasizing their curves, pushing up their breasts and showing off cleavage. Bustiers usually have built-in bra cups to help outline and push up the bust. No wonder they were referred to as "long line brassieres" back in the day — in reference to their dual functionality of bra and shapewear.
The clearest difference between both pieces of clothing is that the corset holds your waist tight for better curves while the bustier pushes up your breasts to give them a boost, per Recollections. Corsets are often found guilty of bunching up the midriff a little too tightly, causing possible harm to internal organs, per E-Times. Bustiers are not that restrictive, per Parfait.
Also, while corsets can either be overbust or underbust, there is no such option for bustiers. This is because one of the bustier's primary functions is to support and push up its wearer's breasts. This design peculiarity means that when these two garments are placed side by side, they look very different.
Corsets have taken their place in the wheel of fashion trends, as corset tops, leather corsets and other forms of corsets worn as outerwear have grown more popular, particularly off the virality of shows like Netflix's "Bridgerton" (via Independent.)