Here's How Days Of Our Lives Really Got Its Name
We may receive a commission on purchases made from links.
"Like sands through the hourglass, so are the days of our lives," has been a constant line on daytime television each afternoon since Nov. 8, 1965. 
MacDonald Carey was and still is the voice we hear uttering those words during the opening "Days of Our Lives" sequence, despite the fact that Carey, who played the show's original patriarch, Tom Horton, died in 1994 (via Turner Classic Movies). In fact, that iconic hourglass made into the Smithsonian's National Museum of American History in 2015 as "DOOL" celebrated 50 years on the air.
While Irna Phillips, the grandmother of soaps (via Soap Hub) and the show's co-creator along with Ted Corday, never revealed why she gave the soap that name, the words are clearly biblical as there are several Bible verses that use the phrase "days of our life." 
When creating and writing her soap operas, Phillips used biblical phrases and themes everywhere, and, as of this writing, "Days of Our Lives" remains the only remaining network soap in which there's an established Christian denomination for the show's main characters, and that is Catholicism.
Days of Our Lives' creator frequently used biblical verses and themes
The longest-running continuing drama in American broadcast history remains "Guiding Light," as of this writing. 
Despite the fact that Irna Phillips was of German-Jewish descent (via Jewish Women's Archives), her soap opera, originally titled "The Guiding Light," premiered on radio in 1937, eventually making the transition to CBS television in 1952. By the 1970s, CBS dropped the word "the" from the show's title, and it was simply known as "Guiding Light" when it aired its last episode in 2009 (via Soap Hub).
When "The Guiding Light" first premiered, the show centered on Reverend Ruthledge, his family, and his parishioners, with the good reverend delivering sermons in each episode that included bible verses (via Soap Central). 
In fact, those same verses were made into a hardcover book simply called "The Guiding Light" when the show was in its infancy in 1938, when Phillips still helmed the show and was responsible for marketing tie-ins as well as the dialogue spoken by her main character each day.
When Phillips created CBS' "As the World Turns" in the 1950s, its original title was "As the Earth Turns," according to We Love Soaps, and was also thought to be a biblical reference as there are several bible verses discussing the Earth orbiting the sun (via Open Bible). 
Neither "Guiding Light" nor "As the World Turns" come into our living rooms each day, but "Days of Our Lives" does and still centers on a biblical theme.
The bible seems to influence Days of Our Lives' title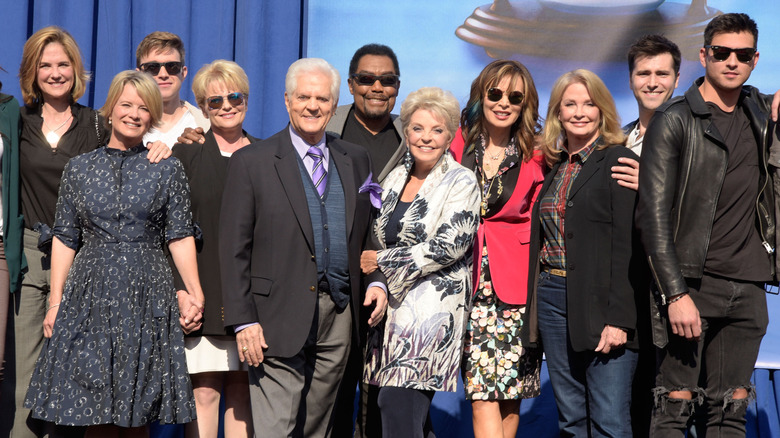 Michael Tullberg/Getty Images
In 1965, NBC asked Irna Phillips and television producer Ted Corday to create a new soap, and Phillips chose the title "Days of Our Lives." 
She turned it into its own biblical-sounding refrain as the opening theme aired on Nov. 8 and still airs to this day. Several Bible verses use the phrase "all the days of our life," including Psalm 23:6 and Psalm 27:4, according to Knowing Jesus.
As "DOOL" airs in 2021, it recalls religious and Christian themes while telling a story most people see as campy fun full of witty dialogue and special effects. 
The iconic Marlena demonic possession storyline first aired in 1995 and is being revisited as of this writing. In 1995, love and an overwhelming belief in God brought Marlena back from the brink, and the updated story is centering on the same, as Marlena's son, Eric, a priest, is set to help his mother beat possession as the new year begins (via Soap Opera Network).
It was Phillips who named her soaps based on religious themes, and her remaining NBC soap lives up to her hopes for daytime dramas in a way she never would have imagined — but in ways that also keep the genre she created alive.