How To Layer Your Necklaces For Each Type Of Top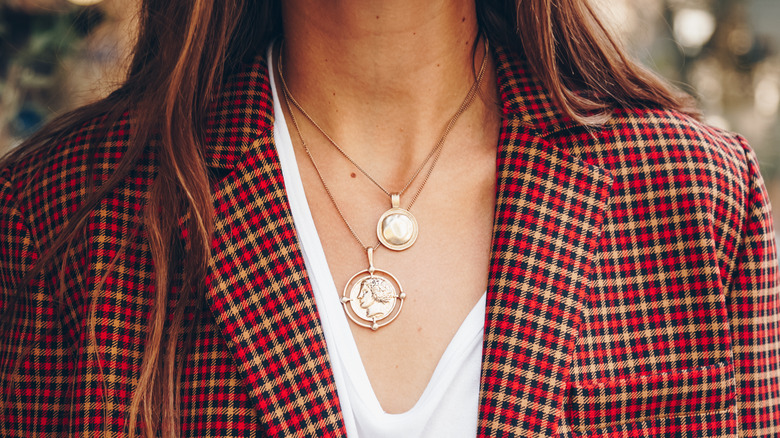 MS_studio/Shutterstock
When it comes to jewelry, there's a definite more-is-more approach in style. Stacking rings had a moment and now it's time to add up all those necklaces in the same look as well. Layering necklaces depends a lot on what style of top you're wearing. While some tops make it easy to layer all kinds of different lengths of necklaces, others are a little bit tricky. Thankfully, there are tons of different styling tips and even some accessories that help with the job.
It's no secret that some styles of tops are just harder to layer necklaces with. It's all about balancing the amount of accessories. While you could easily just play around with the accessories that you love and see what works for you, there's a more methodical way to nail your look. 
Because, believe it or not, there's a method to the styling madness. Here's everything you need to know about layering, so you can nail any look you're going for.
Mix-and-match the weight of the clothes to the jewelry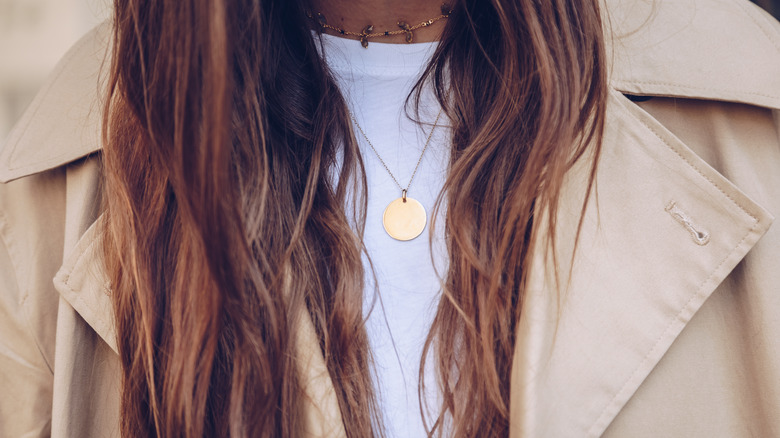 MS_studio/Shutterstock
Layering necklaces is both an art and a science. While you do need to use your eye to see which necklaces look like "you," there's also a general equation to help you out. According to PureWow, nailing the layered look is all about pairing a heavy necklace with a light top and vice versa. 
For example, the publication suggests wearing a few chunky paperclip necklaces with a light t-shirt or a few dainty necklaces with an oversized sweater or sweatshirt. Basically, you want your necklace to be the opposite style of your clothing so it doesn't clash. 
Jewelry designer Jenny Bird suggests picking accessories that are slightly different from each other to get that layering look, according to Vancouver Sun. The designer also suggests a super easy way to build up a look — adding a long necklace and working your way up. "What I do is I layer the longest one on first — and then build up from that. That's it," Bird tells the publication.
The longer necklaces are typically harder to style, so it makes sense to start there. 
Nail your look with this accessory
Now that you've nailed down styling the look, you'll want to actually keep it in place. There's actually a jewelry accessory that you can buy to keep your necklaces from getting tangled when you layer them. OK Magazine recommends using a Necklet – a little golden bar with necklace clasps on each end. You just clip your necklace to the accessory instead of actually around your neck.
Apparently it works, too. OK Magazine found that Love Quinn from Netflix's "You" actually wore the accessory on the show to keep her layered necklace in place. If it works for Love with all of the, uh, intense scenes she has on the show, then it would definitely work in some everyday situations as well.
Honestly, when it comes to styling, it's best to do what feels right to you. There is no wrong or right way to wear a layered necklaces, but it does help to have some formulas and helpful gadgets along the way.