Here's What You Should Know Before Getting A Back Facial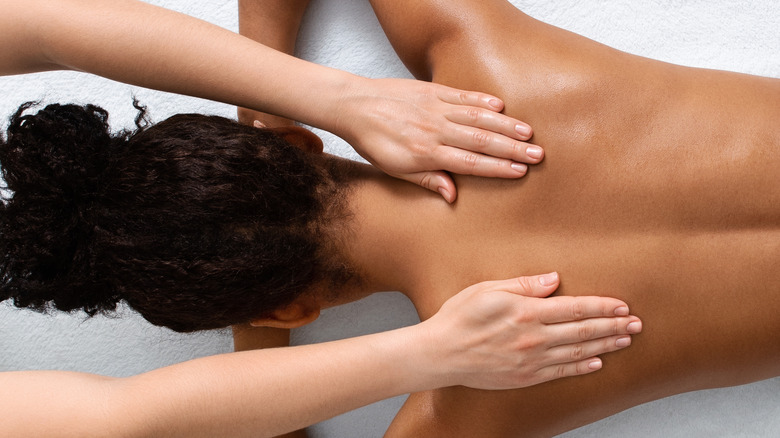 Prostock-Studio/Shutterstock
When most people think of maintaining their beauty through modern, healthy methods, the face is where they often focus their efforts. So you are not alone if you think of "face" when you consider getting a facial. Facials are one of the best ways to care for the skin, and many people rely on the service to keep their faces free of blemishes and other skin problems like hyperpigmentation, whiteheads, and blackheads, per Keck Medicine of USC.
Ultimately, a facial is not just great for beautification purposes, but it can also alleviate stress, detoxify the skin, and help blood flow around the face. And that's only when you consider facials for the face! Facials can be just as beneficial for other parts of the body, particularly the back. Yep, you read that right. Your back can benefit from facials as well. "Just like the skin on your face, your back needs love, too. Taking care of your skin will keep it soft, hydrated, clear, and firm for years to come," Joanna Vargas, a celebrity facialist, told Byrdie. Here is what you should know before you hop into the nearest spa to get a back facial.
The do's and don'ts of getting a back facial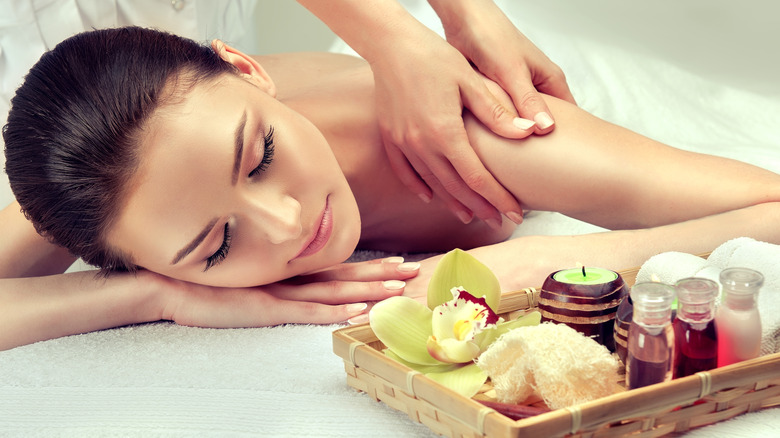 Sofia Zhuravetc/Shutterstock
Of course, a back facial is advantageous on so many levels. One benefit is that your back gets better moisturized, which is especially appealing for those with chronic dry skin. Back facials also help with hyperpigmentation, zits, and bumps, per Simply Skin Esthetics. It's great for folks who have sun damage, textured skin, and are advancing in age. But try not to go in for a back facial if you're sunburnt or have any infections, per Men's Health. 
If you have sensitive skin or breakout quickly, tell your aesthetician, and they will alter the procedure to ensure your skin won't get irritated. But you can pretty much rest easy. According to S. Tyler Hollmig, M.D., an Austin-based dermatologist, a back facial is calmer than a face facial because your aesthetician is "not really trying to get deep down into the skin or trying to change the function or structure of the skin." They're just trying to clean up your pores and lessen the texture. One thing your skin needs post-back-facial is some more moisture to help it relax, so stay hydrated and don't skimp on moisturizers or anything else recommended by your esthetician, per Alpha School Of Massage.