What To Know Before Getting A Keratin Lash Lift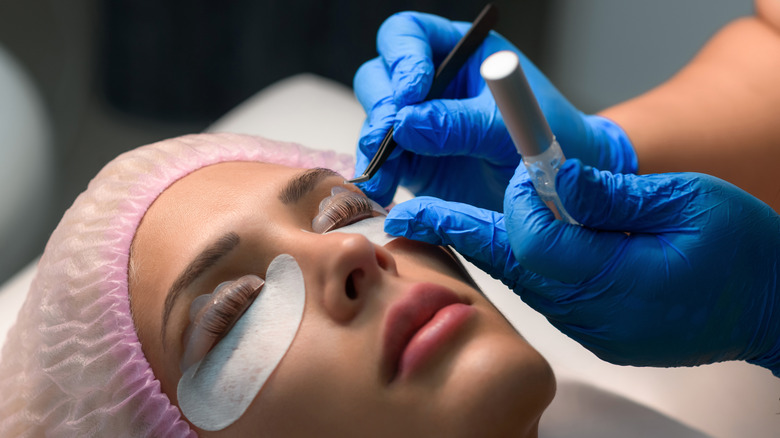 Dmitrii D/Shutterstock
Sometimes even the most expensive mascaras can't give you the thick eyelashes you desire. Just as you would for flat hair, seeking professional help to revive your lifeless eyelashes is now a commonplace practice. While eyelash extensions can be expensive to maintain and cause your real eyelashes sometimes to fall out, lash lifts only require maintenance once every month or so, and only increase the strength and stability of your lashes. According to Cosmopolitan, a lash lift is essentially a perm for your eyelashes. The lash lift expert will use a perming solution to break the bonds of your lashes to reform their shape, thus leaving your eyelashes fuller and longer-looking after the professional lash lift.
While a standard lash lift uses a perming solution like thioglycolic acid, a keratin lash lift will use keratin. Typically, keratin is less harsh than a typical lash lift because keratin is a naturally-occurring material found in hair, nails, and, yes — even eyelashes (via Byrdie). Unlike other lash lifts, keratin lash lifts create more of a natural look and a less voluminous, dramatic look. "For the client who wants a natural 'woke up like this' appearance, the service alone is perfect," Envious Lashes founder Clementina Richardson told Refinery29. "In some cases, lifting doesn't give off the mascara effect that extensions do, especially for those with naturally very fine and light lashes."
Here's what to expect during your keratin lash lift appointment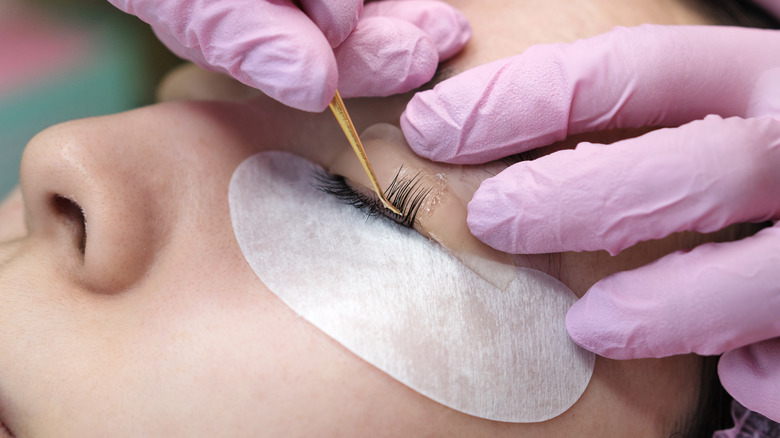 Vagengeim/Shutterstock
According to Refinery29, a keratin lash lift will set you back around $175 per appointment, though that price may change from salon to salon. Before getting a keratin lash lift, it's imperative to do your research to ensure that the salon you're headed to is reputable. You also want to have a very specific idea of what sort of lash lift you're looking to replicate. Typically, a keratin lash lift will last approximately four to six weeks, but will only last that long if you do your best to avoid getting your lashes wet for the first 48 hours after the initial appointment. You should also avoid using oil-based products and heavy creams near your eyelashes.
Your keratin lash lift will take around an hour from start to finish. First, the lash lift expert will evaluate your lashes to determine their strength and health. After speaking with you about desired lash length and durability, you will decide which rod size to use to paint your lashes with the keratin solution. From that point on, you will keep your lashes closed for the duration of the appointment as the lash lift expert applies the keratin formula with a small brush to your upper eyelashes. Then, the formula will set for 10 minutes. After the keratin dries, you also have the option of applying a tint to your lashes, per Byrdie. Though it's likely you will experience a bit of burning during the application of the keratin, many find this process rather relaxing.