Gift Wrapping Tools To Make Your Life Easier
Pixel-Shot/Shutterstock
We may receive a commission on purchases made from links.
With Christmas only a few days away, we're all in gift wrapping mode. The basic necessities of gift wrapping are typically paper, scissors, and tape, right? There are a lot of great tools you can add to your arsenal to make your gift wrapping not just easier, but prettier too.
Put away the scissors. Martha Stewart has a few suggestions on how to make cutting wrapping paper even cleaner. There will be no more uneven lines with something like The Original Little Elf Gift Wrap Cutter from Amazon or the Helix Paper Cutter and Folder from The Container Store. The Little Elf has a cuff that holds the paper you cut off, while the bonus perk of the Helix is that it curls ribbon perfectly, making it a great multi-purpose gift wrapping tool.
HGTV also suggests getting the Little Elf to help make gift wrapping easier, as well as the WrapMaster Wrapping Paper Cutter. However, the Wrap Buddies: Tabletop Gift Wrapping Tool is HGTV's top tool for making gift wrapping easier due to its adjustable clamps that both hold down the roll and can be used as a tape dispenser.
If taping wrapping paper down is a struggle, Martha Stewart suggests investing in the Hands-Free Tape Dispenser or the 3M Double-Sided Tape Applicator (both found at The Container Store) to help make quick work of securing wrapping paper down.
These are the products you need to add final touches to your gift wrapping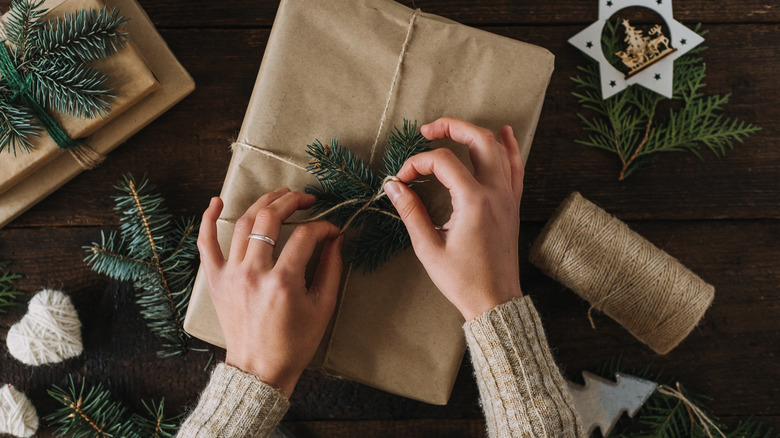 Iryna Imago/Shutterstock
Sometimes, you want to do more than just do the basic wrapping for Christmas presents. Just like there are tools to make basic wrapping easier, there are also tools to make embellishments super simple. HGTV recommends getting the Brother P-Touch Embellish Elite Ribbon & Tape Printer. This tool comes with a smartphone app that lets you customize ribbon, tape, and tags before you print them. However, if you're looking for something a little more simple to add to your gift wrapping tool kit, a tag maker, bowmaker, and ribbon shredder are must-haves according to Martha Stewart.
Finally, one way to make gift wrapping easier is how you store your tools once you're all done with them. For that, there's the Ribbon Storage and Dispenser from the Container Store to help keep your ribbon from tangling. HGTV also strongly recommends the ZOBER Under-the-Bed Storage Wrap Organizer to keep rolls of paper out of the way for the rest of the year. The organizer holds up to 24 rolls and fits right under your bed, just like the name says.